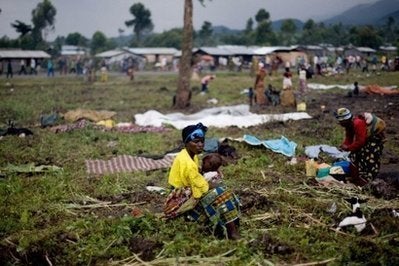 Oh, and 2,000 children, children will be infected with HIV.
Here, we are recognizing World AIDS Day, but in Africa, ground zero for AIDS, on the ground in Rwanda, calendars are pretty much useless, today is another day to survive, like so many other days.
For the better part of this year, my company and I have been working on (RED) the project created by Bobby Shriver and Bono to help eliminate AIDS in Africa. To date, (RED) has raised over $110 million for The Global Fund.
Of all the things that I have seen, of all the conversations, of all the meetings, I wanted to share with you today the one thing that sticks in my mind, and keeps me awake at night.
In this video, a strong endorsement of the money (RED) has raised with the help of people like you and of the work that The Global Fund does on the ground in Africa, this simple fact starts it off:

4,400 people die every day of AIDS in sub-Saharan Africa.
As many Americans as have died in 5 plus years of war in Iraq will die today.
More than died on September 11, 2001 will die today and tomorrow and the day after that.
But it's the next line, I think is even more powerful.
Imagine 4,400 people waking up today and not waking up tomorrow and you, me, all of us have in our hands the power to help those people.
Especially on a day like World AIDS Day, it's easy to throw words out like moral obligation, humanity, and the like, and shake your head very seriously, nodding in agreement.But seriously, don't we have to do something?
No matter our religion, political party, or where we are from, there are 4,400 people standing in front of you, vanishing in front of your eyes, and there will be 4,400 more tomorrow and 4,400 more the day after that? Do we, together, have to help? Are we not obligated to?
There are many many ways you can help and today there are a few new ones.
When you buy a (RED) product, a portion of the proceeds goes directly from the company who produces the product to The Global Fund.
Simply put, the (RED) ipod is the same price as the green ipod but when you buy the (RED) ipod, money goes straight to help eliminate AIDS in Africa.
If you're thinking why would I buy any other color, well, that's the brilliance of (RED) - same with a (RED) DELL computer, a (RED) Hallmark card, and so forth. Same price to you, big difference to them.
Over at red.msn.com, (RED) Wire is launching with an incredible launch party - a digital music magazine with unreal content and music.
Give money, go to Starbucks, sign up for (RED) Wire, buy a Gap t shirt, whatever, please, do something.
Because the headline of this post? I can use it today, tomorrow, the next day, every day this week, this month and this year. But by next December 1, I'd like to change it.
Here's the video. Please take a second to watch it.
Popular in the Community