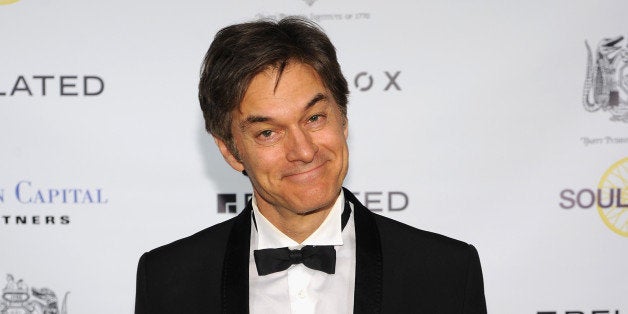 What I remember most about coming on the Dr. Oz show is speaking to one of his producers about what I was going to say, a sort of rehearsal. The producer kept interjecting: "We have a saying around here: Is this something Cathy in Iowa would care about? That's not something a housewife sitting on the couch at home cares about." The subtext was clear: we think our viewers are dumb. Another thing I recall: Being kicked out of the dressing room I had been plopped in because Clay Aiken, who knew nothing about ex-gay therapy but would resonate with all the frumpy Cathys in flyover states, needed his own.
Dr. Oz didn't have anything to gain financially from lending his average daily audience of four million people to those peddling dangerous cures to homosexuality. But he presented ex-gay therapy as a scientific debate, featuring the stories of people like me who tried to change their sexual orientation and nearly killed themselves in the process, and those who claimed to have successfully prayed away the gay. He featured Julie Hilden, then president of the National Association for Research & Therapy of Homosexuality, the country's leading group for practitioners of ex-gay therapy, as well as Harvard Medical School's John Sharp for balance. A number of representatives from LGBT-rights groups were also invited on.
And yet Oz used his platform to let ex-gay quacks promote their theories. At the end of the show he offered a lukewarm recommendation against conversion therapy, portraying its efficacy as an open question: "I have not found enough published data supporting positive results with gay reparative therapy." But the damage was already done. How many thousands gay teens will have to suffer -- are now suffering -- through years of ex-gay therapy because their parents watched the show?
On that same note, how many women and men struggling with weight will waste their time downing pure green coffee, which Dr. Oz called "the magic weight loss cure for every body type"? Or waste their money taking Garcinia Cambogia pills, which Dr. Oz deemed a "revolutionary fat buster," or raspberry ketone, which Oz said was a "miracle fat burner in a bottle"? All of these products have been called into question by the scientific literature (for a list of other treatments Dr. Oz has peddled, go here).
Last summer, the U.S. Senate dragged Dr. Oz in to account for his record of promoting these products, where Senator Claire McCaskill (D-Missouri) took him to task. "The scientific community is almost monolithic against you in terms of the efficacy of the three products you called 'miracles,'" McCaskill said. "I don't get why you need to say this stuff when you know it's not true. When you have this amazing megaphone, why would you cheapen your show?"
Dr. Oz is not a dumb guy. He has an undergrad degree from Harvard and both an MBA and a medical degree from the University of Pennsylvania. He is a professor in Columbia University's surgery department. But fame and money have turned the accomplished Turkish-American cardiothoracic surgeon into a cross between a game-show host and an infomercial spokesperson.
Dr. Oz's campaign against the doctors criticizing him couldn't serve as a better illustration of this. Dr. Oz is planning to address his critics on his show today, but his ever-savvy PR team released a teaser clip in advance. "I know I've irritated some potential allies in our quest to make America healthy," Oz says. "No matter our disagreements, freedom of speech is the most fundamental right we have as Americans. And these 10 doctors are trying to silence that right. ... So I vow to you right here and right now: we will not be silenced, we will not give in." Spokespeople for Oz have also cited some of the doctors' ties to American Council on Science and Health, a group that accepts donations from companies producing genetically modified foods. Mother Jones also found one among the group had been convicted of Medicaid fraud.
But even with their ties to industry, which are common in the age of university-corporate partnerships, the group of critics stand to gain nothing from criticizing Dr. Oz -- it's a smokescreen. And the idea that Dr. Oz's critics are infringing on his freedom of speech is laughably absurd. If anything, it is Oz who is using his entire apparatus -- which includes a syndicated TV show, a magazine, a website, and a skilled publicity staff -- to silence the opposition. It's not as if the doctors trying to protect the public from Oz's quack treatments are demanding he be taken off the air; they are merely asking for Columbia University to stop lending credence to his fraudulent empire. I don't feel strongly about whether Oz remains at Columbia or not -- if the university wants to share its lot with the Dr. Oz brand, let them. But it's not a question of academic freedom. Dr. Oz is not espousing unpopular views for which he needs the protection of the academy; he is using his credentials to sell products. Rather than addressing the allegations against him, Dr. Oz has chosen to attack the integrity of detractors, all highly respected physicians at the country's top universities. It's shameful.
The entire tactic -- wage ad hominem attacks against your opponents, claim you are being silenced -- is an obvious PR concoction. But the highly orchestrated, talking-point-friendly campaign we're about to witness is not how a scientist would respond. If Oz were acting as the intellectual he is, or at least used to be, he'd apologize for promoting products that don't pass scientific muster and pledge to be more vigilant. Scientific discovery, trial-and-error, that stuff. But with perma-smile, image-consultant types whispering in his ear all the time, he's probably forgotten what it was like to be a young doctor trying to make his way in the world, still in awe of the human body and humbled by the trust the sick have given him over their lives.
I reached out to Dr. Oz and invited him to sit down with us and address his critics and their criticisms at length. After some pestering, I received a reply from his PR rep:

Thanks for your interest. Dr oz is unavailable.

Sent from my iPhone

*CORRECTION: An earlier version of this article misstated the American Medical Association's role in licensing physicians. The AMA does not license physicians; physicians are licensed through state medical boards, though the professional organization does assist doctors in the licensing process.
Support HuffPost
A No-B.S. Guide To Life
Related
Popular in the Community