The Botswana-born painter Meleko Mokgosi, whose large-scale, multi-panel compositions grapple with conditions in postcolonial Africa through jarringly combined imagery of village life, European rule, and contemporary conditions, has won the Hammer Museum's inaugural Mohn Award, a $100,000, the institution announced this afternoon. The prize will be given every two years to a participant in the museum's "Made in L.A." biennial.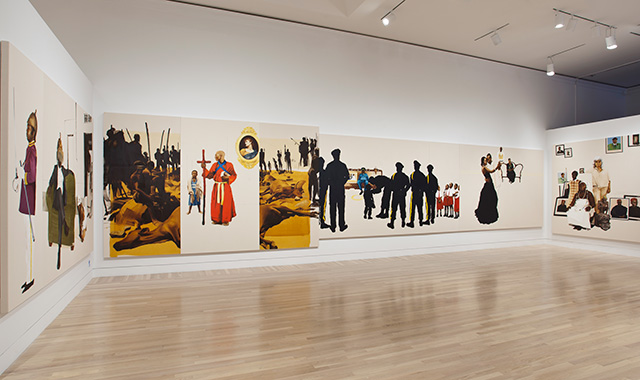 Made in L.A. 2012 Installation view at the Hammer Museum, Los Angeles, June 2-September 2, 2012 / Photo by Brian Forrest

Mokgosi emerged from a group of five finalists -- the others were Simone Forti, Liz Glynn, Erika Vogt, and Slanguage, the duo of Karla Diaz and Mario Ybarra -- based on voting by visitors to the Hammer, who chose among a jury-selected shortlist. He will receive the $100,000 prize, which is funded by L.A. collectors and philanthropists Jarl and Pamela Mohn, over the course of the next two years. A monograph of his work will also be published. Not bad for an artist who just earned his MFA from UCLA last year.
His works in the biennial exhibition, which will remain on view through September 2, reference a 1856-57 cattle killing that was intended to drive colonizers out of southeast Africa. His figurative and often-visceral work was shortlisted by a jury that featured High Line Art curator Cecilia Alemani, MoMA associate curator Doryun Chong, LACMA contemporary art curator Rita Gonzalez, and independent curator Anthony Huberman. Voting was then opened to visitors to the biennial, who determined the winner between June 28 and August 12, when the polls closed both online and on-site. (In an interview with ARTINFO, Hammer director Ann Philbin said that the museum was embracing the "American Idol syndrome.") The crowd-sourced approach to determining the winner of the prize, one of the richest in the art world, caused no small amount of concern over the process's rigor.
Mokgosi, who was born in Gaborone, Botswana, in 1981, lives and works in Culver City. Last year he was an artist-in-residence at the Studio Museum in Harlem, and in 2007-08 he participated in the Whitney Museum's Independent Study Program.
More of Today's News from BLOUIN ARTINFO:
Popular in the Community