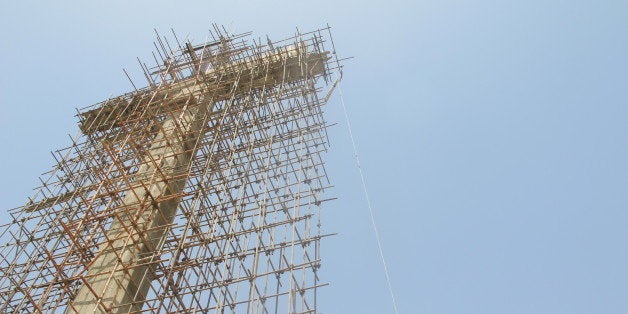 A Pakistani businessman has big dreams for the 140-foot cross he's building at the entrance of Karachi's largest Christian cemetery.
Parvez Henry Gill, 58, says the bulletproof concrete structure will be the tallest cross in Asia and a "sign" that God is everywhere.
His message is aimed at Pakistani Christians, who make up about 1.5 percent of the Muslim-majority country, although this figure could be higher. Gill's city, Karachi, is home to Pakistan's largest Christian population.
"God will protect you. Stay in your country. Don't be afraid," the businessman said, according to CBS.
Pakistan stands out as one of the countries in the world with the highest levels of religious restrictions -- imposed by both the government and by groups like the Taliban. The country's strict blasphemy laws carry a potential death sentence for anyone who insults Islam.
But interfaith activism has been growing in Pakistan, with Muslims joining in on human peace rings to protect churches.
Churches have been part of Pakistan's religious landscape for decades. In fact, Karachi's Governor's House is located just minutes away from Christian schools and cathedrals, according to Akbar Ahmed, a former ambassador from Pakistan to the U.K. and Ireland and the chair of Islamic studies at American University.
Ahmed said the majority of Pakistanis will see Gill's cross as reaffirming the inclusive nature of Pakistan. But some may see it as a provocation.
"They will say this a challenge to Islam and that it can only be met by destruction," Ahmed told HuffPost. "It's a smaller group, but it's the smaller groups that can inflict a lot of damage."
Christians and other religious minorities have been the victims of suicide bombings and mob attacks in recent years. In March, two bombs exploded near Pakistani churches in Lahore, leaving at least 14 dead and injuring many others.
As a result of the violence, many Christians have been fleeing Pakistan.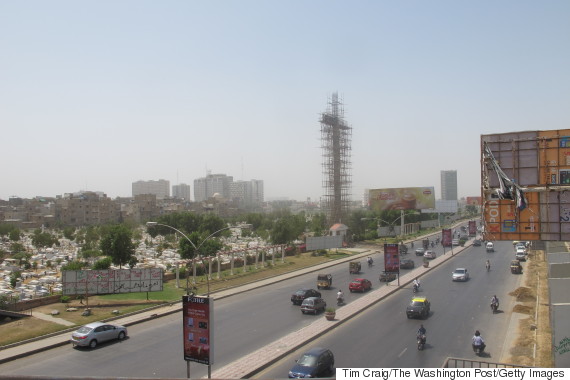 A Christian businessman is building a 140-foot cross in the middle of Karachi, home to Pakistan's largest Christian community. The cross is meant to make Pakistan's oppressed Christian minority hopeful about the future.
Gill says he hears about Christians moving away from their homes in Pakistan "every few weeks."
He claims God spoke to him in a dream about four years ago and instructed him to do something to protect Pakistan's Christians.
Some Christians in the area are worried that the cross will become a security threat for a community that already feels as if it is under siege.
"This is a source of inspiration, no doubt. But the security threat which comes with it cannot be ignored," Nadia Gill, a Christian school teacher who isn't related to Parvez Henry Gill, told CBS. "We are a community under threat. If God spoke to Mr. Gill, then maybe this cross will survive. But I still have my fears."
Others wonder if the money could have been put to better use.
Michelle Chaudhry is the founder of The Cecil & Irish Chaudhry Foundation, a non-profit that advocates on behalf of Pakistan's religious minorities. While she thinks Gil's initiative is a good gesture, she said that there are other, more effective ways to help her country's Christian community.
"I cannot speak on behalf of the thousands of Christians across Pakistan but in my personal opinion what we the Christian community need is, to come up with initiatives that will help empower the oppressed; strengthen them socially and economically," Chaudhry wrote to HuffPost. "While appreciating this particular initiative, I sincerely hope that concrete measures will also be taken by members of the community for the welfare and development of fellow Christians in terms of long term financial sustainability."
REAL LIFE. REAL NEWS. REAL VOICES.
Help us tell more of the stories that matter from voices that too often remain unheard.