WASHINGTON -- Smarting under the U.S. drone attacks it calls a violation of its sovereignty and international law, Pakistan has threatened to withhold cooperation with the United States on counter-terrorism operations until the drone strikes stop.
Sherry Rehman, Pakistan's ambassador to Washington, said Tuesday that the continuing drone strikes are a "red line," but she declined to say whether Pakistan would order its U.S.-made F-16 fighters to shoot down the drones.
"I can't speak to that issue," Rehman said at a breakfast meeting with reporters. But she insisted that Pakistan does not privately okay drone strikes inside Pakistan. "I can assure you there is no quiet complicity in this, there is no question of a wink and a nod," said Rehman, a powerful Pakistani politician who graduated with honors from Smith College in Northampton, Mass.
In its secretive and intensifying war against terrorists, the Obama administration has used its fleet of some 350 armed drones to kill people it asserts are terrorist leaders, mostly in Pakistan, but also in Yemen, Somalia and Afghanistan. That policy is expected to come under scrutiny Thursday when the Senate Intelligence Committee considers the nomination of John O. Brennan as CIA director. As President Obama's chief counterterrorism adviser, Brennan is considered the architect of the armed drone campaign.
While dismissing drone strikes as "operationally counterproductive," Rehman said Pakistan wants to continue to cooperate with the U.S. on counter-terrorism operations, especially as U.S. and allied conventional forces are drawing down in neighboring Afghanistan. But she portrayed the U.S. and Pakistani disagreement over the armed drone program as an obstacle. "The drones are the red line here," she said.
She was dismissive of the 12-year U.S. effort in Afghanistan, observing that "clearly, force has not been an answer over the years." She said the border between Pakistan and Afghanistan has become more turbulent, despite what she described as a determined Pakistani effort to control cross-border operations by the Taliban and other militant groups. And she rejected U.S. criticisms that Pakistan has allowed the Taliban sanctuary inside its territory.
"Don't always lay at our door what this big global [U.S.] force couldn't do in Afghanistan," she said. Pakistani forces have taken control of 86 percent of the tribal areas along the border, she said, up from 37 percent in 2009, and Pakistan has built 800 border control points to the 100 manned by Afghanistan. "We do what we can," she said. "It's hard to interdict on this border if the other side is unmanned."
Rehman repeated the objections to the drone strikes frequently voiced by Pakistani officials and critics around the world: that they create deep resentment on the ground in Pakistan and elsewhere; that they radicalize people who had tried to stand against terrorists; that the al Qaeda leadership is decimated anyway; and that in the long term it harms U.S. and Pakistan efforts against terrorists.
"We don't see drones as productive at all," she said.
But asked directly how her government would handle a demand from the Pakistani general staff to be allowed to shoot down the drones, she shot back: "Wouldn't you like to be a fly on that wall!"
When laughter died down, she added: "We are all on the same page now, members of the general staff and ourselves, on where the future of this lies. Pakistan has to take ownership of all anti-terror operations, absolutely all of them, in order to be sustainable and to be seen as legitimate in the eyes of our people."
Rehman also said Pakistan supports efforts toward a negotiated peace in Afghanistan, and insisted that Pakistan is scrupulously following the lead of the Afghan government. "We move when the Afghan government asks us to move," she said."This is a sovereign-led process, the goalposts and timelines are determined by them."

Before You Go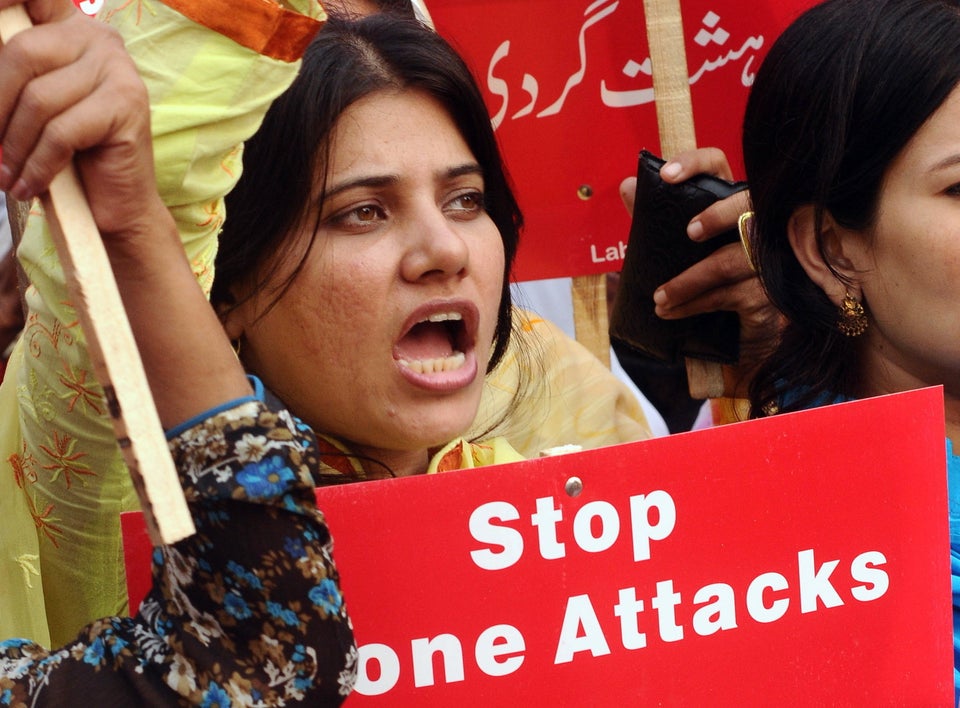 Protests Against Drones
Popular in the Community