Usually when one attends a runway show, there is hope to be wowed throughout the entirety of the presentation.
New York fashion designer Pamella Roland showed her A/W '15 collection during NYFW on Monday afternoon to a packed house of fashions elite and lucky for them, the collection indeed wowed, but it was one very particular ivory lurex fils-coupe bridal gown paired with feather jacket that had jaws dropping.
The collection, inspired by a recent trip to Paris was reminiscent of a 70's glam party in the heart of the French city with a handful of intricate embroidery, slinky gowns and over the knee suede boots--the perfect complements to those tall glasses of champagne and bright disco lights.
With dresses and separates constructed to invoke the seductive glamour portrayed in Alicia Drake's "The Beautiful Fall" Roland's collection surprisingly felt appropriate for the current NYC winter--if not inspiring many to search out floral and paisley prints, burgundy for a night out on the town and an ivory feather jacket for the upcoming nuptials because, why not?
Dropping backstage to chat with the designer while sifting through a gaggle of energetic models as a notable Ted Gibson crafted Bridget Bardot hairstyles and the Artistry perfected those smoky eyes, we asked Roland a few pointed questions about her current work.
Q: Would you talk a little about the inspiration behind this collection?
A: Well, inspiration is early 70s in Paris when the models and the fashion designers and all the photographers really started getting everything going. The glamour of fashion really started back in the early 70s so we studied a lot of the things women were wearing back then and even the makeup. The makeup and hair is really Bridget Bardot - that era. Even looking back at YSL with the smoking jacket - we're opening up with a tuxedo. We are really focusing on the sexy glamour of that time and hopefully that shows in the collection.
Q: What has been your constant source for ideas as a designer?
A: I travel a lot, that's why often you can see various influences from all over the world in my work. I love art - I'm on the board of the Whitney - and so it seems to be that (art and travel) they always go together. I was recently in Paris with my daughter and really inspired by the surroundings. I always feel ahead of my time in regards to my collections and what I want to share the next season. I don't really have to sit down and think about it - as I travel I kind of go, "oh, I'm seeing this, I'm feeling this."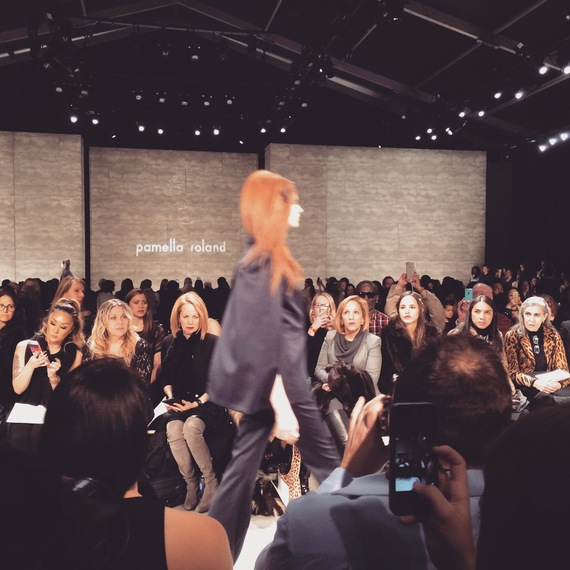 Q: How do you feel about Mayor De Blasio's support and interest in the city's fashion industry - how do you see it benefitting New York Fashion Week in particular?
A: First of all, it's going to get us more attention and that's always great! I think fashion has grown so much, especially with social media. The Mayors support is a fantastic contribution and it's going to have a huge impact on all of us. It would also be wonderful to see the Mayor and the first lady at some shows in the future!
Q: What do you see to be one of the great accomplishments in the fashion industry in the last few years?
Q: I think one of the things that we have all done or worked very hard towards in the fashion industry is with our models. We don't want the model who are so skinny and who look like their being starved. I think we've all concentrated our efforts to see healthier looking women on the runway. I think there are a lot of ways that the fashion industry could be strengthened, but there's so much to discuss that we'll need a whole new interview!