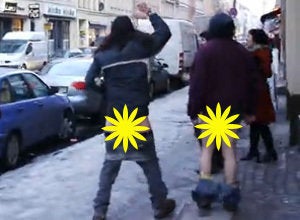 UPDATE 2/9/2010:According to NBC Bay Area, the GPS-equipped Google Street View car touring Germany was part of an elaborate hoax staged by an artist collective.
An artist collective staged an elaborate hoax playing on the German's growing anxiety that Google is set to publish pictures of their steets on Street View. Free Art and Technology slapped a hatchback with a Google logo and strapped a camera on top and proceeded to drive slowly through the streets of Berlin.
Read more at NBC--then check out the video below. Even it the prank was a hoax, it's still worth the watch!
A few German pranksters have decided to take the coincidence out of these 'accidental' and inappropriate run-ins.
The German group Free Art and Technology (F.A.T) managed to hide a GPS device on a Google Street View car that was snapping photos in the streets of Berlin, and have been stalking (and ambushing) the car's camera ever since.
The detailed photographs captured and published on Google Street View have raised privacy concerns. Germany's Consumer Protection Minister was recently quoted saying that even intelligence agencies wouldn't "collect photos so unabashedly."
On the F.A.T Lab site tracking the Google Street View car, F.A.T explains, 'Come help us find and tell your friends about the evils being committed by Google's streetviews car and crew.'
One crazy prank pulled on the Google car is captured in the (NSFW) video below. A group of mischief-makers tracked down the Google car's whereabouts, sprinted up to the car, then pulled down their pants and flashed the Street View camera.
(via
)
WATCH:
Related
Popular in the Community