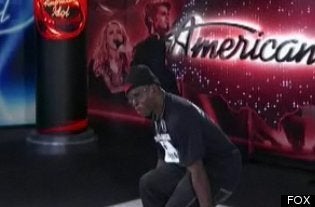 "Pants on the Ground" has become a viral hit and spawned countless reinterpretations, thanks to 62-year-old 'American Idol' contestant General Larry Platt, who seemingly wrote the song and performed in on the reality show earlier this month.
Now the Green Brothers of Highland Park, Michigan, are trying to take credit. The brothers wrote to MyFox Detroit that the similarities between Platt's song and their 1996 recording "Back Pockets on the Floor" are more than coincidence, and they want the world to see their version.
The Green Brothers have posted their song on Youtube with the following missive. Watch both version on vote on whether you think Larry Platt ripped them off.
This is in regaurds to the General Larry Platt "Pants on The Ground". His song is a take off of the Green Brothers song " Back Pockets On The Floor'. Back Pockets On The Floor was written by G. Green andwas copyrighted and recorded by the Green Brothers in 1996. The General's song have the same intent, idea and in part the same message. YOU BE THE JUDGE AMERICA!!
WATCH the Green Brothers perform "Back Pockets on the Floor":
WATCH Larry Platt perform "Pants on the Ground":
@
Calling all HuffPost superfans!
Sign up for membership to become a founding member and help shape HuffPost's next chapter