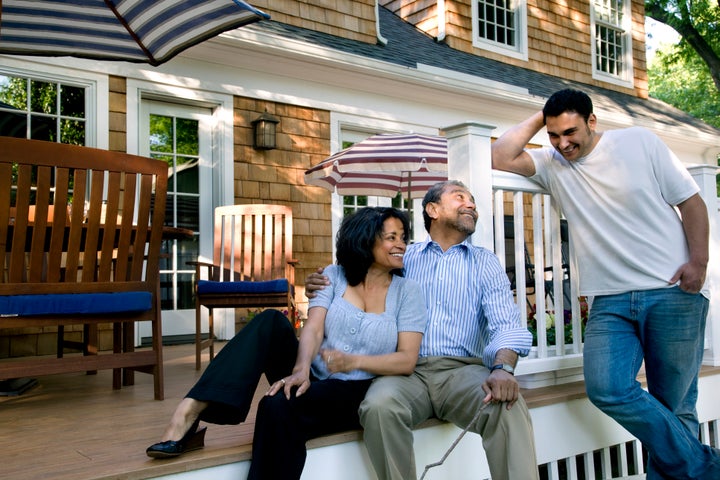 Parents: Supporting a Millennial? It's OK if Money Has Strings Attached
Would it surprise you to know that almost half of U.S. Millennials, age 25 to 35, have accepted financial support from their parents? It shouldn't. But the more important question: Should parents have a say in how young adults spend or save money when they help them out?
We've all seen and heard anecdotal evidence about the economy and Millennials. Times have been tough for some of the folks born between 1980 and 2000: A big chunk graduated college during or just after one of the nation's most bruising recessions. For the Class of 2016, 7 out of 10 are shouldering average student loan debt of just over $37,000, up nearly $10,000 since 2011, according to one estimate cited recently by The Wall Street Journal.1 It's no wonder Millennials are looking home, even moving home, for support.
But for this generation—now the largest generation—economics keep many of them tethered to their parents financially. In its new Millennial Money Study, Fidelity Investments reports that 47% of Millennials surveyed recently said their parents have helped them foot the bill for certain items since they have been on their own. The elders are picking up the basics—groceries, clothing, cell phone and cable TV bills, and other monthly utility costs. In some families, parents are even helping their grown kids pay rent.
In some cases, they're doing a lot more than that. One in five (21%) of Millennials surveyed this year said they hadn't left the nest, compared with only 14% still living with their parents in 2014. And no one necessarily expects them to rush into their own crib either. Moving back home after college is entirely acceptable, according to 67% of the 600-plus participating Millennials, Baby Boomers and Generation Xers surveyed. This isn't a bad thing—just a sign of changing times.
What's going on? Shoving kids out of the nest is less important to many parents than helping kids with their finances, which many see as a way to reinforce the importance of living without debt and getting a jump on saving. In fact, 85% of Millennials reported having savings—62% have an investment account, 60% are saving for retirement and 59% have an emergency fund with an average balance of $9,100.
This is a really positive trend that suggests Millennials are listening and consciously returning home as a way to gain a firm financial footing. We don't know if parents stipulate how kids spend money when they receive financial support, but it would be a good idea for parents to suggest that they nibble away at credit card and student debt, put money away for an emergency and get a solid start on saving for retirement. In other words, there's nothing wrong with having a few strings attached to money that goes to help adult kids get a jumpstart. In fact, I'd like to take it a step further and advocate that a parent charge their adult kids rent if they move back home. Even if it's not market-based rent, it's a recognition that the kid's lifestyle shouldn't expand as if the rent will never come due.
As for what the parent does with that rental payment, I'd suggest two ideas:
· Use it to fund retirement catch-up contributions. Do we know anyone with children who feels they haven't shortchanged his or her own retirement in favor of spending something on the kids? Now it's time for parents to get their retirement savings back on track.
· Put aside the rental payments to help fund the down payment on your adult child's first home or foot the bill for their wedding. Adult children will recognize the value in the forced rental payments and realize that, ultimately, the money will come back their way.
And attaching strings to money shared certainly goes for parents who are in a position to gift an adult child with a sizeable chunk of change. (Annual gift tax exclusion for 2016: $14,000.) At the very least, a grown kid's financial situation provides an excellent opportunity to start a conversation on the necessity to save, no matter how much we earn.
Not long ago, when many young adults shoved off, they often waved good-bye to financial support and said "so long" to advice of any kind. Just as turning 16 gives many kids the freedom to hit the road without their parents at their side, leaving school for the world of work has long meant freedom from parents' scrutiny and commentary. In these changing times, the conversations about money should continue as long as possible—and certainly when so many parents are still footing a few of the bills.
And, guess what? The guidance may be appreciated almost as much as the financial support (even if the young person doesn't see it that way initially). According to the Fidelity study, 65% of Millennials said parents had set a good example of how to have a successful future, up from 59% in 2014.
As parents, it's natural to want to help offspring thrive no matter what their age. But if that aid comes in the form of helping pay the cable bill or cover their rent, it's wise to talk to kids about cultivating good financial habits. That way, when they are truly on their own—and maybe even have their own children to look after—they have a better chance to thrive.
1 http://blogs.wsj.com/economics/2016/05/02/student-debt-is-about-to-set-another-record-but-the-picture-isnt-all-bad/
About the Millennial Money Study
The Fidelity Investments® Millennial Money Study is a follow-up to the 2014 Millennial Money Study. The study was conducted from July 27 to August 2, 2016 by GfK Public Affairs and Corporate Communication, using GfK's KnowledgePanel®. In total 615 adults, 25 to 70 were interviewed: 305 were Millennials (born after 1980, although for the purposes of this study, Millennials are defined as between 25-35 to ensure they were old enough to work full-time), 155 were Gen X (1965 – 1979) and 155 were Boomers (born between 1946 – 1964). To qualify respondents had to have either a living parent or an adult child over the age of 18. Data was weighted to bring each group in line with the population they represent.
About the author: John Sweeney is executive vice president, Retirement and Investing Strategies for Personal Investing, a unit of Fidelity Investments, in Boston. Follow him on Twitter @SweeneyFidelity.
Views expressed are as of the date indicated and may change based on market and other conditions. Unless otherwise noted, the opinions provided are those of the speaker or author, as applicable, and not necessarily those of Fidelity Investments.
Fidelity Investments and Fidelity are registered service marks of FMR LLC.
Fidelity Brokerage Services LLC, Member NYSE, SIPC
900 Salem Street, Smithfield, RI 02917
Fidelity Investments Institutional Services Company, Inc.
500 Salem Street, Smithfield, RI 02917
National Financial Services LLC, Member NYSE, SIPC
200 Seaport Boulevard, Boston, MA 02110
REAL LIFE. REAL NEWS. REAL VOICES.
Help us tell more of the stories that matter from voices that too often remain unheard.