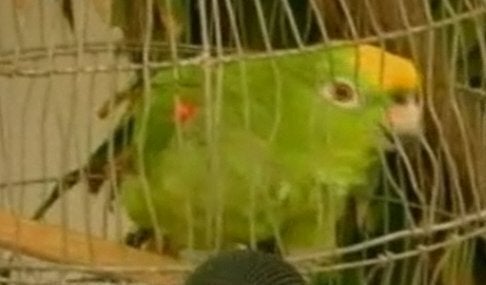 A parrot in the Colombian city of Barranquilla has been "arrested" for allegedly tipping off members of a local drug cartel during a police raid.
Authorities say Lorenzo the parrot had been specially trained to alert narcotics traffickers. As it spotted uniformed officers, the bird reportedly yelled out, "Run, run -- you're going to get caught," in perfect Spanish. He was just one of nearly 1,700 trained parrots which have since been seized by Colombian officials.
Despite the guard bird's best efforts, officials seized more than 200 weapons, a stolen motorcycle and a large quantity of marijuana in the raid, according to AOL News. At least four men and two other birds were also arrested in the raids. As for Lorenzo himself, he's now in the hands of environmental authorities.
Watch video of "jail bird" Lorenzo:
Popular in the Community