 For the past eight years the Sea Shepherd Conservation Society (SSCS) led by Captain Paul Watson has prosecuted its anti-whaling campaigns in the Southern Ocean Whale Sanctuary near Antarctica and disrupted the annual Japanese whaling hunt. This year another ship is being added to the expanding Sea Shepherd fleet, the SSS Sam Simon, named after The Simpsons co-creator whose generous donation made the purchase possible. The Sam Simon, along with the existing fleet comprised of the SSS Steve Irwin, the SSS Bob Barker and the SSS Bridget Bardot are en route to once again interdict Japanese whaling operations in Operation Zero Tolerance.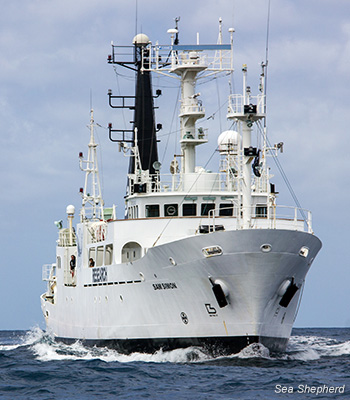 The SSS Sam Simon Photo: Carolina A Castro / Sea Shepherd
Paul Watson fled Germany last spring after it appeared he was going to be extradited to Costa Rica on a trespassing charge stemming from a confrontation that disrupted illegal shark fin poaching in Costa Rica in 2002 -- a charge that Watson and his attorneys have described as politically motivated. Watson and his attorneys have repeatedly asserted that Japan was behind the Costa Rican extradition request and feared for his safety should he then be extradited to Japan. Subsequently, Interpol has issued an international warrant for Watson's arrest. He resurfaced recently at sea and back in command of the SSS Steve Irwin.
I spoke to Paul Watson via Skype on board the SSS Steve Irwin en route to the Southern Ocean Whale Sanctuary.
Jerry Cope: How does it feel to be back on board the Steve Irwin?
Paul Watson: Great. It took four months and 12,000 miles but I finally made it. Right now we are in the South Pacific near New Zealand heading south. The Bob Barker is in Wellington, the Sam Simon is in Hobart and the Bridget Bardot is about 500 miles behind us in the South Pacific so all the ships are getting in place. The Japanese whaling fleet left just a few days ago from Japan so we don't expect them in the Southern Ocean until the end of December. We have four ships, two drones, and a helicopter with a crew of 120 from 26 different countries waiting for them (the Japanese) to get down here.
JC: So you have obviously added yet another vessel this year, is this the largest crew you have had?
PW: It is the largest crew we have ever had and certainly the strongest we have ever been. Every year we come down stronger and they come down weaker which speaks pretty well for our campaigns. The new vessel we have is the SSS Sam Simon which is sponsored by Sam Simon who is the co-creator of The Simpsons. It has the speed and the ice strengthening in the hull that we need to really make this work and we are calling this year's campaign Operation Zero Tolerance because our objective is no whale kills. Last year they took 26 percent of their quota and the year before 17 percent so that is very successful but we are trying to get it down to zero kills. Last year we cost them over $22 million in losses and overall probably $100 million in losses -- which is why they are so angry and one of the reasons they are coming after me personally with such a vengeance.
JC: There were reports just today that South Korea had decided not to proceed with a proposed whaling program, presumably under Japanese direction.
PW: Yes they came under a lot of pressure from the Korean people themselves. More and more Japanese are coming out against whaling. There was a poll last week which showed 27 percent of the Japanese people support whaling and 18 percent oppose and that most of them don't give a damn. But the Japanese government put that out and they claimed that more Japanese support whaling than oppose it; the poll doesn't reflect the reality of it.
JC: How long do you think the Campaign will run this year?
PW: Usually January and February into March. Again the Japanese filed another petition with the 9th Circuit Court for an injunction against us, but the court has ruled against them -- as the judge said in the last case they can't get it (injunction) out of the Australian Courts how dare they come into the U.S. court and trying to get what they couldn't get out of the Australian court. The other thing is of course they allocated $30 million from the tsunami relief fund specifically to stop us and this year's whale hunt.
JC: In the past eight years of campaigns you have directly saved over 3,600 whales, is that an accurate figure?
PW: Yes. We have certainly had a big impact on their quota every year. We keep getting better at it so I am confident this is going to be a banner year.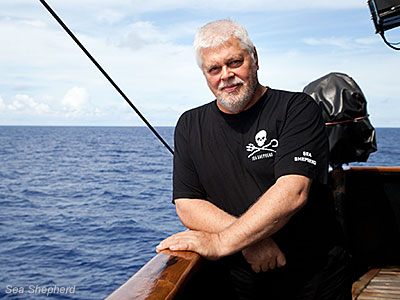 Captain Watson onboard the SSS Steve Irwin Photo: Tim Watters / Sea Shepherd
JC: I hope you are able to put yourself out of business on this aspect of your operations.
PW: Well, I am certainly tired of coming down here. This is my ninth year coming down to the Southern Ocean. I've spent eight Christmases already in Antarctica so I would be quite happy to be somewhere else. [Laughs] At this point I don't even know if I can ever go back to land as long as they have these Interpol warrants out for me.
JC: While you are down there doing your work this season, is there anything people at home here in the States and around the world can do to assist you in the legal efforts so perhaps you can return to dry land when you are done?
PW: Well yes. Support Sea Shepherd as we have lawyers working on this . Writing to the State Department might help, but (laughing) probably not. The politics on this is pretty intense but this is not unexpected. We have gone head to head with one of the biggest economic powers on the planet so we were prepared for them to come after us. When you think of it, in 2010 they destroyed a $2 million vessel (SSS Ady Gill), almost killed six people and injured one seriously and they did not even have to answer to the investigators -- they just ignored them. Yet here we are; they are trying to extradite me for trespassing. Nobody gets extradited for trespassing so it is definitely politics.
I have a good crew and we are prepared and I think they are anxious. Usually they have a big send-off when they leave Japan but this year they quietly snuck away they did not want anybody to know when they were leaving.
As with the SSS Bob Barker and its namesake two years ago, another well known TV personality made a donation which resulted a Sea Shepherd ship being named after them. The SSS Sam Simon was unveiled today in Hobart and is named after The Simpsons co-creator Sam Simon. Ironically, the ship was purchased from the Japan government surreptitiously by New Atlantis for Sea Shepherd. It was harbored in Japan near the Japanese whaling fleet when it was purchased and is now in Hobart.
I spoke with The Simpsons co-creator and Sea Shepherd supported Sam Simon in Los Angeles.
Jerry Cope: Did you have any idea what Sea Shepherd would do with your generous donation?
Sam Simon: Paul asked for a boat -- a ship! [laughter]. I am not a seaman but he asked for a ship and he made a very compelling about how it could help permanently end the illegal Japanese whaling in the Southern Ocean Sanctuary. So the thought all along was to do that. I wasn't privy to the details I just said to do something great.
JC: As it turns out it seems appropriate that you had a big role in this because the ship is being unveiled in Hobart today. The Sam Simon was purchased clandestinely from the Japanese and apparently was in the same harbor with the whaling fleet.
SS: [Laughter] I think there is a beautiful message here that a Japanese ship has seen the light of day and can become a force for good in the world.
JC: How did you first become a supporter for Sea Shepherd?
SS: I am a big PETA supporter and their East Coast headquarters is the Sam Simon building and their West Coast headquarters is in the Bob Barker building. Bob has a ship and I became aware of Sea Shepherd -- I knew who they were and I knew who Paul was, and of course the TV show Whale Wars. This is an animal rights issue to those of us who believe in animal rights, but it is also a conservation issue. This is a little out of the realm of what I usually do, but it is something that I am very proud to do and it is something that I hope will better the Sea Shepherd and Captain Paul Watson. The time for protest is over people have been demonstrating for thirty or forty years and this is still going on. What we need is the Sam Simon and the Bob Barker and Steve Irwin and the Bridget Bardot down there. When people make donations to non profits they want to know that their money goes to good use. One of the crazy things the Japanese government does every year is say that they are not whaling this year because of the Sea Shepherd Conservation Society and they go anyway. So when people say how do you know this is working? I know because the enemy retreats every year because of Paul Watson. Hopefully, this will be the last year.