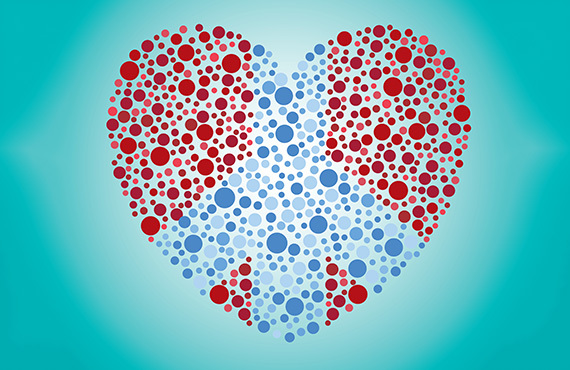 The holidays are in full swing! While this is typically a fun and festive time of year, it also has the potential to be stressful, or even downright blue for some. From all the hustle and bustle, to having to host shall we say -- more challenging -- guests, to perhaps having to adjust for the first time to the holidays without a particular loved one, Christmas has the ability to stir up many feelings beyond just cheer in us. Fortunately, there are simple yet effective ways to manage the wide range of emotions experienced this season.
How to find inner peace and happiness during the holidays:
Make time: Between trying to make it to various social engagements, family dinners, or shop for everyone on your list, it can be easy to lose touch with yourself and your own needs. No matter how busy you get, remember to do one thing for yourself every day, whether it's exercise, take a bubble bath -- or perhaps even splurge on that small gift item you've really been wanting.
Go dark: Momentarily escape from all the bright lights -- whether in the form of holiday decorations or your collection of handheld devices -- that are constantly demanding your attention and stealing your peace of mind. Pick up a book, write in a journal, or practice mindful meditation. Simply sitting quietly without any outside distractions can help you center yourself and get refocused.
Get out: Outdoors, that is! Whenever you're feeling overwhelmed, even simply changing environments and getting some fresh air can be so healing! Go for a revitalizing walk or hike and marvel in the beauty and simplicity of nature. Try to remain in the present moment or focus on the things you're grateful for as you allow the power of the great outdoors to calm and refresh you.
Just dance: I know whenever I need a quick break from all the holiday chaos, a good heart-pounding dance class is the perfect place to de-stress and recharge, and we now offer a wide range of classes that address every exercise -- and emotional -- need. However you happen to be feeling this Christmas, we invite you to come leave all your calories -- and cares -- on the dance floor!
No matter your situation this season, remember that a happy, healthy, and stress -free holiday starts with you. Be good to others, be good to yourself, and enjoy the season!
Judi Sheppard Missett created the original dance party workout and started the fitness revolution that became Jazzercise. Today -- more than 45 years later -- Jazzercise is one of the world's leading dance fitness companies, offering a program that continually evolves with new beats, new moves and new classes. As Founder and CEO of Jazzercise, Judi Sheppard Missett leads a team of more than 8,300 franchisees teaching 32,000+ classes each week around the world. Jazzercise is a pulse-pounding, bass-dropping fitness program that gets results...fast. Customers can incinerate up to 800 calories in one 60 minute workout and choose from a variety of classes including Fusion, Core, Strike, Strength, Interval and Dance Mixx. For more information, visit jazzercise.com.