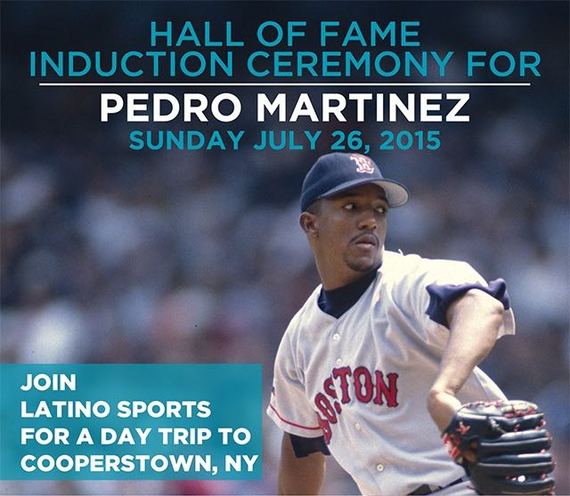 The 43-year-old native of Manoguayabo, Dominican Republic will take the Cooperstown stage for his induction into the Baseball Hall of Fame. I hope he makes the most of his moment at the podium just like another Red Sox great did a half century ago.
In 1966, Ted Williams made history with this one sentence: "I hope that someday, the names of Satchel Paige and Josh Gibson in some way can be added as a symbol of the Negro players that are not here because they were not given a chance."
At the time, Negro League baseball had become largely forgotten. Williams' remark started a national conversation about honoring those barred from major league ball during the game's segregated era. Eventually, 35 Negro League players and officials were elected to the Hall of Fame.
Pedro's opportunity is to start an international conversation about another important story slipping through the cracks of baseball history. Since the game arrived to Cuba in the 1860s, Latinos have helped shape baseball's past, present and future.
I'll be in Cooperstown -- with a busload of fellow South Bronx Latinos -- cheering for Pedro and looking for parallels to Williams' impactful speech.
That day, his shout-out to Negro League greats prompted applause. Then 47-years-old Williams continued: "As time goes on, I'll be thinking baseball, teaching baseball, and arguing for baseball, to keep it right on top of American sports. Just like it is in Japan, and Mexico, Venezuela and other Latin and South American countries."
The Hall of Fame has no record of what early inductees said. In an interview this week, Matt Rothenberg, manager of the Giamatti Research Center at the National Baseball Hall of Fame, said Williams was probably the first to reference African Americans, Latin Americans and Asians in his induction speech.
Rothenberg told Bob Heuer -- a freelance journalist who has written about baseball's Latinos since the 1980s -- that the Hall has completed its Negro League research project. He also said he is unaware of any plans to uncover Latinos' contribution to the game.
Bob and I are started a campaign to encourage the Hall of Fame to do more to showcase Latinos' contribution to baseball. The kickoff was last week on the Jordan Journals radio program on New York's, WBAI FM 99.5.
Howard Jordan introduced me as the founder of the Bronx-based marketing firm Latino Sports LLC and the Chairman of the Latino Sports Writers & Broadcasters Association. Howard asked why Latino Sports is organizing a bus tour for fans from the South Bronx (Yankee territory) to cheer for a Boston Red Sox player.
The answer is Latino pride. Starting with Roberto Clemente in 1973, the Hall of Fame has honored less than a dozen Latino players. Thus when any Latino gets inducted, it is a time for all Latinos, no matter what team they rooted for, to rejoice.
Sunday will be the third such Latino Sports excursion from NYC to the Cooperstown ceremony. The first was in 1999 for Orlando Cepeda; the second in 2011 for Roberto Alomar.
Our presence will be a message to the Hall of Fame to step up its game in showcasing the story of Latinos in baseball. The truth is that a rich history -- more than a century in the making -- paved Pedro's path to the Cooperstown podium.
REAL LIFE. REAL NEWS. REAL VOICES.
Help us tell more of the stories that matter from voices that too often remain unheard.