Here's a challenge for Netflix connoisseurs: How do you pair wine with TV? Real "gladiators," for example, know Scandal's Olivia Pope is fussy about fine reds, so a rich Cabernet Sauvignon or "Bordeaux that'll bring tears to your eyes" are natural choices. Obviously it's white for the Whites when it comes to Breaking Bad, especially for the sympathetic Skyler fan who knows that only a a colossal cold glass of Chardonnay or Riesling can deliver the memory-erasing pain medication one needs to cope with rampant misogyny and sweaty Albuquerque nights in a house insulated with cash.
I recommend saving your best red wine for the red wedding Game of Thrones fans, preferably something so thick your glasses are permanently bloodstained. Of course you'll want to homemake some hooch for Orange is the New Black, while The Unbreakable Kimmy Schmidt can only be accompanied by Pinot Noir for these obvious reasons.
Now you may think it a fool's errand to try to pair anything with Netflix's upcoming Pee-Wee's Big Holiday. Fortunately, the flick and the wine industry share someone in common: Tara Buck.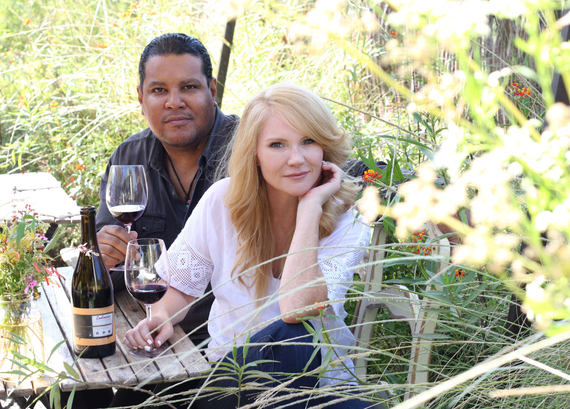 Famous for her role as True Blood's Ginger (fittingly a bartender at Fangtasia), Buck joins husband, acclaimed musician Chris Pierce and partners-in-wine Geoff and Jemina Whitman on a boutique label called Ledbetter, which this week released its 2012 vintage Syrah. The deep dark purple wine is easy to drink with plush flavors of blackberry, raspberry, and "a touch of plum," and it hails from the Colson Canyon in Santa Maria Valley. In other words, it's not only bold and confident enough to go toe-to-toe with Pee-Wee Herman, its rich flavor profile is classy enough for a glass in a fine restaurant like BOA Steakhouse's prestigious wine list.
When I spoke with him earlier this month, Chris Pierce (aka Reverend Tall Tree) beautifully likened the artistry of winemaking with music, suggesting that his melodies are as informed by the wine as the wine is inspired by the boldness of music. "In the wine world, what you can do, what you can make, and how you can make it is limitless. A lot of it counts on, like music, what kind of stage you're on, what the weather's like, and how things grow naturally in music just like in wine. Each time I taste a sip of wine, I think about all of the work that's gone into every glass and how much of an artistic expression it is."
Indeed Ledbetter wine gets its name from Pierce's favorite blues artist Lead Belly (Huddie William Ledbetter), Whitman's favorite song, Pearl Jam's "Yellow Ledbetter," and a Santa Barbara Beach where the two first met (Leadbetter Beach). "The name demonstrates how we met, and who we are as individuals while tying music into it as well."
Music and wine have danced together in another important way for Pierce, in his life with Tara Buck. Although she's relatively new to the business, Buck said Pierce has been charming her with wine since the day they met. "Chris and I met at a place where I was waiting tables, supporting myself to be an actor. One night, I got to see Chris play and was totally into it and just fell in love with his music, and we became friends. We eventually started dating, and he was taking me to Napa - all our earliest dates were dates in Napa, winetasting ..." [Pierce interjects] "Yeah, I was trying to wow her!" [they both laugh]. "Well, it worked!" she added. The two were married in October of 2012, a date that, fittingly enough, corresponds with their new vintage.
In 2013, Pierce "appeared" alongside Buck in an episode of True Blood "Life Matters," lending his singing voice to the character of Reverend Daniels. Although he doesn't appear on screen, Pierce was dubbed-in in a performance for Terry Bellefleur's funeral. "We thought, 'Oh, we're both going to be on TV tonight, that's cool!'" Buck said, joking about watching over a glass of wine. (Speaking of True Blood, I recommend an earthy Carmenère to ground some of its characteristic gore, or a Malbec if somehow it makes you hungry.)
Buck said she loved being a part of the 2012 vintage of Ledbetter Syrah and joining the family business. "It wasn't a hard sell to get involved, there was tasting that needed to happen! [she laughs] It's such a fun process: Sitting with your favorite people tasting the juice throughout the process and experiencing the way the grape's flavor profile changes is really exciting. The four of us are basically just talking about what we like and getting each other's opinions. Chris and Geoff are pretty aligned on their taste but when you bring in the wives it always makes for a lively discussion and ultimately a delicious wine we are all really proud of."
The Ledbetter quartet does most of the work themselves, hand packing and individually stamping every box of wine. "We spent a weekend together dripping red wax on the top of every bottle," Buck said. There are only around 500 six-pack cases of wine to sell (available now in California and everywhere else by the end of the year), and each is accompanied by the echo of Ginger's infamous scream.
Pee-Wee's Big Holiday:
Could Tara Buck be the new Dottie? While Netflix made sure Buck was tight-lipped on plot details about the new Pee-Wee film (our phone call was mysteriously dropped by what Pierce joked were Pee-Wee's minions), she did confirm a reunion with True Blood co-star Joe Manganiello.
"The film is really, really funny and wonderful and a great next installment of the Pee-Wee Herman story. It hits the same sweet spot," Buck said. "Being such a fan of Paul Reubens and Pee-Wee, and wondering if we would ever see that again, the fact that he is coming out with another movie is incredible. I can't believe I get to be a part of it. It has the creativity and humor that you would expect from Paul Reubens. He is a genius, and he has brought it with this."
When I asked if the "holiday" suggested a Christmas theme (the movie will be released in March), she said, "Uhh ... no. 'It's a very exciting holiday!'" She says this in an affected tone, which makes me think it's straight from the movie.
So far, Netflix writes only that: "In Pee-wee's Big Holiday, a fateful meeting with a mysterious stranger inspires Pee-Wee Herman to take his first-ever holiday in this epic story of friendship and destiny."
"I'm sorry! It'll be worth the wait, I promise," Buck added. "And that's all I can say." Well, that's OK, Tara Buck. We'll just pre-game a little with these 500 six-packs of Syrah while we wait.
In the meantime, semi-serious about the screen-sommelier, I asked some of my academic colleagues to help generate ideas for pairing television with wine. Here's what we came up with; we're obviously terrifically unrefined, so please send in your suggestions!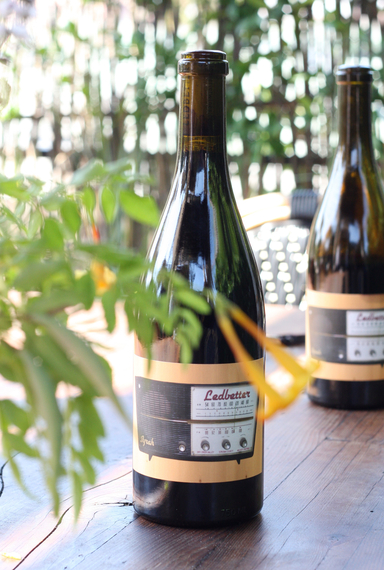 The Good Wife: A fraudulent vintage, because you waited forever for the payoff only to find out the wine wasn't even in the same room as the barrel.
Keeping Up With the Kardashians: Maria recommends any flavor of Boone's Farm, citing Urban Dictionary's definition that "this stuff has started wars and ended civilizations."
Fox News: Wine coolers, because leave that shit back in high school with your parents where it belongs. You're an adult now; make good choices.
Dancing with the Stars: Stock up on very white, very buttery Chardonnay to the moon and back, y'all, just in time for Paula Deen's dancing debut this fall.
Lost: Anything overrated but ultimately forgetful. Or just whatever they have in the back of the fridge at church, because apparently religion needs to be involved somehow.
Mad Men: Any flavor of Corbett Canyon (canyon canyon) because you're probably nostalgic for something that was never as glamorous as TV claimed and now the theme song's stuck in your head.
Hannibal: Too easy: A nice Chianti. Throw in some fava beans and human brains if you're feeling sporty.
Choosing only to watch foreign programming: Actual Champagne drunk between pontifications about how everything else is just sparkling wine, because superiority really matters to you, and you want to make sure everyone knows it.
Late Night Reruns of The Golden Girls: You could go with a cheesecake white wine since that's apparently a thing. But if you were a real fan, you'd know Bea Arthur actually hated cheesecake, and you'd opt instead to "picture it" with a Marsala, Sicily's most famous wine.
The Walking Dead: A moderately expensive White Zinfandel with saltines because it's just middle-classy enough that you can afford to drink enough to cope with the fact that Rick and his son are still alive. The crackers are just so you don't throw up.
Fringe: Red wine sipped through Red Vines.
Portlandia: A tossup between orange wine (because the fermentation process might as well be called artisanal) and biodynamic wine (because it's the most organic).
Orphan Black: Why limit yourself to just one wine? Johanna suggests a drinking game of wine flights tailored to each of Maslany's characters. "One sip of each every time you see them; two when it's Alison."
The Americans: Red, obviously. And feel free to sing UB40's "Red Red Wine" (preferably the version with the rap) while somehow also teasing your hair.
And the GOP Presidential Primaries: Never-ending boxed wine because Fred Franzia is apparently the U.S. wine industry's own Candidate Combover. And because talk (like labor) is cheap and you're going to need plenty for drinking games. Or again Pinot Noir for these reasons:
Photo Credit: Renee Faia. Special thanks to Maria, Johanna, Caroline, Charlotte, and especially Sarah.
Popular in the Community