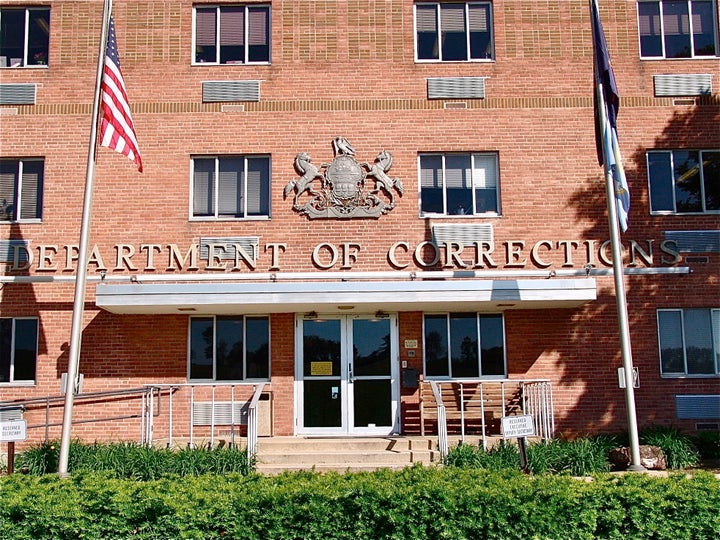 A Pennsylvania state prison where a group of corrections officers stand accused of tormenting and brutalizing inmates will face a federal civil investigation into alleged systematic civil rights abuses, the Justice Department said Thursday.
Seven guards from State Correctional Institution Pittsburgh, a medium-security facility, have been arrested since September and face state criminal charges including rape, assault, witness intimidation and official oppression. The most serious charges were brought against Harry Nicoletti, 59, a guard indicted on 92 felony and misdemeanor counts, including 10 counts of institutional rape.
An investigator's report from the Allegheny County district attorney's office details pervasive and unchecked abuse of prisoners by Nicoletti, who allegedly targeted gay or transsexual inmates and those convicted of sex offenses against children. The other guards are charged with assaulting inmates and using intimidation to keep the abuse secret.
Nicoletti and the other indicted guards have maintained their innocence.
The federal probe will examine whether officers at the Pittsburgh facility "systematically targeted prisoners for violence and other abuse" and whether administrators failed to protect inmates from violence and sexual abuse by both guards and other prisoners, the Justice Department said in a statement.
Federal investigators will also examine whether mentally ill inmates at another Pennsylvania prison were provided substandard medical care and subjected to "excessively prolonged periods of isolation."
Bret Grote, an investigator and organizer with the Human Rights Coalition, an activist group that documents abuse in the Pennsylvania prisons system, called the federal civil rights investigation a long overdue step.
"This is a human rights atrocity that's been going on," Grote said. "It is absolutely unconscionable."
"Hopefully the investigation will be expanded beyond these two facilities. These types of abuses they're investigating are, to various degrees, happening in facilities all over the state," he said.
A federal civil suit could result in a court order placing the prisons under the control of an outside monitor and requiring the facilities to institute significant reforms.
A spokeswoman for the Pennsylvania Department of Corrections did not respond to a request for comment. The Pennsylvania State Corrections Officers Association previously released a statement declaring that the seven indicted guards are entitled to "due process under the law."
The Pittsburgh prison's senior administrators, including superintendent Melvin Lockett, have already been pushed out in the wake of the inmate abuse scandal. But those administrators are not suspected of criminal activity, according to Stephen A. Zappala Jr., the Allegheny County district attorney.
Corrections department officials are also investigating a report that guards and administrators at a third Pennsylvania prison ran a clandestine "fight club" pitting inmate against inmate. The allegations were detailed in an anonymous letter purportedly written by a corrections officer at the facility in Fayette, a city south of Pittsburgh. The letter was sent to prison officials and the Human Rights Coalition, which shared it with local media in early November.
"The 'fight club octagon' is what they call it," the letter states. "This is assault and was permitted to go on with at time severe injuries involved."
"I saw missing teeth, swollen eyes, broken knuckles, broken hands and other things," it continued.
The letter added that there was a "severe cover-up" underway at the prison that was "no different" than the abuse at the Pittsburgh facility.
In the statement announcing its investigation into prison abuses, the Justice Department urged community members with information regarding other civil rights violations at Pennsylvania facilities to write to the agency at pennsylvaniaprisons.community@usdoj.gov.
Calling all HuffPost superfans!
Sign up for membership to become a founding member and help shape HuffPost's next chapter