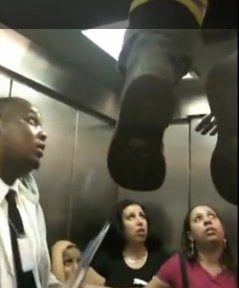 It's in the back of the mind of everyone who enters an elevator: What if I get stuck?
On April 8, an elevator inside the 1 line station at 181st Street stopped working with 28 people inside, including an MTA assistant who was operating it. Isabella, a 35-year-old neighborhood resident who didn't want her last name used, was inside when the elevator failed. It's not clear if this elevator was one of new ones reportedly installed at that station in 1999.

It was hot and crazy when the unit failed, Isabella told NYC The Blog in an email, and hard to breathe. One of those trapped was a young girl who had asthma. "She was scared," Isabella wrote, and had a "hysterical attack." The MTA employee present called 911 "several times" but otherwise was just as helpless as the others. Some passed the time with friendly conversation. "What's your favorite song," one asked. Others fanned the young girl to keep help keep her cool.
The fire department came to the rescue about an hour later.
NYC The Blog notes that there are no stairs to the station and the escalators have been out of service since February.
Though it was clearly a stressful situation, the elevator's inhabitants laughed and generally tried to keep things pleasant, despite being caught in a known circle of hell. Several straphangers and the rescuing fireman tried to comfort the sole panicked young girl.
WATCH the harrowing experience below:
Calling all HuffPost superfans!
Sign up for membership to become a founding member and help shape HuffPost's next chapter