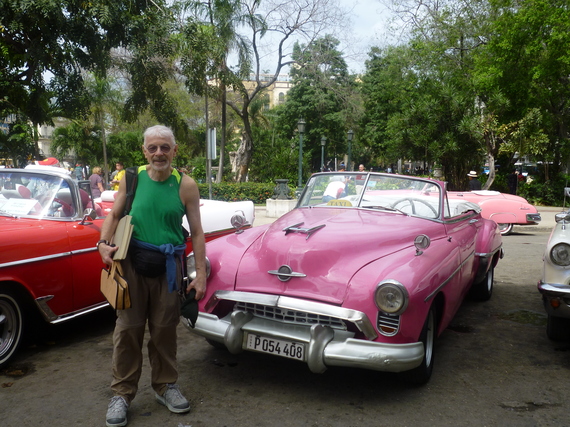 The author near the Capitol, in Havana, with some of Cuba's famous old American cars, most of which are used in one way or another as taxis.
I spent ten days in Havana, Cuba, from February 9, 2016 to February 19, 2016--roughly a month before President Obama made his historic trip. It was my first trip to Cuba, and I kept a journal of my time there. I also wrote poetry, and I will include some of that at points. When I first got to Havana, I wrote in my "small notebook," the one where I jot ideas and poems, that "being in Cuba is like being in a carnival after the show has stopped."
I quickly stopped having that feeling: The show is definitely going on, but often under duress.

I will try to put in this account most of my journal writing, but I will at times fictionalize names.
Wed. Feb 10, 2016. 7:50 AM
In Havana.
The flight from JFK through Cuba Travel Services was wonderful--we left on time. We got to the car lot [at JFK] easily--no traffic problems, though we left at 8:15 [AM] and I had wanted to leave at 7:30. Hugh [my husband who went to Cuba a year earlier in February] was still tinkering at home with instruments, plants, etc.
I was nervous, afraid we'd miss the plane. Jose Gonzalez, the Dominican who works with Cuba Travel Services, told me, "If you arrive one minute after 11 for the check-in, you don't get on the plane."
Wrong.
Also, that all carry-on would be weighed against the 44 lb. "free" allowance, after which you pay $2 per pound.
Wrong again. No one weighed carry-on. But the people working the check-in for CTS down in the Arrivals section, near Luggage Claim, Terminal 5, Carousel 1, were wonderfully sweet and courteous.
Everything went beautifully. No problems with the books I had brought for the reading I had planned at Cuba Libro, the English language bookstore and "oasis" in the beautiful residential Vidago section of Havana. My fear was Cuban customs would not allow them, with their flagrantly "gay" covers--but no one went through anything. As Hugh said, "You've seen too many movies."
The hard thing was getting the luggage back in Havana; it took an hour. I became tired, nervous, and hungry. I gabbed some cheese crackers from the large bag of snacks I'd packed.
Finally, our bags were the last to arrive on the carousel that was also transporting these huge, overstuffed mummified-in-plastic-wrap pieces of luggage or boxes from a Mexican flight. Hugh said that in Mexico luggage is treated so badly that people provide a "service" at the airports of wrapping your luggage in yards of blue plastic wrap and taping the layers. I suspect it's also to keep pilfering from happening.
We got through Cuban Immigration and Customs almost instantly; Immigration had no problem that we declared ourselves married, even though American same-sex marriage is not recognized in Cuba. For Customs, I checked "Nothing to Declare," and was directed to a young man who accepted my customs declaration and smiled while Hugh was in line to get money changed. When I gave him Hugh's declaration he asked, "Other person?" I pointed to Hugh in the money change line, and he directed me out of the small airport, where a huge crowd of people, including aggressive cab drivers, waited.
It was Cuba. Right there.
The air felt different: warm, friendly, perfect humidity in February after the impersonal dry cold of NY. People incredibly friendly and helpful. A young woman from the airport got us a cab and helped put everything in the trunk. We drove into the Vedado, where we're staying, through decayed industrial areas, green areas, old monuments to Lenin, Ho Chi Minh Park, billboards extolling the Revolution, but none for commercial products. I translated: "Education Is a Right for All." "United We Continue the Socialist Revolution."
Unidos is everywhere.
United. In the U.S., it's an airline.
We got to Cuba Libro where our friend Conner is outside waiting for us. The cab stopped. Hugh, in the backseat, on the right, opened his door and was almost instantly hit by a speeding car. The car hit the door: I was rattled. The car and a truck stopped. Conner and several of her friends came forward, and the cab driver, himself unhinged, opened the trunk, looked down at our bags inside, and while doing so, his teeth fell onto the sidewalk. Literally: his dentures fell out. He scooped them up, and put them back in his mouth. Hugh paid the driver 30 "CUCs, Cuban new pesos, worth roughly (very roughly) 1 peso per US dollar. Only afterwards did I realize that due to the near disaster on arrival, I'd left the big snack bag in the backseat of the cab: a sad mistake because it contained a large block of Wisconsin cheddar cheese, an absolute luxury in Cuba where cheese, especially good cheese, hardly exists.
I was tired from travel nerves. Traveling is now exhausting--I did manage to sleep some on the plane.
Conner showed us the casa particular where we are staying, on Calle 16, across Calle 23 from the bookstore. (Most of Havana is laid out rationally on a grid; odd numbers and even numbers intersect. Addresses are reckoned from this intersection.) It is run by Raoul and Marthé, in an old, beautiful white art deco building. Security is important--you must go through two locks past an outer fence to get to the door. Our room on the second floor is fairly spacious, with a very clean baño; a wonderful balcony looks out onto the noisy street and across the street a towering, shade-providing Southern magnolia, like in Savannah where I grew up, one of the largest I have ever seen.
The colors are soft, creamy, washed out pinks, yellows, grays. Sidewalks are in horrible condition, as are the streets. But people are on them, walking in groups. They talk to each other, rather than looking at cellphones. There are young people everywhere. Not everyone smiles at you, but lots of people do.
On the balcony I see young men walking with an aggressive "Cuban" stride, like every step is an exercise, and at any second they'll rush on to a soccer field. We passed the National Sports Arena on the way from the airport--it houses the full excitement of Cuba: its pride and energy, in lots of posters and billboards outside for Cuban sports teams.
The floating music of a Pan's pipe announces a knife sharpener walking through the neighborhood.
[End of Part One.]
Long time poet, playwright, author and activist Perry Brass has published 19 books, and is the author of the bestseller The Manly Art of Seduction, How to Meet, Talk to, and Become Intimate with Anyone, King of Angels, a gay, Southern Jewish coming-of-age novel set in Savannah, GA. His newest book is The Manly Pursuit of Desire and Love, Your Guide to Life, Happiness, and Emotional and Sexual Fulfillment In a Closed-Down World. The Manly Art of Seduction is now available as an audio book through Audible.com, and in Portuguese. He can be reached through his website, www.perrybrass.com, and also on LinkedIn.

REAL LIFE. REAL NEWS. REAL VOICES.
Help us tell more of the stories that matter from voices that too often remain unheard.