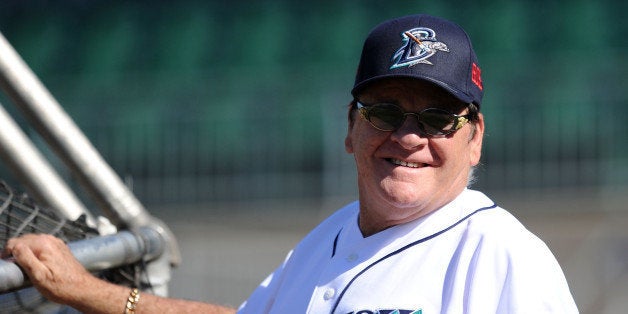 Baseball fans probably remember it like it was yesterday, but it's hard to believe it's been 25 years since Pete Rose was ousted from the game of baseball for life for gambling. And now that the former baseball great is back in the news after a one-time coaching gig with the independent Bridgeport Bluefish, which he led to a 2-0 victory, so too is the question of his banishment from the game. Is it time to remove the ban and let Rose back in, and even induct him into the Hall of Fame? You bet it is!
We live in the United States of America, a country known for its second chances. It's time we give Pete Rose his second chance for all the memories he gave us. Twenty-five years is long enough. Bud Selig needs to do the right thing, step up to the plate and remove the ban.
After all, if a convicted murderer can get parole, and the president of the United States can cheat on his wife and go on to be loved by so many Americans, then the ban on Pete Rose should be lifted and he deserves to be inducted into the Hall of Fame.
As the all-time Major League leader in hits, with three World-Series rings to his name, two gold gloves, and a number of other distinguished accomplishments, it's time to remove the lifetime ban and recognize Rose for his great accomplishments on the field. What he did was wrong, but for perspective, everything he accomplished was through his own doing, unlike others who had an advantage from performance enhancing drugs and illegal substances.
On many trips to Las Vegas, I personally spoke with Pete Rose, and all he truly wants is to have the ban removed and be given a second chance. Many baseball fans agree, as they lineup to buy Rose memorabilia and chat with the legend in the Vegas store he frequents most days of the month. And baseball fans in Bridgeport, Connecticut, where the Bridgeport Bluefish play, certainly agree. A total sellout crowd of 4,573 came out to see Rose, many wearing Cincinnati Reds jerseys with Roses's number 14 on it.
Rose said, "If I'm ever reinstated, I won't need a third chance."
He learned his lesson; he served his time and now it's time to honor one of the great ones of the game of Baseball. I remember growing up in Chicago and going to Wrigley Field as a kid to watch the Cubs. There was always that extra level of excitement and energy in the air when Pete Rose came to town. The man nicknamed "Charlie Hustle" captivated crowds and inspired fans that it didn't matter what team you were rooting for, it was just an experience in itself to watch a legend in action.
Major League Baseball Commissioner Bud Selig, who has been the official commissioner since 1998, has refused to consider lifting the ban on Pete Rose. But Selig retires in January, and there are a number of recognizable names from baseball on the table to be his replacement. Perhaps the new MLB commissioner will do the right thing by lifting the ban and welcoming Pete Rose to Cooperstown.
Ironically enough, Rose makes the annual trek to Cooperstown for induction weekend at the National Baseball Hall of Fame, and signs autographs for fans in one of the stores along Main Street. Critical thinking says next time Pete Rose makes the trip to Cooperstown, it should be because he's the one being inducted into the hall of fame. Let's judge the "Hit King" for his 4,256 knocks of the bat.
As Mahatma Gandhi said, "The weak can never forgive. Forgiveness is the attitude of the strong."
REAL LIFE. REAL NEWS. REAL VOICES.
Help us tell more of the stories that matter from voices that too often remain unheard.