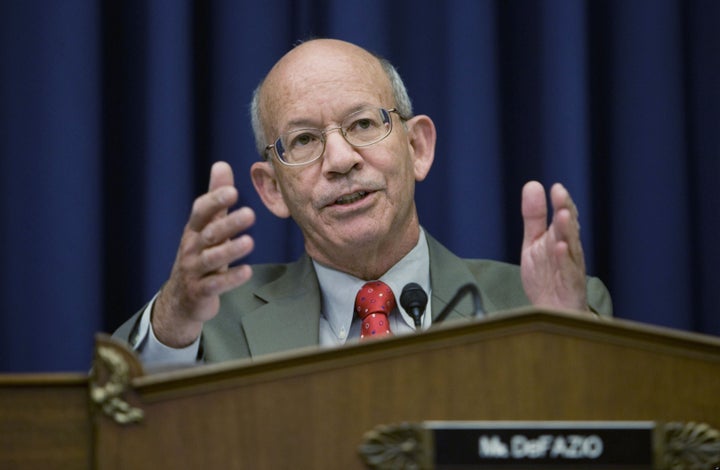 Rep. Peter DeFazio (D-Ore.) is turning the tables on a political group launching attack ads against him in an attempt to bring its shadowy practices to light. On Friday, he went to the Capitol Hill headquarters of the Concerned Taxpayers of America to deliver a letter and speak with members of the organization about making its donors public. But the person who answered the door misrepresented himself and lied, saying he had never heard of Concerned Taxpayers, even though subsequent information shows that he is affiliated with the group.
DeFazio has opposed several of the speaker's top legislative priorities, including the stimulus bill and cap-and-trade climate change legislation, and he came close to revolting against the health care reform bill.

Pelosi regards DeFazio as one of the least loyal members of her caucus, and DeFazio said in an interview earlier this week that he'd favor replacing Pelosi as speaker if the Democrats retain their House majority. But the Concerned Taxpayers of America, whoever they are, understand that Pelosi is less popular than DeFazio in the 4th District, so the ads make them out to be political twins.
Very little is known about Concerned Taxpayers. The group's treasurer is a man named Jason Miller, who, according to the FEC report, is with a Republican political consulting firm called Jamestown Associates.
DeFazio decided to confront Concerned Taxpayers on Friday, intending to deliver a letter requesting that the group make its donors public. "Since you intend to try and buy Art Robinson a congressional seat, by raising and spending 'unlimited amounts of money,' the voters of Oregon are entitled to know who is picking up the tab," wrote DeFazio.
The Huffington Post, along with a couple of journalists from The Washington Post, accompanied DeFazio on the short walk from the Rayburn House Office Building over to Concerned Taxpayers' headquarters, listed as 10 E St, SE, which turned out to be a small grey townhouse. DeFazio had to ring the doorbell, knock, and yell through the mail slot before someone came to the door. The man identified himself as Mike Omegna and he told the congressman that he had never heard of Miller or Concerned Taxpayers, nor was his voice on the organization's voicemail:
DEFAZIO: You don't know Jason Miller?

OMEGNA: No. No, I don't, sir. ... I rent this place. [...]

DEFAZIO: Did you ever hear of Concerned Taxpayers of America?

OMEGNA: Nope. [...]

WASHINGTON POST: You're on the [voice] message, aren't you?

OMEGNA: Am I? I shouldn't be.

DEFAZIO: So you know nothing about Concerned Taxpayers for America, and you're not forwarding calls.

OMEGNA: No.

DEFAZIO: You're just a renter?

OMEGNA: Yes.
"These people must be really scared of revealing who they really are, or they wouldn't be having a blind drop and someone who's probably misrepresenting themselves answering the door," DeFazio told reporters after the incident.
WATCH DEFAZIO'S CONFRONTATION:
It appeared that Omegna was dissembling. The Huffington Post called Concerned Taxpayers' phone number, and the message, in Omegna's voice, said:
You've reached Michael Omegna at Jamestown Associates. I can't get to my phone right now, but if you leave me your name and number, I'll get back to you as soon as I can. If this is regarding Concerned Taxpayers of America, please leave a detailed message and I will respond back as soon as possible.
So not only did Omegna clearly have an association with Miller -- who works at Jamestown Associates -- but he also has a tie to Concerned Taxpayers and his voice was on the answering machine, despite what he told DeFazio.
The Huffington Post was able to reach Miller later in the day, who said that Omegna simply "misspoke." "He [Omegna] works for me at Jamestown, but yeah -- regarding the whole, you know, ambush from Congressman DeFazio earlier today, Michael clearly misspoke and should have identified himself clearly," he said. "So, 10 E St where Concerned Taxpayers is located, and I'm the treasurer." When asked whether Concerned Taxpayers was willing to disclose its donors, as DeFazio is requesting, Miller laughed. "We comply fully with the Federal Election Campaign Act, and our donors are disclosed as required by law, and so it's very clear," he said. "I think this all sounds like a media circus from a career politician, who's quite frankly, worried he's going to lose in November."
It doesn't appear that Concerned Taxpayers is breaking any laws. The Supreme Court's Citizen United decision has opened the floodgates for groups like this to operate with very little scrutiny; independent groups are now allowed to spend unlimited amounts of money without disclosing their donors. "Voters are accustomed to manipulative political advertising, but it used to be possible to find out who was behind it, ensuring some degree of accountability," writes The Register-Guard. "Sniping from the bushes is allowed now in American politics, with no disclosure of who's pulling the trigger, how much ammo they have or where it came from. The chief remaining restriction is the one that prevents independent political groups from coordinating their activities with candidates' campaigns. But it will be difficult to know whether such coordination has occurred if the groups paying for political ads and other campaign activity hide in the shadows."
DeFazio believes that more politicians should be confronting these groups face-to-face. "We've got to take it to them," he told HuffPost. "I'm an activist, always have been my whole life, and I'm going there to confront them and say, 'Who are you, and why are you so afraid to disclose where your money come from? Would it totally discredit your attacks on me and other Democrats? Would it totally discredit your organization?' We don't know who they are. And as I said earlier, how can we enforce existing law, which does say it can't be a foreign government, a foreign entity, a foreign individual, but if we are allowed no disclosure, how will we ever know who funded these campaigns?"
*************************
What's happening in your district? The Huffington Post wants to know about all the campaign ads, debates, town halls, mailings, shenanigans, and other interesting campaign news happening by you. E-mail us any tips, videos, audio files, and photos to election@huffingtonpost.com.
Support HuffPost
The Stakes Have Never Been Higher
Popular in the Community