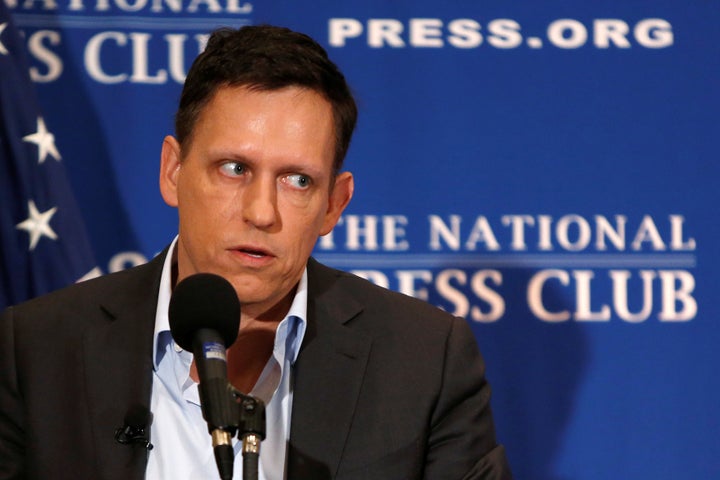 But that's not important at the moment. What I'd like to know is whether Thiel knows who invented email.
Why did Thiel find merit in Ayyadurai's claims? Maybe it's because Thiel does not know who invented email. (I can't underscore this enough: It was not Ayyadurai.)
Earlier this week, Thiel held a press conference at the National Press Club to account for his support of Trump. This is not really something I thought many people were interested in, but The Huffington Post was among the assembled media. There, Thiel described Gawker as a "singularly sociopathic bully" and claimed that the average "single-digit millionaire" did not have effective access to our legal system.
That's a dubious claim, to be sure, if only because if Ayyadurai had actually been the inventor of email, as opposed to being the inventor of a false claim to have invented email, he might not have needed Thiel's assistance to finance his bogus lawsuit against Gawker.
But apparently no one thought to ask Thiel, "Hey, do you know who invented email?" And that's too bad, because I'd have liked to hear him answer. Presumably he would have said (incorrectly), "That's easy. It was my man, Shiva Ayyadurai."
Of course, journalists then would have written stories with headlines like, "Peter Thiel Does Not Know Who Invented Email." And then, I guess, he would have sued the people who wrote those stories? Actually, that's a pretty interesting follow-up question: "Are you going to sue any of the other people who wrote about how Shiva Ayyadurai is not actually the inventor of email? Or is that something that's okay for everyone not Gawker Media to say?"
You see, either Thiel does not know who invented email, or he is one really intellectually and morally inconsistent fellow!
One thing is for sure, Shiva Ayyadurai ended up getting a pretty big audience for his false claims. The Washington Post had to lengthily unwind a story in which his claims were reported as legitimate. The Huffington Post also allowed Ayyadurai's claims to appear on these pages. We were wrong to have published them and wronger still to have defended their publication. Those posts, which attested to the veracity of these false contentions, have rightly been pulled.
But Univision, which acquired most of the assets of Gawker Media as a result of the Thiel-funded bankruptcy cases, opted to take down Gizmodo's original story about Ayyadurai, "The Inventor Of Email Did Not Invent Email." They were wrong to have done so, as Gizmodo's story was true. In fact, had Thiel actually read the story that was the basis of a lawsuit he bankrolled, he would have learned a lot about who actually invented email.
I wonder if at some point in the future, Thiel might actually take the time to find out who invented email. Boy, is he going to be surprised!

Jason Linkins edits "Eat The Press" for The Huffington Post and co-hosts the HuffPost Politics podcast "So, That Happened." Subscribe here, and listen to the latest episode below.
Popular in the Community