"I've got to be honest with you. Much damage has already been done," Stanton said in an interview with The Huffington Post Wednesday afternoon, before Brewer had announced her decision. He said he was confident that Brewer would veto the bill, but criticized the state legislature for pushing it through in the first place.
"The negative national and international publicity that our state has already received -- it sends a message that our state is not a warm, welcoming place," he added. "And the truth is, we are!"
Indeed, while the state was waiting to hear what Brewer would do with the bill, the Hispanic National Bar Association announced that it would not hold its 2015 national convention in Phoenix as planned.
"The HNBA views this as a civil rights issue," HNBA National President Miguel Alexander Pozo said in a statement. "As a national association of lawyers committed to promoting the ideals of equal protection, equal opportunity, tolerance, and inclusiveness, it is imperative that we speak up and take immediate action in the presence of injustice."
The group did not immediately return a request for comment on whether its decision still stands in light of Brewer's veto.
Major corporations like Apple, Delta, PetSmart, Marriott, Starwood and American Airlines all came out against SB 1062, which would have allowed businesses to refuse services to LGBT people on the grounds of "religious freedom." Stanton worries that the legislature's decision to pass the bill will stick in entrepreneurs' minds when they're looking for places to expand their companies.
"Does that become a knock against us as we're trying to create a competitive economy moving forward into the future? Does it hurt us?" Stanton said. "If you're making a decision about where you're going to ask your top employees ... to locate, some of them, because of the things they've read recently about Arizona, they may have a second thought about moving there. That's how this hurts us."
Last year, Phoenix, which is the sixth-largest city in the country by population, passed an ordinance banning discrimination against individuals on the basis of sexual orientation or gender identity. The protections include the areas of housing, employment and public accommodations.
But statewide, there aren't as many protections for LGBT individuals. State employees are protected from discrimination on the basis of sexual orientation, but not gender identity. Private-sector employees, meanwhile, have no such blanket protections, unless they're written in the company's policies.
"We're trying to make sure our best and brightest stay here and have their careers here, so that we don't have a brain drain from our state," said Stanton. "Our young people -- particularly our higher-educated young people who have choices -- are going to choose to go to places that they believe celebrate diversity and welcome everybody to their communities. So instead of passing laws that are divisive, we should pass laws that promote inclusiveness."
Before You Go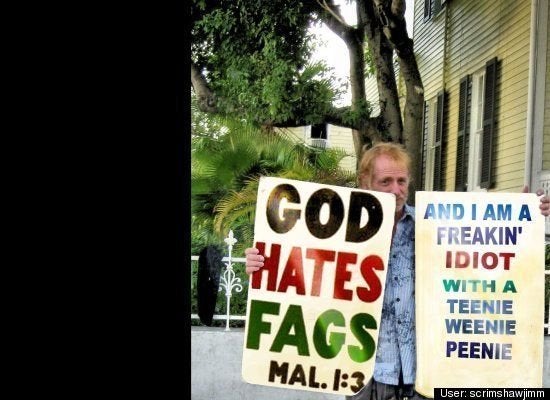 Anti-Gay Protesters Getting Owned
Popular in the Community