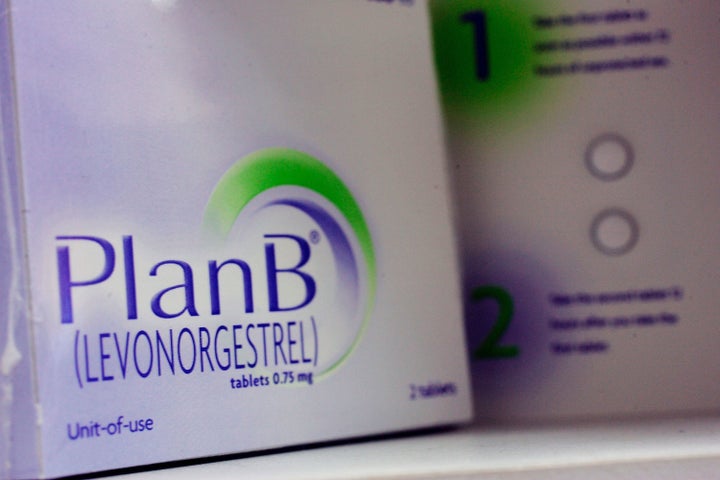 The Food and Drug Administration recommended on Wednesday that Plan B One-Step, commonly referred to as the "morning-after pill," be made available over the counter without age restrictions, but an Obama administration official overturned that recommendation.
After ten months of reviewing scientific data, FDA Commissioner Margaret Hamburg decided on Wednesday that emergency contraception should be made available to everyone over the counter.
"There is adequate and reasonable, well-supported, and science-based evidence that Plan B One-Step is safe and effective and should be approved for nonprescription use for all females of child-bearing potential," she said in a statement.
But in a surprising and unprecedented move, U.S. Department of Health and Human Services Secretary Kathleen Sebelius sent Hamburg a memo on Wednesday invoking her authority to veto the Plan B decision, based on the reasoning that adolescent girls may not have the behavioral maturity to understand how to use the morning after pill.
"The science has confirmed the drug to be safe and effective with appropriate use," Sebelius said in a statement. "However, the switch from prescription to over the counter for this product requires that we have enough evidence to show that those who use this medicine can understand the label and use the product appropriately. I do not believe that Teva's application met that standard."
The FDA's current rule on Plan B, a hormonal contraceptive that has been shown to be 89 percent effective at safely preventing pregnancy if taken within 72 hours of having unprotected sex, requires women ages 17 and older to ask a pharmacist for the pill. Women ages 16 and younger must obtain a doctor's prescription to access Plan B, which reproductive health advocates say can discourage them or make it logistically difficult for them to prevent a pregnancy.
FDA rulings on pharmaceuticals are supposed to be based entirely on science, but the decision over how to issue Plan B One-Step has been embroiled in politics since 2005. The American Medical Association, the American Congress of Obstetricians and Gynecologists, and the American Academy of Pediatrics have all strongly endorsed over-the-counter access to Plan B with no age restrictions, so that emergency contraception could be found on pharmacy shelves as easily as Tylenol. But the FDA suspiciously delayed the decision in 2005, and then decided in 2006 to approve the drug without a prescription only for women 18 and older.
A U.S. District Judge ruled in 2009 that the FDA had "repeatedly and unreasonably delayed issuing a decision on Plan B for suspect reasons" and forced the FDA to lower the age to 17 and re-review the rationale for its decision. Teva Pharmaceuticals, which manufactures the pill, filed a new application in February of this year to re-label Plan B as over the counter.
Women's health advocates said Wednesday they were shocked by Sebelius' decision.
"We are outraged that this Administration has let politics trump science," said Kirsten Moore, president and CEO of the Reproductive Health Technologies Project. "There is no rationale for this move. This is unprecedented as evidenced by the Commissioner's own letter. Unbelievable."
"We had every confidence that this Bush-era policy would come to an end," said Nancy Keenan, president of NARAL Pro-Choice America. "The Obama administration has broken a key promise to the American people that it would base its decisions on sound science and what's in the best interest of women's health. In short, this is a failure to deliver change."
Anti-abortion groups, who have long argued that increasing access to Plan B could pose health risks to young girls and encourage men to rape them by making it easier to cover up the evidence, said they were relieved by the decision.
"The Secretary made the right call today, putting the health of women and girls ahead of politics," Kristi Hamrick, a spokeswoman for Americans United for Life, told HuffPost on Wednesday. "Misuse of abortion-inducing drugs can lead to death. Such drugs need to be handled with great care and under a doctor's supervision. They should not be administered late in a pregnancy because of risk of severe bleeding. In addition, they make vulnerable women and girls even more at risk to abusers who may acquire the drugs to cover up their criminal behavior."
A spokeswoman for Teva Pharmaceuticals, Denise Bradley, said the company plans to determine its next steps after receiving a full response letter from the FDA.
"We commend the FDA for making the recommendation to approve providing women with increased over-the-counter (OTC) access to Plan B One-Step(r)," she said on Wednesday, "and we are disappointed that at this late date, the Department of Health and Human Services has come to a different conclusion."
Popular in the Community