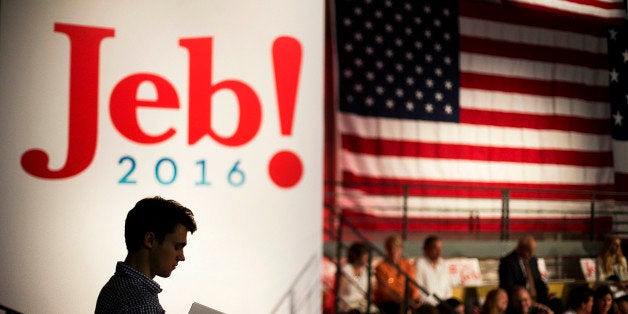 WASHINGTON -- America's founders hated what Thomas Jefferson called "an artificial aristocracy founded on wealth and birth."
So you have to wonder what they would think of Barbara Pierce Bush, the 90-year-old, snowy-haired, tart-tongued, blue-blooded matriarch of the Bush family dynasty, who grew up in the wealthy New York suburb of Rye.
She is the distant cousin of one president (Franklin Pierce), the spouse of one president (George Herbert Walker Bush), the mother of another president (George Walker Bush) and the mother of another son who Monday announced that he, too, is running for president: John Ellis "Jeb" Bush.
Is Jeb Bush "artificial" and thus doomed to be resented and dismissed by average (Jeffersonian) American voters? Is he the kind of aristocrat -- self-made of his own "virtues and talents" -- that Jefferson praised and that American voters often have elected?

We're about to find out.

As of Monday, being a Bush has been as much (if not more) of a burden than it has been a blessing for Jeb. His family contacts have allowed to him to build a war chest of perhaps $100 million. He has built-in contacts in key states and has no trouble getting attention.

But he has been hampered by questions about his older brother's controversial record, especially George W.'s fateful decision to invade Iraq in 2003. Almost everyone else in America, including his hawkish rivals for the Republican presidential nomination, have now branded the Iraq War an ignorant, colossal mistake.

And yet Jeb seemed surprised when asked about it, and at first defended his brother out of what he said was family loyalty. After days of dodging hesitation, he finally joined with rest.

And he has the burden of inheriting, by inference, his father and brother's reputations as relative ideological moderates, especially by the Tea Party standards of today's hard-right GOP.
Jeb has tried to prove his conservative bona fides by being stoutly opposed to abortion and gay marriage. But his family's history of more open-minded views make Jeb's own cautious moderation on immigration and public education all the more suspect to the right.
Bush unveiled his campaign slogan Monday and it was one word and an exclamation point -- "Jeb!" -- with no mention of "Bush."

As he enters the race, Jeb is in an unusual position for a member of such a prominent, if not historic, family: not really a clear front-runner, and nowhere near a prohibitive favorite.
The smartest money at this moment is on two much younger men, both more conservative and utterly self-made: Gov. Scott Walker of Wisconsin and Sen. Marco Rubio of Florida.
In theory, the world's oldest modern democracy should see a constant churn of names and faces in high places. In truth, political dynasties in America are common and, arguably, becoming more so at a time when Big Money -- personal and corporate -- means so much to the conduct of elections.
And with Jeb's announcement, the United States and the world face at least the possibility of a 2016 campaign between two dynasties: the Bushes and the Clintons.
And it would be a familiar exercise. From 1980 through 2008, the U.S. conducted seven general elections with a Bush or Clinton on the ballot.
There are advantages to the Bush name and tradition -- and not just connections and access to a giant contributor list.
The Bushes "aren't the freshest fruit in the basket," said historian Evan Thomas, who has written extensively on the family. "But they appeal because, to a lot of people, they project an old-fashioned image of service to the country."
They also have a knack for embodying elements of social change -- a kind of dynasty by adaptation, if you will. H.W. Bush moved to Texas as a young man, just when the U.S. "Sun Belt" was becoming the base of the new Republican Party; George W. cemented that trend and built upon it.
Jeb Bush settled in Florida, now the ultimate "swing" state. And, as fate would have it, he is well positioned to woo the now most influential voting bloc: Hispanics. He speaks fluent Spanish, and has been married since 1974 to Columba Garnica de Gallo Bush of Leon, Mexico. The couple has three children, one now in politics, too.
When Jeb and Columba's kids were young, the first President Bush referred to them jokingly as "the little brown ones." The comment was seen as a colossal gaffe; now it's a potent truth.
In his two terms as governor of Florida, from 1999 to 2007, Jeb Bush -- pushed along by the rightward drift of his party -- took mostly conservative political positions: pro-life, anti-gay marriage, pro-massive tax cuts and anti-business regulation. There were exceptions, on environmental issues, immigration and education standards, but he moved to the right on those and others as he prepared to launch an appeal to the GOP's core voters.
All the while he and the family have kept their ties to their old base in New England -- roots symbolized by the Bush summer home at Walker's Point in Kennebunkport, on the Atlantic coast of Maine. Jeb is even building a vacation home in the family compound. It'll be ready next summer.
"The Bushes have the capacity to embody shifting demographic realities," said historian Jon Meacham, whose book on the first President Bush, Destiny and Power: The American Odyssey of George H.W. Bush, will be published in November by Random House. "It's the combination of Walker's Point (in Maine) with Texas and Florida that has made them a durable political force."
What some might call aristocracy by adaptation others call by less flattering terms: elitism and the power of corporate money.
The Bushes are all too aware that now is not a moment to be thought of as a professional politician, let alone the scion of a political dynasty. American voters -- indeed, voters worldwide -- have soured on politics as it falls ever more tightly into the grip of ultra-rich individuals and global corporations.
Even Republicans -- the party of business, tax cuts and corporate power -- are facing a grassroots rebellion with the kind of populist fervor that could make life difficult for Jeb Bush.
"I sincerely hope the Bushes are done," said a top GOP strategist who is working for one of Jeb's Republican rivals.

"The only thing he has got is name recognition and establishment money," said this adviser, who insisted on anonymity. "And he would be the worst of all candidates to run against Hillary, because we would lose the advantage on the 'dynasty" argument."
Jeb, at 62 years of age, has another, more personal burden: The elder Bushes have always considered him their child most suited to be president. Failure now would be a bitter family scenario.
Jeb was the "smart one" -- the academic, almost wonky one. He was a superb student at the University of Texas. He enjoys reading detailed papers as much as his older brother, former President George Walker Bush, enjoys reading the sports pages. He is the master of every topic he discusses, which are many. Most of the time he can duck and dodge skillfully, or take a stand and drive his point home.
And he is tall -- 6'3", or 1.92 meters, a good 4 inches or more taller than W. This matters to the Bush family: they like tall and lanky. It comports with their idea of themselves. In 1991, at a White House state dinner hosted by his father and mother, George W. joked to Queen Elizabeth that he was "the black sheep in the family." He meant, in part, the runt.
Two years after their father lost a bid for a second term, Jeb and George in 1994 began their political journeys to the top. Jeb ran for governor of Florida; George for governor of Texas.
The assumption outside the family was that Jeb would win and George would lose. The hope WITHIN the family was that, if only one of them could win, it would be Jeb.
But, to almost everyone's shock and surprise, it went the other way -- and the rest, as they say, is history.
Twenty-one years after his early train to the White House ran off the rails -- and after years of soul searching, family heartache (a daughter with drug addiction troubles) and a religious conversion to Catholicism -- Jeb is in.
In the summer of 1994, I flew with him in a small plane across central Florida. He was on his way to a campaign stop in that first, ultimately unsuccessful run for governor.
We flew over the Everglades, the vast, precious and famously threatened wetlands and wildlife refuge. He looked down at the lush expanse below and launched into a discussion of how the water flowed in a shallow invisible river.
In the air, he sounded like a knowledgeable would-be public servant.
But when we landed at a small rural airport in central Florida, a group of his father's old political retainers and allies came out to the plane to greet him. They didn't know him well, but they treated him with automatic respect, affection and loyalty.
It did seem a little aristocratic.
Before You Go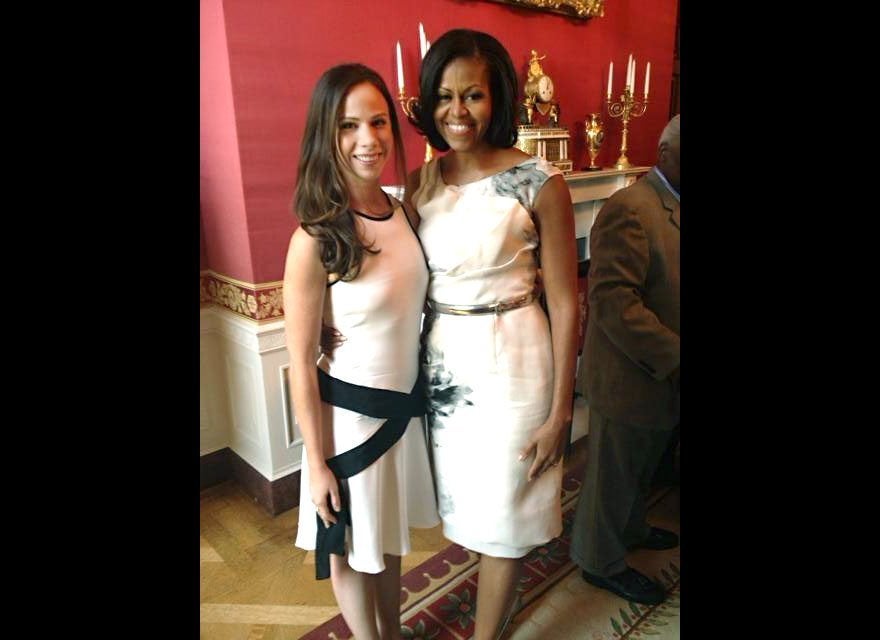 Unveiling The Bush Portraits
Popular in the Community