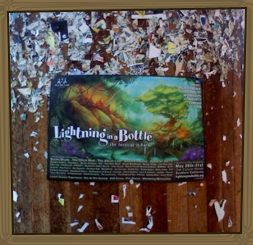 This year for Memorial Day Weekend, I went to a music and arts festival outside of Los Angeles called Lightning in a Bottle (LIB). Some call it a baby Burning Man since it has the same intent but much less harsh conditions.
LIB takes place at Oak Canyon Ranch in the Santa Ana Mountains of Irvine, California. The property is made up of one hundred acres alongside the old Santiago Reservoir. Rolling hills and lush Oaks surround you. It's nothing but nature and it is nothing but beautiful.

The whole scene is incredibly interesting. Tons of people, many of them in crazy costumes from furry ears and tails to barely dressed at all. There were galleries set up and Vegan food that I hardly recognized as of this earth. There were tents and food wagons and vendors and art, art, art all around.
There was an amazing line-up of musicians and performers, none that I knew but most of which I enjoyed, like Lucent Dossier -- which was an incredible group of dancers, musicians, and aerialists. The best I can do to describe is to say imagine if all of the paintings of Dali came to life.
Everywhere you looked there were people making art and dancing and doing yoga and meditating and just plain old communing with one another, with nature, and with art. People were drinking and I saw some excess. But it was nothing like the drug and alcohol crazed, all-night rave I feared. All I can say is, if it was going on, I didn't see it.
Everyone camped out some in tiny pop-up tents and other in massive villages made of tarps and tents and even temporary carports! We slept in the back of my friend's SUV. We got there a day late, making setting up camp a near impossibility, with people and campsites and stages everywhere.
Funny thing is, I sort of felt like I was on the outside of the event the entire time even though I was smack dab in the middle of it all. I danced in the field. I ate acai bowl after bowl. I even had an amazing "healing" of sorts with old friends and new about old wounds and new.
Still, it was all so new and so foreign. I never felt completely swept away. I think I'd like to feel that though. And I believe after having that one experience under my belt, I'll be better prepared to enjoy it all the more next year.
It was nice. Like the way life might be if we all lived off the grid. I don't know how long I could last on fried rice and flatbread pizza. And I am not a big fan of the port-a-potties and no showering plan. But it was fun to be truly unplugged for a few days.
The best part was what my friends and I decided to call the spontaneous dance break. They would happen wherever and whenever. Sometimes with music. Sometimes just with the sound of a distant beating drum.
It was just like being a kid again when you can move around how and when you wanted to without caring a lick about what anyone thought about you or your wild moves. It's crazy how little we dance, how little we move our bodies at all, once we "grow up." No wonder we're all so stressed and strained. Human beings were not designed for cubicles.
I plan on going to go back again next year. But this time I'm going to get there early and pitch a tent in the "village" with friends and I'm going to don something festive. Not sure what just yet, but something festive to be sure.
I'm confident I could get the hang of the whole "off the grid" thing, for a weekend anyway. It seems to me everyone should probably sign-up for that experience at Lightning in a Bottle or somewhere at least once. Good for the brain. Good for the soul.
It's amazing what you think about and talk about when there's nothing beeping, clicking, ringing, or buzzing and no one yelling, asking, demanding, or lecturing. Amazing how that works, unplugging causes a real recharging. It may not work with all things electronic. But it certainly worked for me.