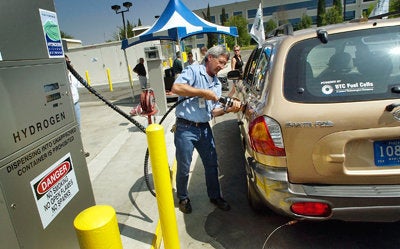 So I just played with a solar-powered, remote-control car. It actually runs on hydrogen as its primary source of power.
It's called H2Go, and it calls itself "the world's first hydrogen powered radio control car." The future! We're in it! Look out!
Obviously, it was my duty as a responsible journalist to get my hands on and test one out. Well, PopCo Entertainment, Ltd., happily sent one over and I meant to test it out right away, but the economy was a mess, and in my dual role as Green editor and Business editor, I was unable to cover the fuel cell toy car. Luckily, video editor Patrick Waldo had the chance to open the box and discover what was inside: a solar panel, a toy car, a remote control and a tiny, plastic "hydrogen plant." Probably not dangerous.
We set the solar panel next to the window here in the office and plugged it into the car, and I refused to allow Patrick to use the auxiliary electric plug, no matter how excited he was to run the car all over the wood floors here.
And why not? According to the press release, hardly anyone could resist playing with this well-designed car:
Designer/Professor Luigi Colani was responsible for giving the H2go a look as futuristic as the green energy technology inside the car. With his work on global brands such as Ferrari and Alfa Romeo, Professor Colani is familiar with making history, having designed the world's first monocoque car as well as being behind the first sports car to drive around the Nurburgring circuit in Germany in less than 10 minutes.
monocoque: a type of vehicle construction (as of an automobile) in which the body is integral with the chassis.
solar-power toy car: a type of car that takes super long to charge on a rainy weekend and, even with the hydrogen plant, doesn't really power up for very long.
Look, it's sad, and I really, really wanted this thing to be awesome, but it's way cooler on paper than on the floor. I ended up trying it out at home with my friend -- who, by the way, is an actual scientist and oversaw the whole thing -- and we were sorely disappointed.
I'm totally turned off from buying any solar-powered toy cars, which really goes to show just how important it is that any plug-in hybrid electric cars that actually make it to market in the US had better work when they're released, even if release dates have to be pushed back. Are you listening, GM? There are lessons you could learn from this toy car. In fact, I would recommend that all of the GM brass get hydrogen-powered toy cars for themselves and play with them in a (sunny) room for an entire day and blog what they learn.
I hope that GM's Tom Wilkinson, who occasionally posts here, will get back to me on this extremely realistic and clever idea.
Meanwhile, have any of you found actual, working solar-powered toys (that are fun)?
Related
Popular in the Community