Inside and outside the Illinois Statehouse this week there was a constant buzz of activity, though it's hard to tell whether all the action was evidence of progress or an exciting distraction from inertia.
The week saw Gov. Bruce Rauner and the four leaders of the General Assembly meet on the state budget for only the second time this year. Following Tuesday's meeting, House Republican Leader Jim Durkin, R-Western Springs, expressed optimism after his Democratic counterpart, House Speaker Michael Madigan, indicated an interest in discussing pension reform, workers' compensation reform and collective bargaining for local governments.
Those are among the elements of Gov. Bruce Rauner's reform agenda that have been at the center of the budget impasse that now is in its 11th month.
But a day after that hint of a thaw in the Great Rauner-Madigan War, Madigan reasserted his devotion to thwarting Rauner's agenda, particularly where it concerns weakening collective bargaining or reducing employee protections in the state's workers' compensation code.
Addressing a large and raucous audience of 8,000 at a union rally that filled the streets outside the Capitol in Springfield, Madigan led a call-and-response chant in which he and his enthusiastic audience rejected Rauner's reform goals one-by-one.
The Senate did pass a bill to define and regulate online daily fantasy sports, which Attorney General Lisa Madigan has ruled constitute illegal gambling. The Senate also passed a bill that would make voter registration in Illinois automatic when Illinoisans obtain drivers licenses or state ID cards.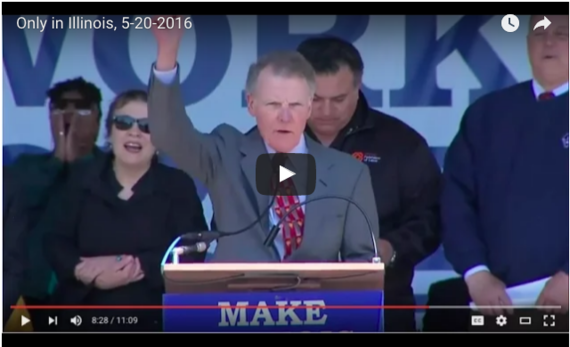 REAL LIFE. REAL NEWS. REAL VOICES.
Help us tell more of the stories that matter from voices that too often remain unheard.