Do you ever find yourself thinking "I wonder what those Broken Lizard guys with the funny movies like Super Troopers and Beerfest are doing?"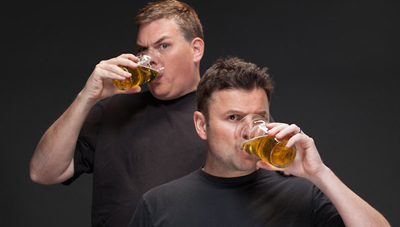 Because at least two of them are podcasting (and have been for the past couple of years.) Kevin Heffernan and Steve Lemme pop up weekly on the Nerdist network with their show Chewin' It with Kevin and Steve. These guys will take any subject and run with it, as witnessed in this week's show when Lemme recounts having to take his infant son to the E.R. the night before. Heart-wrenching as it must have been at the time (the junior Lemme is doing fine), Heffernan assures his podcast partner that he and his future teenaged son will be laughing over the hospital hijinks in years to come.
The two then begin recalling the many and varied reasons for them each having had to visit hospital emergency rooms throughout their lives: A failed leap from a nightspot's bar. A severed Achilles tendon from kicking through a frat house glass door. A crime-does-not-pay-story involving stolen porn and a nasty spill on a sewer grate.
Clearly, when these guys aren't making movies, they're getting into way too much trouble. And then sharing those exploits with us, so that makes it all right.
REAL LIFE. REAL NEWS. REAL VOICES.
Help us tell more of the stories that matter from voices that too often remain unheard.