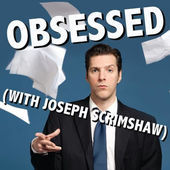 Comedian and writer Joseph Scrimshaw seems obsessed with obsession. Not his own so much, but those of the guests that join him on each episode of Obsessed with Joseph Scrimshaw.
His show is hosted on the Feral Audio network and so in a fitting tribute to his 100th episode, Scrimshaw invited Dustin Marshall to be his guest. Marshall is the creator and founder of Feral and his main obsession -- as you might be able to guess -- is podcasts. All kinds of podcasts. And every aspect of the medium. Making podcasts. Listening to podcasts. And finding new podcasts to feature on his network.
He's a young guy -- not yet 30 -- and his life was kind of going nowhere until he started figuring out how to make the kinds of shows that people would want to listen to, week in and week out.
He had some help pulling things together, like where to house the network (TV producer/writer Dan Harmon's house, for starters) and how to pull everything together (comedian/actor Bob Odenkirk and veteran writer Dino Stampatopoulos were majorly behind the push to get his operation rolling.)
How he met these characters and a number of others, as well as his moving to LA from the Midwest on a proverbial shoestring, and was on the verge of giving it all up in frustration and depression makes for a great rags-to-podcasting tale.
Scrimshaw's a good host whose figured out that once you push the right buttons on someone's obsession, you just have to let them go and the show tends to fall right into place.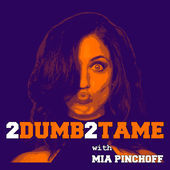 Comedian Mia Pinchoff is the feisty, feminist host for 2 Dumb 2 Tame, a podcast that drops every Friday and Monday. The title is a tipoff to the self-deprecating style of brassy humor that permeates Pinchoff's interviews with her guests.
In Episode 35, she has a match in energy with guest Antonia Crane, a writer, performer, and (most) former sex worker. These two get into some salty talk about Crane's former trade of being a stripper and occasional escort ("but NOT a prostitute," insists Crane.)
She's on to plug her newly published memoir, Spent, but host and guest get into so many spirited conversation tangents that the book is barely mentioned. And the discussion is wide-ranging indeed, ping-ponging from Pinchoff's various insecurities getting started in comedy and the power of negative affirmations to the crappy move guys have pulled on them and a lot of time talking about their mutual affection for tap dancing.
Podcasts I'm also listening to this week: Sup Doc -- Epi26: Religulous w/Todd Glass, and Time Travel Trio -- Epi12: Star Trek
The Obsessed, 2 Dumb 2 Tame reviews and other podcasts mentioned originally posted as part of This Week In Comedy Podcasts on Splitsider.com.
Marc Hershon is the host and executive producer of Succotash, The Comedy Podcast Podcast, featuring clips from comedy podcasts from across the Internet as well as interviews with podcasters, comedians, and assorted show biz folk.
Popular in the Community