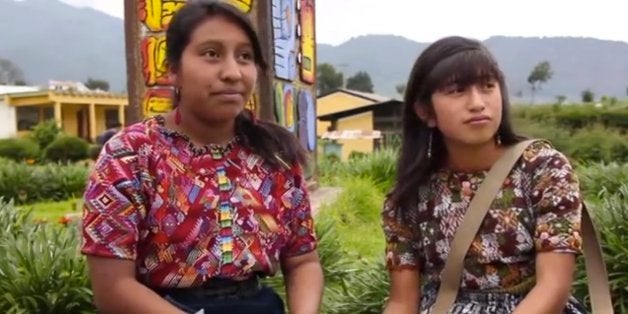 Girls around the world rarely have the opportunity to tell their stories and speak their truth to a global audience. That reality is about to change with the global film premiere of 'PODER,' a compelling short documentary about girls' power to transform their own lives, families, communities and the world.
'PODER' is the engaging story of Elba and Emelin, two indigenous Guatemalan girls who overcame poverty and discrimination to transform a community of over 26,000 people, and their nation of 14 million. Unlike many documentaries that depict girls as powerless victims, 'PODER' captures girls as leaders and powerful agents of change.
'PODER' will introduce global audiences to 16-year-old Elba and 14-year-old Emelin, Mayan girls who play themselves in the film. They live in the Western Highlands of Guatemala, where only 14 percent of indigenous girls finish school and more than half are mothers before they turn 18. Girls like Elba and Emelin are socially isolated, extremely poor, and often forced to drop out of school to help their families with cooking, cleaning and caring for younger siblings at home.
Against these obstacles, Elba and Emelin, along with 13 other girls in their community, did something unthinkable -- they raised their voices and stood up for girls' rights. Through Let Girls Lead's program, the girls learned how to advocate for their rights and became community leaders.
Using their new skills, the girls launched a community dialogue to mobilize parents, teachers and religious leaders to support girls' health and education. They also met with local government officials and developed a detailed policy proposal to present to their mayor.
In their first meeting, the mayor laughed the girls out of the office.
But Elba, Emelin and their friends refused to give up. For months, they struggled to convince local leaders that girls matter. They spoke on youth radio programs about the violence and discrimination facing girls. They went on local TV shows to ask the community to take action to support girls. Thanks to their vision and courage, Elba and Emelin successfully advocated for legislation and funding to support Mayan girls' health and education in Guatemala.

This inspiring crusade for girls' rights is the subject of 'PODER.' The documentary is directed by Emmy award-winning filmmaker Lisa Russell and includes narration by Jennifer Buffett, a global advocate for girls.
'PODER' demonstrates that girls hold the key to ending global poverty, a message echoed by UN Secretary General Ban Ki-Moon. As Emelin herself says in the film, "Never underestimate the power of a girl!"
The global premiere of 'PODER' will take place during the UN Commission on the Status of Women in New York on March 12, with additional premieres planned for Guatemala on March 28 and San Francisco on April 10. The trailer for the film is available here, and the full film will be available at Let Girls Lead on April 11, 2014, along with a film screening toolkit.
Related