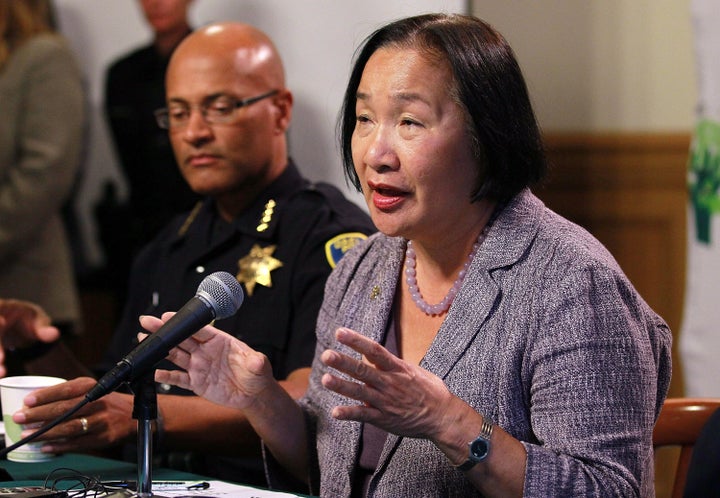 WASHINGTON -- Nearly three weeks ago, the Oakland Police Department made international headlines when it razed Occupy Oakland's encampment under a hail of rubber bullets and lung-stinging clouds of tear gas. The police deployed the same aggressive response on the subsequent protest march that night.
YouTube videos and Twitter carried images of a wheelchair-bound woman caught up in tear-gas haze and close-ups of point-blank wounds left by rubber bullets and bean-bag pellets. Iraq War vet Scott Olsen became an icon not for his service in Iraq, but for being severely wounded when a police projectile fractured his skull and put him intensive care. He has only recently left the hospital.
It has not been a good time to be an Oakland police officer, or the city's top official. After initially praising the police for their morning raid on the encampment, Mayor Jean Quan then went into damage-control mode amid the ensuing marches and candlelight vigils for Olsen, visiting the 24-year-old at his Highland Hospital room.
By then, Interim Police Chief Howard Jordan promised to investigate his officers' use of force. Quan vowed to make sure his investigation was thorough. On her Facebook page, she went a step further, issuing a mea culpa:
I am deeply saddened about the outcome on Tuesday. It was not what anyone hoped for, ultimately it was my responsibility, and I apologize for what happened … We have started an investigation into the use of force, including tear gas, on Tuesday. I cannot change the past, but I want to work with you to ensure that this remains peaceful moving forward. When there's violence, there are no winners -- it polarizes us and opens old wounds.
Quan has since had law enforcement clear out the encampment for a second time, after which both her top legal adviser and her deputy mayor abruptly resigned.
Her administration's investigation into the allegations of excessive force would not have to go back too far into Oakland's municipal archives to find that the police department has violated its own policies and procedures before.
A similar incident in April 2003 at the Oakland port. Cops fired bean bags and wooden bullets at hundreds of anti-war protesters, leading to condemnation by the United Nations, millions in settlements and the department agreeing to a court-ordered, wide-ranging overhaul of its crowd-control policy. It was a substantial victory for activists that promised at least a respectful detente between them and the cops.
And it lasted until Occupy Oakland.
The rules of engagement stemming from the 2003 incident prohibit such police escalations like the one that led to Olsen's injury. Stinger grenades containing rubber pellets as well as any weapon meant to be fired at the ground are banned. Less-than-lethal weapons, such as rubber bullets, bean bags and flash-bang devices, can't be used for crowd control.
Tear gas can only be used as a last resort, and only after warnings are given and "reasonable" time has been given for citizens to disperse. "Crowd control chemical agents shall only be used if other techniques, such as encirclement and multiple simultaneous arrest or police formations, have failed or will not accomplish the policing goal," the policy stipulates.
The policy went a step further in addressing who the police can target for arrest.
"The mere failure to obtain a permit, such as a parade permit or sound permit is not a sufficient basis to declare an unlawful assembly," the policy states.
Dan Siegel, Quan's former legal adviser who resigned Monday from his post, told The Huffington Post that the recent incidents at the Occupy camp clearly broke the policy. "There were agreements made about tear gas use and so-called non-lethal weapons that were just egregiously violated," he said.
The mayor's office did not return a request seeking comment.
Rachel Lederman, one of the attorneys in the litigation that spurred the policy changes, had a simple reaction when she saw the news reports on Olsen and the others: "Not again!"
The new incident could lead to a new case, she explained.
"Pretty much every aspect of the crowd control policy was violated," she said. "We are prepared to take legal action."
A civil suit has just been filed on behalf of those injured in the Occupy incidents. The gist of the complaint relies heavily on the agreement spurred by the port incident.
Officer Johnna Watson in the OPD's media relations office told HuffPost Tuesday that the department did not violate the agreement stemming from the port incident. Its use of bean bag rounds and tear gas fell within the scope of the agreement, she said.
But James Chanin, another prominent attorney from the 2003 class-action case, said the incidents are eerily similar.
"I'd like to see the supervisor go down for this, including, if necessary, the police chief," Chanin said.
Few have been as intimately tied to both incidents as the interim chief. Jordan was a defendant in the 2003 case. He had been involved in the planning stages of the police operation and on the scene that day, when more than 50 activists and bystanders were injured.
As the news clips from the Occupy Oakland incidents showed a downtown filled with tear-gas smoke, John Nishinaga said he watched in disbelief. He had been in the middle of the activity at the port in 2003, shaken by pain and fear.
"It reminded me a lot of what I experienced," Nishinaga recalled to HuffPost. "That scene. And those wounds. And the panic."
Willow Rosenthal had been there too. "It was really hard for me to see," she told HuffPost of those images. "I certainly shed tears over it. Emotionally, it's still very close to the surface."
In the morning of April 7, 2003, Rosenthal and Nishinaga joined hundreds of activists at the Port of Oakland for a peaceful -- if noisy -- demonstration against the country's just-launched invasion of Iraq. They had set out to picket two shipping lines with ties to the war build-up. It was a mild day, matched only by the tempered chants of the activists.
"It was a pretty boring protest," Nishinaga admitted.
It took a while for people to show up. The port is fairly isolated from public transportation, and activists had to get off at a nearby BART stop before slogging it down long, wide roads and crossing railroad tracks. It was still dark out when Rosenthal arrived that morning, before the police.
Gradually, at least two picket lines formed. They began to get louder and stronger as the demonstration gained more participants. When the police showed up, they soon moved on the crowd.
"The police were corralling people along one side of this very long roadway," Nishinaga said. In full riot gear, officers herded the activists and choked off access to the port. During that time, they began firing -- without warning -- on the crowd, according to Nishinaga and Rosenthal.
As court records and news accounts revealed, cops shot wooden dowels and beanbags, tossed "stingball grenades filled with rubber pellets" and tear gassed the crowd. In the pandemonium, officers struck fleeing individuals with batons and motorcycles.
"Defendants' actions were the result of unlawful and unconstitutional policies and practices of the City of Oakland and the OPD," the lawyers for one lawsuit wrote in their complaint.
"One minute I was picketing," Rosenthal said. "The next minute it felt like a war zone. There were very loud booms going off overhead. Then they started shooting these weapons out of their rifles."
Rosenthal recalled the police forming a line, dropping to one knee and shooting at activists with bean bags and wooden dowels. "It was very confusing," she explained. She and others fled down one road only to be cut off by the police dragnet and fired upon.
Many of the injured were shot in the back.
Rosenthal went down after being shot in the back of the leg. A wooden dowel crushed skin and tissue and caused internal bleeding that would require 10 days in the hospital, two surgeries and skin graphs [see slideshow for photos of her injuries], she said.
"There are these moments in life where you know something has happened to you, and right away, I knew my life wouldn't be the same," Rosenthal said of being first struck with that wooden bullet. "I felt an impact on my right and I felt my leg go numb. I could tell that something was wrong, really wrong. It brought me to an almost state of terror."
The police didn't stop shooting. Activists carried Rosenthal into a tunnel for safety. "I remember looking back at my right and having this feeling of 'Am I going to have a leg?' she said. "I was afraid to look."
"When they started firing, people were just trying to get out of the way for cover," Nishinaga added. A wooden bullet struck his hand. "I was walking backwards. When I got hit ... I was just holding some picket signs that people dropped. I was trying to not litter. It hit the hand I was holding the picket signs with."
The primitive bullet fractured and mangled Nishinaga's hand. He said he didn't get much use out of it for at least a year.
Jack Heyman, the now-retired longshoreman union official, came down to the docks in the early morning to figure out what his fellow workers should do. Could they cross the picket line? Should they wait for the protest to end? A group of longshoreman stood on the sidelines trying to figure it out. Heyman told HuffPost that the police gave no warning before firing on the demonstration.
"It was kind of like 'Apocalypse Now,'" Heyman said.
Heyman tried to drive over to a terminal. He said police dragged him out of his car and roughed him up. "They mashed my head onto the pavement, foot on my spine, and they twisted my arms behind my back and handcuffed me," he recalled. Much of his arrest was caught on tape. A reporter is seen asking him what he was arrested for. Heyman replied that he didn't know.
Some of the police were not bewildered by the events that day. One cop, according to a witness' affidavit, bragged about shooting activists at the port. According to the statement of the witness, Officer Chris Del Rosario told her shortly after the incidents that day "that he was very tired because he 'had to shoot a lot of people today' … and that he 'shot this one bitch in the forehead and her titties popped out.'"
Interim Chief Jordan has said his officers had no choice but to use tear gas at Occupy Oakland. Officers claimed that Occupiers had thrown objects at them. They had made similar claims in 2003.
In his April 2005 deposition, Jordan said that no officers had infiltrated the activists prior to April 7, but he admitted that he was in favor of such police tactics. Two officers, Jordan confessed, had infiltrated a demonstration against the police violence that May. He said that the two officers had planned "the route of the march and decided, I guess, where it should end up and some of the places that it would go."
"I think together we probably all decided it would be a good idea to have some undercover officers there," Jordan stated in his deposition.
The incident stayed with Jordan. He added later in his deposition that he kept a file on the events of April 7. When asked why he had done so, Jordan replied that it was used "for future planning, any kind of training."
Jordan stated, "In the event it happens again, you want to have some documentation so you can recall incidents, maybe change things the way you did them."
UPDATE Wednesday morning:
Late Tuesday night, Sue Piper, a special assistant to Mayor Quan, responded via email to questions concerning whether the police department had violated its crowd control policies stemming from the 2003 port incident.
"The police are already doing investigations on the concerns about police use of force during Occupy Oakland," Piper wrote. "We will be naming an independent investigator -- probably next week -- to determine if there are any violations."
CLARIFICATION:The civil suit mentioned in the initial story was filed this week by Rachel Lederman, the ACLU and other civil-rights lawyers. Along with the suit, a motion for an immediate temporary restraining order was filed against the city. Both relied on heavily on the crowd-control policy generated from the 2003 port incident.
Related
Before You Go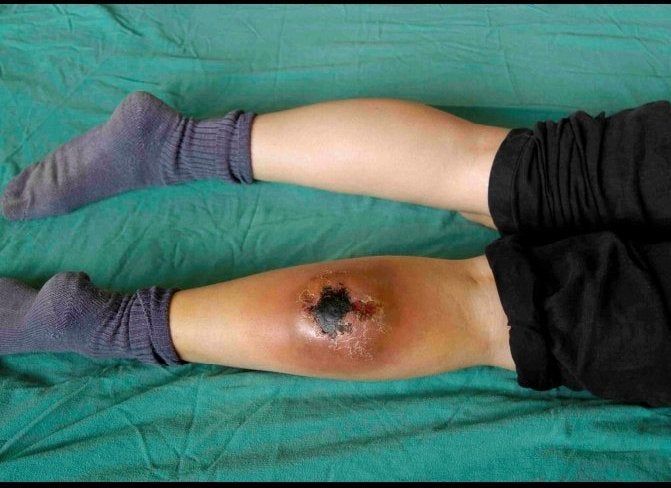 Oakland Police Occupy Wall Street
Popular in the Community