It seems that with increasing frequency since Travyon Martin's death three years ago, the big beautiful eyes of a young African American boy have flashed across the television or internet screen, "unarmed African American" at the top and "shot dead by police" at the bottom. But with the latest of these series of deaths, most recently the shooting death of Anthony Hill, a key component has to be further explored among the outrage and discussions surrounding police shootings. Mental health education, understanding, and compassion are sorely missing from the dialogue, and inevitably this issue is brought to light in the actions taken by our law enforcement officers toward those living with mental health difficulties.
Anthony Hill, a 27-year-old unarmed, black man was fatally shot by Atlanta police on Monday, March 10. Similar to the shooting death of Kajieme Powell in St. Louis, police fatally shot a man clearly showing signs of mental incapacities; as his neighbors reported he was naked and jumping repeatedly from his two-story apartment balcony. Despite the Chief of Police's assertions that the officer involved in the shooting had received "mental health" training (no elaboration on what this training involved), I firmly believe that if Atlanta police had been more informed on mental health, illness and how to engage and assist those struggling with mental health difficulties, Anthony Hill might still be alive.
As Hill himself pointed out in his Facebook post, comparing his life with a diagnosis of bipolar disorder to the television portrayal of Andre Lyon on Fox's hit show Empire, contrary to popular belief and depiction, mental illness does not equate to violence. This points to the great need to break down the social stigmas associated with mental health and mental illness and begin to educate, inform, and bring positive awareness to mental wellness.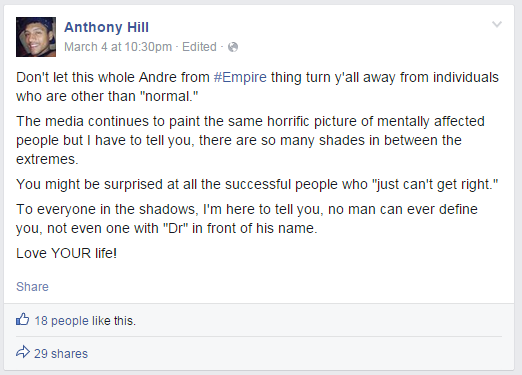 Organizations such as the National Council for Behavioral Health are doing their part to increase mental health literacy by ramping up the access and frequency of Mental Health First Aid trainings to teach the skills to respond to the signs of mental illness and substance use. The First Lady, Michelle Obama, has even lent her voice to the mental health awareness issue in America through the recently launched ChangeDirection campaign,
For all of us, our mental wellbeing is just as important as our physical health. But unfortunately, most of us do not know how to recognize the signs that someone is in emotional distress, so many of those who are having difficulties can't get the help they need. Together we can change this. Together we can change the story about mental health in America, together we can change direction.
This should be just the beginning of such initiatives geared toward increasing mental health education and awareness. As the conversations and debates continue to lobby for body cameras, racial sensitivity training for law enforcement, mental health education needs to be in the forefront of this reform discussion so our young beautiful African American men can grace our television and computer screens alive, thriving, and mentally healthy.
This is not just the all too familiar headline focusing on a young unarmed African American male shot dead by police, but also the story of a man who needed mental health assistance and instead of receiving the professional assistance he so desperately needed, he received fatal bullets.
First, I urge that the passing of each of these beautiful souls be mourned and examined in the media separately, but also urge and emphasize that mental health trainings, and sensitivity move up in rank when examining the reform that needs to be made among police officers to curtail such purposeless killings of our young African American men, and those that struggle with mental health difficulties.
Popular in the Community