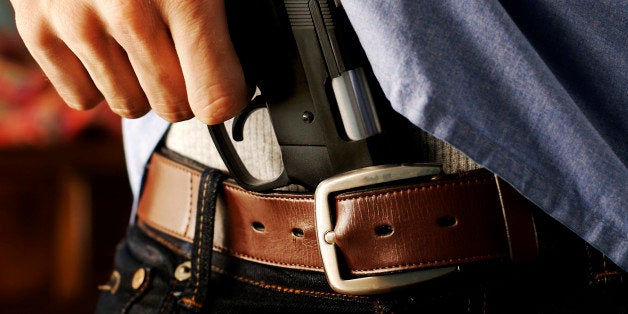 WASHINGTON -- After police officer Darren Wilson shot Michael Brown to death in August in Ferguson, Missouri, he claimed the teenager had reached into his waistband, causing Wilson to fear Brown had a weapon. Brown was unarmed.
"Guns do come out of waistbands," said Eugene O'Donnell, former police officer and current lecturer at the John Jay College of Criminal Justice in New York. Yet the waistband claim has become a cliche of the aftermath of police shootings.
"Some departments around the country need to be reined in on a lot of this stuff," O'Donnell said, adding that the recent uproar over the killing of Brown and others is a good opportunity to address police practices before and after shootings.
Scouring recent news archives, The Huffington Post turned up many stories about police officers shooting armed suspects who reached for their waistbands. But it also turned up many stories in which police cite waistbands after shooting unarmed suspects. Here is a partial list of unarmed "waistband suspects" shot since 2010:
Just last week, a Phoenix police officer killed an unarmed man named Rumain Brisbon near a convenience store. Reuters reported that law enforcement officials "said the officer gave Brisbon several commands to show his hands, before Brisbon 'placed one or both hands in his waistband area' and fled." Now Brisbon's dead.
In September, a Salt Lake City police officer shot 20-year-old Dillon Taylor as Taylor pulled his hands out of his waistband, KSL TV reported. Officers had confronted Taylor following reports that someone had been "waving a gun around." Taylor disobeyed officers' orders to put his hands up while walking away, but he turned out to have been unarmed.
A Greenville County, South Carolina, deputy killed an unarmed man at a gas station in June after officers said the man behaved erratically and refused to show his hands. "He comes out and advances on our deputy, reaching toward his waistband, making those movements as if he was going to retrieve a firearm -- placed our officer in jeopardy," a spokesman said, according to the local NBC affiliate in Charleston.
In May, Citrus Heights police in California shot and killed a man named Jason Wilson, who they suspected had assaulted a woman. Police said Wilson led them on a foot pursuit through a residential area near a school, the Sacramento Bee reported. A police helicopter overhead reportedly saw Wilson in a crouched position "appearing to reach into his waistband, making him appear armed." Right before he was shot, Wilson pulled out a black case that was "long and slender" and "very similar to that of a barrel of a handgun."
Police in Long Beach, California, killed an unarmed man in April after he led police on a foot pursuit down a flight of stairs near the beach. After having apparently heard deputies with the Los Angeles County Sheriff's Department fire non-lethal rounds at the suspect, Long Beach officers thought the man had been involved in a gunfight. "The suspect failed to surrender and after officers observed him reaching for his waistband, an officer-involved shooting occurred," the police said in a statement, according to the Los Angeles Times.
In mid-January, an off-duty police officer working as a security guard in Houston killed a man whom he deemed threatening. As the officer patrolled the strip mall he witnessed a man on a bicycle peering into some businesses. When he confronted the man, the man dropped his bike and began walking away, then "reached down toward his waistband," police said, according to the Houston Chronicle. The man complied with the officer's request to get down on the ground but "he reached into his waistband a second time." A police spokesman told the Chronicle he didn't know if the man had a gun.
In December 2013, police shot 34-year-old Raymond Alvarado of El Monte, California, an "undisclosed number of times" after police said "Alvarado reached into his waistband," the San Gabriel Valley Tribune reported. Police thought Alvarado matched the description of an armed suspect described by a 911 caller, but Alvarado turned out to have been unarmed. He survived.
The Kansas City Star reported in August 2013 that four Kansas City Police officers shot and killed an unarmed 44-year-old man after someone called the cops to report a man in "blue pajama pants" who had an outstanding warrant. "The officers followed him as he ducked between two semi tractor trailers parked between the QuikTrip and a motel," the police said, according to the Star. "He then led the officers to the motel and ended up next to a wall, where he suddenly pulled his hand from his waistband as if he was getting ready to shoot them." They shot him first.
That same month, the Vallejo Times-Herald in Vallejo, California, reported police shot a 20-year-old named Tony Ridgeway after approaching a group of people they thought might be robbery suspects. "When officers approached the group," the paper reported, describing the police account of the incident, "one man fled while reaching into his waistband, pulling out 'a silver aluminum object,' and turning to the pursuing officer." The Times-Herald's headline: "Vallejo man shot by police was concealing beer can." Ridgeway survived.
In March 2013, a Memphis, Tennessee, police officer fatally shot a shoplifting suspect named George Golden who had been resisting arrest. "The officers say the man reached for his waistband as though he had a weapon, then spun around quickly," local TV station WREG reported. "One of the on-duty officers fired once, hitting the man. The department did not say whether the suspect actually had a weapon."
Nine days prior, officers in Ontario, California, were approached by 18-year-old Christian Rodriguez, whom they thought was holding a gun. According to the Inland Valley Daily Bulletin, prosecutors said that after an officer deployed a Taser on Rodriguez and Rodriguez fell to the ground, the officer "saw a black object in the man's waistband, causing him to drop the Taser and grab his gun." The object turned out to be a notebook; the thing he'd been holding turned out to be a flower pot fragment. Rodriguez survived nine gunshots.
In December 2012, the Indianapolis Star reported that Lenon Henry, 52, was fatally shot by police after he was suspected of breaking into a home. The man was hiding underneath a coat in the basement when officers responded. The homeowner told officers she owned several firearms. According to the Star, the police report said that when one officer "removed the coat from the suspect, the suspect quickly reached for his waistband and was shot" by another officer. No weapon was ever found.
Thirty-six-year-old Jose de la Trinidad was killed by police just moments after leaving his niece's quinceañera in Inglewood, California, in November 2012. When police initiated a traffic stop, Trinidad's brother, who was driving, fled. The Los Angeles Times reported that when Trinidad's brother finally allowed him to exit the vehicle, following Trinidad's pleas to stop fleeing, officers believed he was reaching for his waistband and they feared he had a weapon. "It's the classic 'He was reaching for his waistband' defense that is used any time an officer shoots an unarmed man," Trinidad's family attorney, Luis Carrillo said in a transcript of interview notes read to the Times. Los Angeles sheriff's deputies shot Trinidad five times.
Pasadena, California, officers responded to an armed robbery call in March 2012, having been told the suspect had a gun. Kendrec McDade fit the description and fled on foot when confronted. Officers shot the 19-year-old when police said they saw his hand at his waistband, believing he was armed, according to the Pasadena Sun. "Kendrec McDade is but one of many recent victims of so-called 'waistband shootings,'" said a lawsuit filed by McDade's family. McDade was not armed; the 911 caller later admitted to lying about seeing a weapon to get police to respond faster.
In Rockville, Maryland, during a traffic stop in February 2011, a cop approached four men in a vehicle that smelled of marijuana. An off-duty officer responded to a call for backup when one man fled the car. The Washington Post reported that while the off-duty officer was speaking to the rest of the men in the car, one male got out and reached for his waistband. "The off-duty officer ordered the man to comply with 'commands that he refused to obey' and then fired her weapon several times, hitting him in the leg," the Post reported. It turned out the man had weed in his waistband, but no weapon. The man survived.
Oakland, California, police shot and killed a man named Derrick Jones in November 2010 after officers saw a shiny metal object poke through his waistband. Officers were responding to an apparent domestic violence disturbance at Jones' barbershop. "All I know is that Mr. Jones did not point any item at the police, did not put his hands in his waistband and he had no weapon," John Burris, Jones' family attorney, said in a report by the Associated Press. The shiny metal object turned out to be a small silver scale.
In June 2010, two officers in Pinole, California, shot and killed 20-year-old Michael "Mickey" Ray Welch, whom they believed had been involved in an earlier shooting. The officers repeatedly asked Welch to put his hands in the air, but the police chief said Welch "kept his hands clenched in front of his chest and moved them down toward his waist," according to The San Francisco Chronicle. The officers then saw Welch pull out a black object, and they fired. The object was his cell phone.
Steven Eugene Washington died from a single gunshot wound to the head in March 2010, after Los Angeles police officers said they feared for their lives because "Washington did not respond to their commands and appeared to be reaching for his waistband." The Los Angeles Times reported that Washington was autistic and had learning disabilities. Officers did not find a weapon.
Before You Go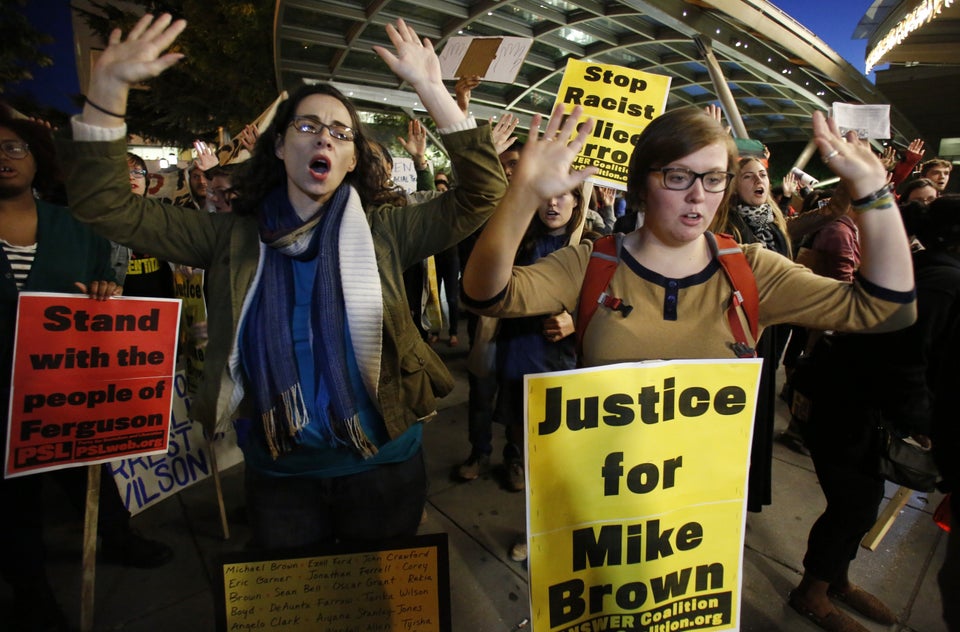 Ferguson
Popular in the Community