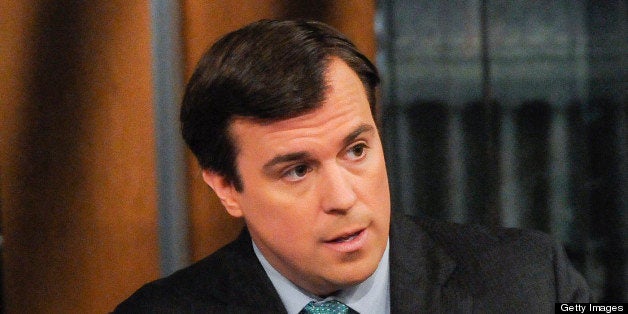 Politico's Jonathan Martin, who has been with the publication since its earliest days, is leaving for the New York Times, according to a memo obtained by The Huffington Post.
Martin will become the paper's new national political correspondent, a storied position once held by the legendary R. W. Apple.
One of the more memorable episodes in POLITICO's early history came in December 2006, a few days after we announced that we were creating a new publication, at the Carlyle restaurant in Shirlington. We were meeting a young and inexperienced reporter named Jonathan Martin, who until recently had been with the Hotline. Jonathan had worked as a researcher on a book earlier that year with John. Jim thought the interview with a potential new hire was important enough that he agreed to take the meeting during the middle of a Green Bay Packers game.

After an hour of conversation about politics, journalism, and our ambitions for new media, Jonathan left and Jim said to John, "That guy's a natural."

In nearly seven years with POLITICO, Jonathan has indeed proven himself a natural at this wonderful calling of reporting and writing about national politics and the men and women who run our government. He has a zeal for the game and an appreciation of history that are truly special and that made POLITICO a natural home for him.

Jonathan told us today that he is leaving home to take a big and challenging job as national political correspondent with the New York Times. This discussion has been underway for some time as many (all?) of you may know, so this news did not come as a surprise. From the personal perspective, it is a sad day for us, even as we understand his decision and the hard thought that went into it. We are proud of how Jonathan's great natural potential has blossomed at POLITICO, and he has our best wishes and continued friendship.

From the POLITICO perspective, this is a day less for regret than excitement. We have an opportunity--indeed, from both Robert Allbritton and Fred Ryan we have an unambiguous order--to use this moment as a springboard.

People currently on staff, already performing at exceptional levels of sourcing and sophistication, are ready to broaden their portfolios and expand their profiles, and our conversations make clear they are eager to do so. At the reportorial level, on the politics, White House, Congress and policy teams, this place is filled with natural leaders--people who set an example for others to follow within the newsroom, and whose work echoes loudly beyond it.

In addition, there are immediate opportunities to welcome top journalists from outside POLITICO--as well as newer journalists with JMart-like potential--into our newsroom and we are going to be aggressive in doing so.

Our success since POLITICO's launch in January 2007 has allowed our ambitions to broaden and deepen in many areas. One core mission has remained unchanged since that night at Carlyle: This place is about creating a home for the nation's top journalists, and allowing them a platform to have more impact and more fun than any other place in the business. On our main franchise of national politics, we are going to compete and win against all comers--against respected colleagues and friends at old media franchises like the Washington Post and New York Times, and against the rising number of new media franchises that play on the political field.

We are eager to hear from all of you who have ideas and ambitions about how we continue to dominate this subject in the years ahead.

In the meantime, Jonathan will be around a bit before leaving so there will be plenty of opportunity to thank him and toast his new adventure.

John, Jim

Update 3:23 pm: Here's the Times memo from political editor Carolyn Ryan:
To the Staff:

I'm delighted to announce that Jonathan Martin will be our national political correspondent.
The job is a storied and special one at The Times, and has been home to such giants as Robin Toner, Adam Nagourney, Rick Berke, and, of course, R. W. Apple.

Jonathan is a natural for the role: he has an unending passion for politics, an intrepid journalistic spirit and an astonishingly extensive Rolodex.

He also has a deep love of political history (ask him about his LBJ fixation, when you meet him) and a startlingly detailed knowledge of campaigns and candidates at every level.

Jonathan, 36, was among the first hires at Politico and spent two years on the campaign trail writing about the historic 2008 presidential campaign. He then became White House correspondent, traveling across the country and overseas with President Obama.

After covering the midterm contests in 2010, he served as Politico's senior reporter on the 2012 campaign, winning praise for his ability to break big news and offer ahead-of-the-curve reporting and analysis.

He came to Politico from The National Review and previously worked for National Journal's political publication, The Hotline.

Jonathan is a huge fan and student of The Times. He is eager to team up with the gifted political reporters we have here, especially the supremely talented Jim Rutenberg - much as Jim did with Jeff Zeleny, who drove our stellar coverage of the 2012 race.

A Virginian, Jonathan is a graduate of Hampden-Sydney College and is married to Betsy Fischer Martin, senior executive producer of Meet the Press. He is an adventurous explorer and appreciator of all corners of America, especially BBQ joints, state capitol buildings and Fenway Park.

Please join me in congratulating and welcoming him.

Carolyn Ryan

Calling all HuffPost superfans!
Sign up for membership to become a founding member and help shape HuffPost's next chapter
BEFORE YOU GO
PHOTO GALLERY
New York Times