LAS VEGAS -- Walking around the Adult Entertainment Expo (AEE) in Las Vegas, you'd never know the porn industry was at half-mast, sales-wise.
There are floor-to-ceiling billboards of scantily clad sex actresses and HD TV screens showing every conceivable type of fornication (and a few unconceivable ones as well). Fans can take pictures with stars like Lisa Ann (the porn version of Sarah Palin), Julia Ann (no relation) and Alexis Texas (formerly Alexis Texass). If polite enough, the fanboy or frangirl might even get to touch a breast.
If the AEE was one's only exposure to the industry, the crowded convention hall might seem proof that porn is truly recession-proof. But insiders claim the business has gone limp -- metaphorically speaking -- because more people are watching porn for free over the Internet instead of purchasing it.
The end result means fewer gigs for hard-working porn performers like Dave Cummings, a 72-year-old porn actor who has also produced three series: "Dirty Dave's Sugar Daddy," "Sex Fun" and "Kneepad Nymphos."
"The piracy has killed the industry," Cummings told HuffPost. "I'd say 80 percent of the companies that were around five years ago either don't exist or are hanging by a thread. The day a new video comes out, within 24 hours, someone has set up a tripod in front of their TV to copy it and then uploaded it illegally."
Cummings is staying home in San Diego this year, and feels the piracy has forced him into a premature retirement. "I'm not able to cover production costs, so why do it?" he said. "Companies that are still in business are either paying less in salary or having McDonalds do the catering instead of craft services."
PORN STAR GALLERY (Story continues below):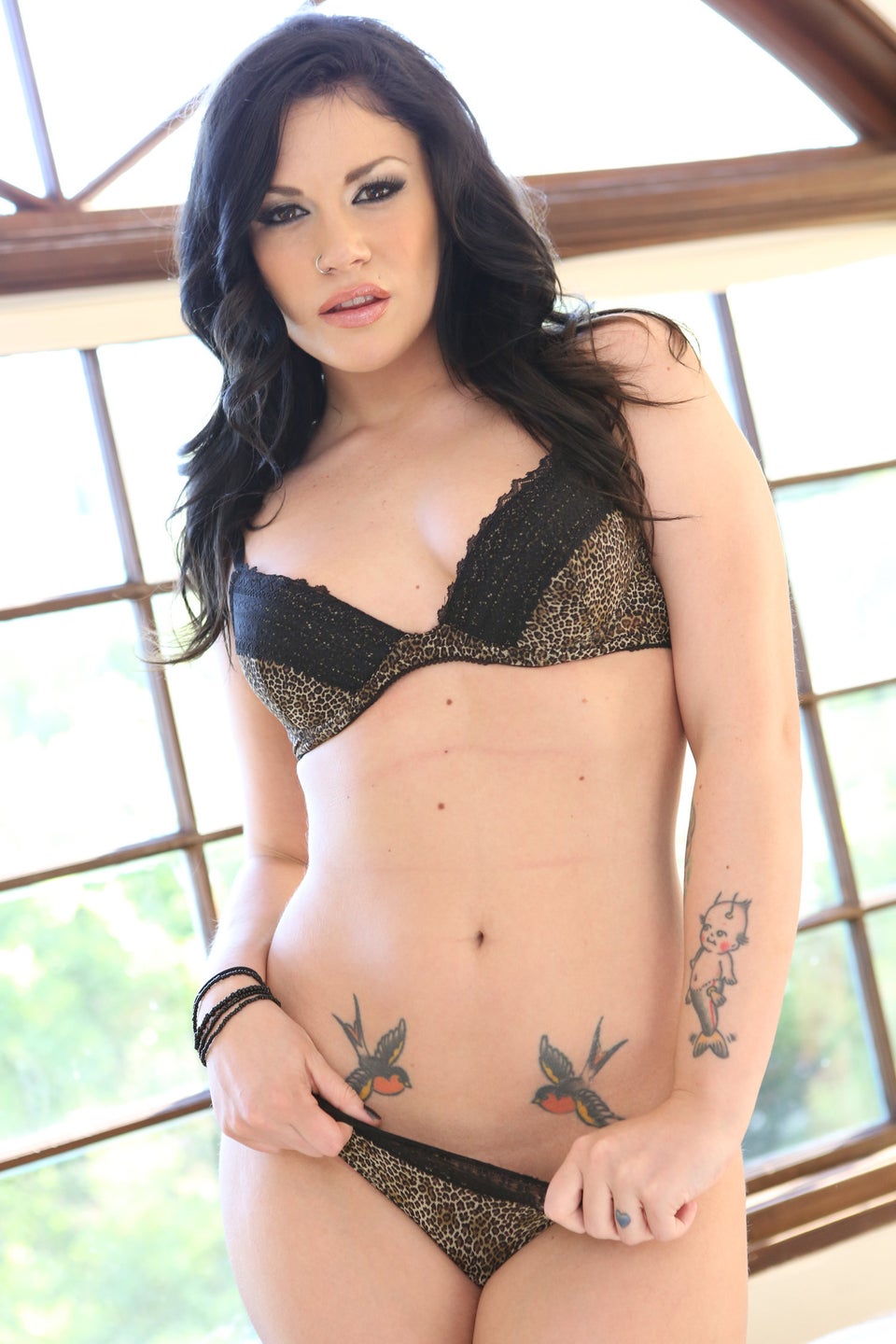 Porn Star Gallery
Nate Glass, who runs TakeDownPiracy, an organization battling online porn copyright infringement, estimates DVD sales have dropped by 50 percent since 2007.
"A mid-level company that might have earned $350,000 a month in DVD sales before that was earning maybe $150,000 to $200,000 when the recession hit," Glass said. "That may have partly been due to the recession, but there hasn't been a bounceback like in other industries."
It's hard to track how much money the porn industry has lost, because it's nearly impossible to figure how much it typically earns. Theo Sapoutzis, the CEO and Chairman of Adult Video News (AVN), a trade journal that covers the porn industry and organizes the AEE, estimates that the pornography business made $10 billion in 2012, but admits getting exact figures is close to impossible since many porn companies are privately owned and tend to "inflate" their figures.
Sapoutzis "guesstimates" the industry made as much as $13 to $15 billion during its peak in the mid-2000s, before the recession. He accepts Cummings' suggestion that 80 percent of porn companies are now defunct or struggling, but Sapoutzis sees that as a sign that the porn business is maturing, not dying.
"There are more performers than ever before, but they're working as cam girls at home interacting with people, rather than in a studio," he said. "From a company standpoint, there's bigger competition. It's more difficult to enter."
Darren Roberts, who was the CEO of AVN between 1996 and 2010, said the last few years have been rough on sales of filmed fornication, but it's hard to know how much the companies are struggling.
"The companies are tightly held, so you have to take what they say with a grain of salt," he told HuffPost. "Otherwise, you can check sales at the retail level, the distributors or even the printer to see how many box covers were printed. But, even then, everyone refutes the figures anyway."
"The only thing for sure is video sales," said Roberts, who is also the author of The Unsexpected Story, a new book about the porn industry. "Sometimes, you can check which films did well on hotel cable systems because those are publicly traded companies."
No one can or will say how much money the porn industry has lost, but porn insiders won't deny that fewer films are being made, forcing actresses like Tanya Tate -- a 33-year-old who specializes in playing cougar roles -- to adapt.
"The budgets have been slashed," she told HuffPost. "Performers often have to do their own makeup."
Tate's solution has been to diversify. She started a PR agency, Star Factory PR, that represents herself and other adult industry actresses, and she also directs films.
Tate also has tried to broaden her base by capitalizing on her interest in cosplay, and dressing up in sexy superhero outfits. "I don't say I'm a porn star," she said. "I just say, 'I'm Tanya Tate and I have a cosplay site.' It's SFW [safe for work], but if they do further research on Facebook or Twitter, people will make the connection."
Other adult stars and companies are trying to make up for lost revenue by breaking into new products, according to Sherri Shaulis, the senior editor of Pleasure Products for AVN. "Video companies are breaking into novelties like sex toys or lingerie," Shaulis said. "The idea is that you can't download the novelty."
If times are as tough as porn industry insiders say, it's possible they could get worse with the passage of Measure B, a controversial condom-only porn measure that Los Angeles voters approved in November. The law requires adult film producers in the city to obtain a health permit before filming and performers to use condoms while engaged in sex. It also calls for health officials to be present on working sets and makes violators subject to fines and criminal charges.
But that's only, Akira says, if authorities can figure out how to implement it. "No one knows what's going to happen or how it will be enforced," she said. "Porn was illegal to shoot not that long ago and it still happened."
Roberts said despite the economic hardships the business has apparently faced in recent years, he thinks things are bouncing back. "I am seeing the light at the end of the tunnel," he said. "DVD sales are coming back from two years ago. It was doom and gloom for a while, but people who put out good high quality product survived."
Related
Popular in the Community