This is the first of a series of pieces on the week long Art Dubai, the Middle East's largest art fair. Because the Fair is like an enormous souk (multivalent, complex if not exotic, and full of all manner of curiosities and intrigues), it requires a series of visits to apprehend its significance, its art and, to a large extent, its patronage and sponsorship. Being sardined with a host of international critics and journalists, it also gave rise to informal discussion on current thinking on the practice of writing about art in this new-fangled age of new media. This first piece is an introduction to the Fair, written during press week. Future pieces, the result of whatever noodles to the surface of a jet-lagged, travel weary mind, will discuss some of the many events and happenings that accompanied the Fair, as well as some of the more captivating work on display.
If there's one word that sums up Art Dubai 6, it's opulent. Opulent in its staging (hosted by Madinat Jumeirah, an ultra posh resort ), its partnership (Abraaj Capital), and its corporate sponsor (Cartier). Everything first class, from top to bottom. With its large, majestic, and well-appointed spaces, Madinat Jumeirah feels like a palace (a cluttered Salon this is not) whose spaces you navigate with wide-eyed, Breakfast at Tiffany's wonder and amazement. Its appointments are luxurious; even the two spacious rooms that house the wares of the 75 participating galleries from 32 countries have the feel of royal dollhouses.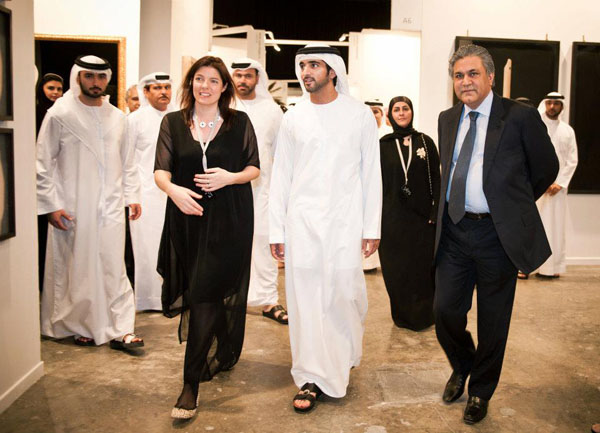 The thing is staged, magnificently, like a Bollywood premiere. Nothing wrong with that. This first-class treatment, this setting, this va-va-voom-ness befit its royal patronage (HH Sheikh Mohammed bin Rashid Al Maktoum, Vice-President and Prime Minister of the United Arab Emirates, Ruler of Dubai). It blends nicely with the visuals of a city that could be described as Las Vegas-without-the-suburbs. As a matter of fact, what happened that week in Dubai shouldn't stay in Dubai but be disseminated throughout the world, as a fine example of the benefits of patronage, royal and corporate. Given the slashing of national and local arts budgets around the world, it offers a glint of hope, a leading cultural economic indicator, that, amidst current and ubiquitous political and economic instability, things on the art front will be just ducky, thank you.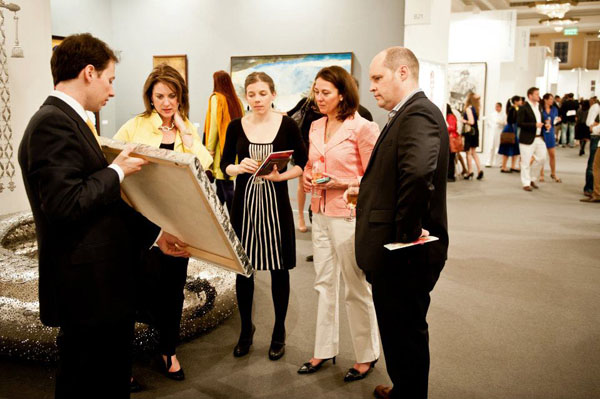 At the onset of this lapidary (nope, it's not a mirage) week long cultural caravan, a distinction must be noted. This distinction will impact your expectations and experience of the Fair. Art Dubai is an art fair, not a biennial. It's a splash, not a tide. It lasts but a week, after which time, like pilgrims in a desert caravan, we pulled up our stakes and headed back to our respective nether region. It doesn't so much present a point of view on the state of contemporary art as it does a barometer on the global cultural climate. Though the Fair's ancillary events are stupendous, catholic, and well chosen, they're not the Fair's primary focus. A glamorous bazaar, it focuses instead on dealers from throughout the world who peddle their goods; it promotes the sale of contemporary art. An inconvenient truth: Sales drive art, especially on this scale. Its stated purpose? Antonia Carver, Art Fair Director: to provide "a platform for new talent, celebrating established artists, debating the latest developments in the industry, and integrating art into the fabric of the region." In reality, a trade show (again, think Las Vegas), but what a trade show.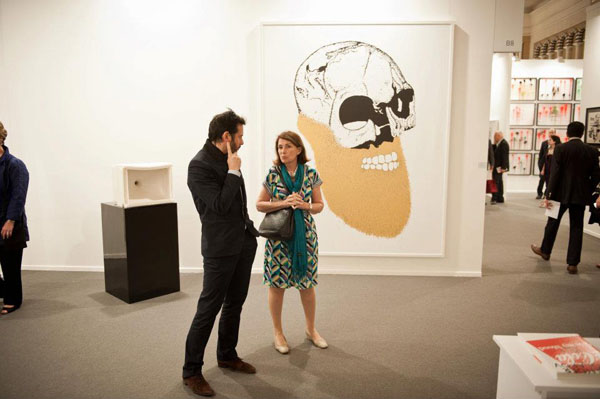 Thus, if you're looking for a take on the relationship of art to the ongoing Arab Spring, you have to look elsewhere. As Carver noted, in response to the question at the press conference, the Spring is still developing, responses take time to formulate, and, besides, artists weren't chosen for their political views. What you can extract from Art Week is that, even if the global economy is turbulent, the market for contemporary art is bullish; it thrives. More significantly it shows art unfettered, quirky, and free to respond to the vicissitudes of life, as it has done, does, and always will do. Though it doesn't present a curated response to the Arab Spring, it does show, in full blossom, the healthy and resplendent flowering of a laissez-faire art economy.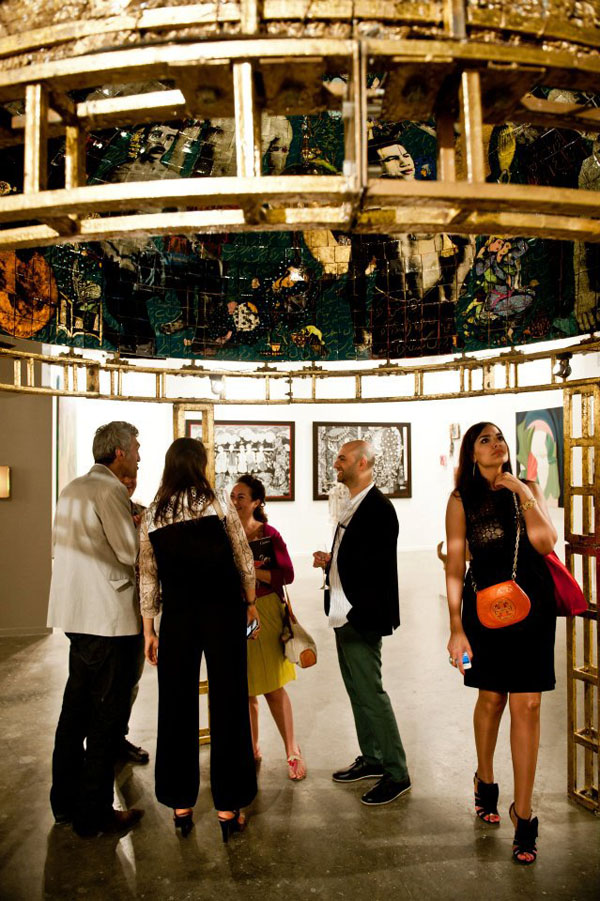 Conceived (in Carver's words) as "innovative," "a site of discovery," the Fair featured upcoming galleries (Seven Art Limited, Laura Bulian Gallery, and The Running Horse) as well as established ones (Pace, Goodman, Krinzinger, Continua, and Galerie Perrotin. Artists were emerging, were established, and came, apportioned in thirds, from the Middle East, Southeast Asia, and elsewhere. Featured was "Marker," a selection of work curated by Alia Swastika from five Indonesian galleries: Ark Galerie, biasaArtspace, Galeri Canna, D Gallerie, and Jogja Contemporary. Beginning locally (an aesthetic Ground Zero) and extending through all digital and analog portals, the Fair first nurtures the local art scene, consolidates its position, celebrates its history and then facilitates the exchanges that send art on its merry way of influence and inspiration.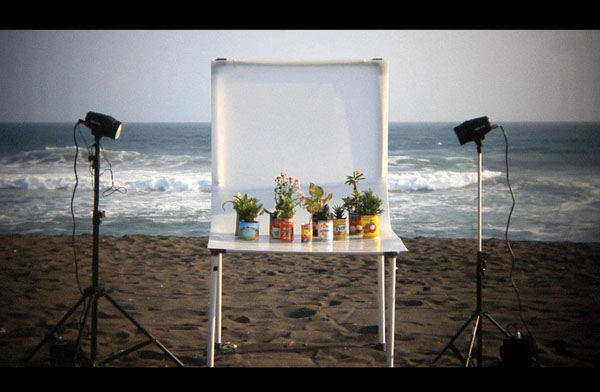 Like Dubai itself, the Fair's contrasts were immense, none more so that that between Art Dubai proper and SIKKA & Artists in Residence (A.I.R.), two alternative, much more low keyed venues. These last two offers a sense of experimentation, an opportunity to find a voice, to connect regionally and globally, all conducted in the city's oldest cultural district. The spaces are intimate, cozy, and grass roots. They feel like dress rehearsals in black box theatres where up-and-comers ply their craft before hitting Broadway. You might as well have been visiting galleries and studios in Los Angeles's Chinatown and Culver City.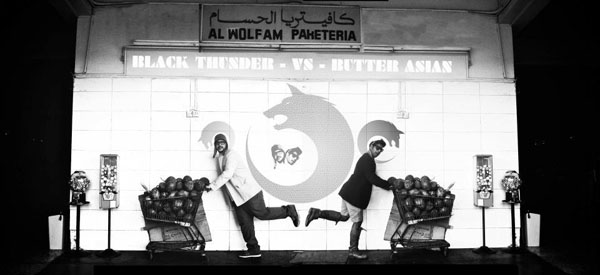 You leave with an exuberant appreciation for the effort expended, the respect afforded, and the commitment of the United Arab Emirates, not just for Middle Eastern Art but also for all art. In a global, interconnected economy, that speaks volumes about how art and its various economies are themselves works in progress, constantly evolving. Though it doesn't directly address the issue of the still-blossoming Arab Spring, Art Dubai gives us a sense of hope for the art (and the people who make it) that have been squashed or otherwise neglected and/or censored in the recent global political and economic skirmishes.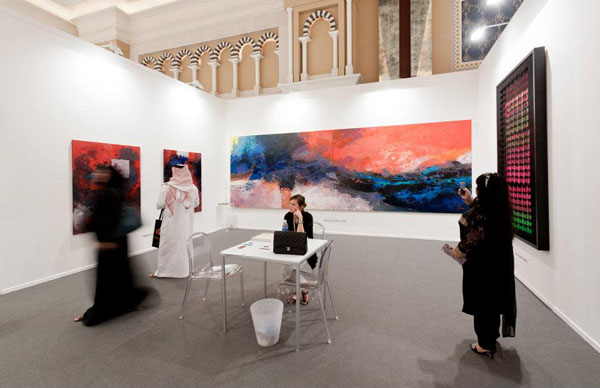 The Fair, alas, ended on March 24, 2012. For more information, visit www.artdubai.ae.
Calling all HuffPost superfans!
Sign up for membership to become a founding member and help shape HuffPost's next chapter