When we think about summer, many of us think about baseball games, BBQs and family vacations. For some families, summer can also be a time of uncertainty and hunger. Feeding and taking care of the people that need help in our own country, in our own communities, has always been important to me.
So many students that our national nonprofit organization, Common Threads, serves are significantly affected by issues of food security and safety when school is out for the summer. A report, Hunger Does Not Take a Vacation, published by the Food Research & Action Center (FRAC) in June 2015, closely examined Summer Nutrition Programs and compelled me to further explore the surrounding issues.
I recently had a conversation with a fellow mom and as she spoke about her summer, it became very clear, very quickly that the need for summer feeding programs for so many families is real. Not easy to admit or talk about, this is a battle of basic needs that parents struggle with as they raise the next generation. The woman, a super-hip, witty, single mom who works as a manicurist, has a daughter going into kindergarten that finally qualified for summer programming at her local YMCA because she is school-aged.
After filling out the necessary paperwork and waiting in line at the YMCA, Mom received a call indicating she had received 100% financial aid allowing her daughter into a comprehensive summer program that included snacks and lunch. She, like so many, cannot afford childcare and summer camps to ensure that her daughter has an engaging summer experience. She, like 21 million other children, relies on the U.S. Department of Agriculture's (USDA) free and reduced school meals when school is in session. When school is out, her meal security could be gone.
She went on to explain that she could finally relax and breathe because her daughter's needs will be met through the summer program other available programs throughout the school year. She said with such warmth and sparkle that she felt, "like it was going to be okay, that life was finally going to be good." It took my breath away. My friend and her daughter are not alone.
SUMMER NUTRITION PROGRAMS
Summer Nutrition Programs are crucial for children and their working parents. In order to prevent the well-documented 'Summer Slide,' children need to be engaged in meaningful educational activities. The slide does not just refer to academics. Camps containing meal programs over the summer provide a safe place with learning opportunities and food security for children. The recent report illustrates that Summer Nutritional Programs act as a magnet, drawing kids to these activities.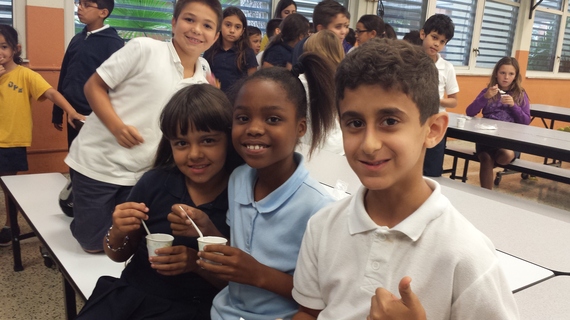 Above: Common Threads' Small Bites curriculum is being taught after-school, in partnership with Miami-Dade County Public Schools Department of Food and Nutrition. This summer, Common Threads will reach more than 24,000 students with nutrition and cooking education.
Shaka Rawls, School Culture and Community Coordinator at Burke Elementary School in Chicago, explained that Burke offers several summer enrichment programs that include a meal component. While participation is up this year, Rawls notes that it is still lower than they hoped and attributes the lower numbers to the perceived role of schools. Charged with undoing the image of schools as only having a role during certain months of the year, he and others are trying to market schools as a year-round community hub.
Half of a child's waking hours are spent at school. It is a venue that can instill wellness by offering healthy food choices, opportunities for physical activity, and experiential education about nutrition and cooking to empower children to choose a healthy diet. Schools can serve as a community center and can create real change. Administrators at schools, like those at Burke, believe that if families looked at schools in this way and participated in available summer opportunities, more meals could be served to kids who need them.
Every five years, Congress must reauthorize child nutrition programs. The current bill, the Healthy, Hunger-Free Kids Act of 2010, is set to expire September 30, 2015. As Congress debates child nutrition standards, there has also been a push to provide students with nutritious meals when school is not in session.
The upcoming Child Nutrition Reauthorization bill provides an opportunity for Congress to invest and improve in Summer Nutrition Programs as well as programming and activities that support the academic achievement, health and well-being of students. This is the law that governs most child nutrition programs, including the school breakfast and lunch programs, summer meals, and afterschool meal programs.
Many of the kids affected by this legislation come from underserved areas. If we want to close the summer nutrition gap, which studies have shown can be a cumulative effect that contributes to achievement gaps, we need to invest in additional ways to reach these children. Many government officials recognize the importance of the issue and are working for progress.
The Stop Child Hunger Act of 2015 would give low-income families with kids an electronic card (EBT - Electronic Benefit Transfer) to be used for food purchases over the summer months in addition to the Summer Nutrition Programs. This could reach those students participating in free and reduced lunch programs during the school year who live in areas where summer learning programs simply are not available or who do not have the transportation to get to a program site. EBT cards could ensure that just because school is out students do not have to go hungry.
Crystal FitzSimons, Director of School and Out-of-School Time Programs for FRAC, explains that the USDA has been leading a campaign to increase participation in summer programs and there are many others working towards increasing access to summer meals. FRAC has partnered with the USDA and they are working together with groups like Afterschool Alliance, Feeding America, National Recreation and Park Association, YMCA of the USA and more.
Organizations like Common Threads work across the country, throughout the school year and summer months, to provide kids, families and communities with healthy meals and nutrition education by teaching lifelong cooking skills. I love that we are not just feeding people, our students, teachers and parents are preparing their own meals and snacks, which is powerful in promoting the idea of cooking for life, of being the driver of your own car and taking control of your health.
"The sooner we start teaching kids healthy habits the greater chance we have at combating preventable disease like diabetes or obesity. Knowing how to select, prepare, and cook a well-balanced meal is an important life skill that can help students develop a lifetime of healthy food habits," said Senator Kirsten Gillibrand (D-NY). "The great thing about cooking is that it can be about more than just health and nutrition; it can help children learn math, chemistry, and biology in a way that is relevant and fun."
Common Threads is partnering with summer day camp providers like LA's Best, Beyond the Bell in LA, Safe Haven in Chicago, and West African Women in Miami, to provide valuable nutrition educational content to over 24,000 students this summer. These are schools and kids who would not otherwise be receiving this education and support during the summertime.
If the USDA and FRAC, together with the help of their partners, elected officials and community leaders, focus efforts and create support then the funding will follow and these programs can help close the gap. The progress that has happened so far and the increase in children participating in summer nutrition programs that we have seen is a direct result of the attention that the USDA, FRAC and others have focused on the issue.
"The advocacy community has done a tremendous job of educating members and bringing up important issues like the need to lower barriers to summer meals participation, expand community eligibility, and preserve nutrition standards like the ½ cup of fresh fruit and vegetables in school lunches. But there is plenty of work still to do and I know that groups that care about health, nutrition, education, and enrichment programs will continue to make their voices heard," said Senator Gillibrand.
Private funders such as the Walmart Foundation, ConAgra, Safeway Foundation and Entertainment Industry Foundation, through their Hunger Is program also recognize the critical need for summer feeding programs and are working to help kids gain access to food and nutrition education this summer.
Karrie Denniston, director of hunger and nutrition at the Walmart Foundation, explains how the Foundation is working year-round to fight hunger and focuses on summertime. "Summer is about fun, but it is also about continued growth, learning and development. We believe that every child needs access to the nutrition they need to fuel this growth," she said. "The Walmart Foundation partners with nonprofit organizations to help more kids not only access important meals, but also to develop nutritious eating habits. This is part of our efforts to fight hunger in local communities and our commitment to create a more sustainable food system. Together with our partners, we hope to be able to help provide four billion meals to those in need in the U.S. and help four million people access nutrition education over the next five years."
The Walmart Foundation recently announced $15.5 million in grants given to seven national nonprofits, including Common Threads and Y-USA, to support free meal and nutrition education programs this summer and throughout the school year. This will help more than one million low-income children and their families gain access to critical meals and teach them how to cook and eat healthy.
When it comes to allocating dollars towards food for families vs. summer programs that feed kids and also include enrichment - what matters most?
The Summer Meals Act was introduced by Senators Gillibrand (D-NY) and
Lisa Murkowski (R-AK), and Reps. Don Young (R-AK) and Rick Larsen (D-WA).
"I've introduced the Summer Meals Act of 2014, a bill to help improve participation and access to Summer Nutrition Programs by: 1. Updating the community eligibility standard which expands summer meals to new area; 2. Reducing red tape by allowing many meal site sponsors to have a single application that will let them serve meals year round; 3. Providing improved transportation options for rural, underserved, and hard to reach communities; and 4. Enabling summer meal sponsors to serve an additional snack or meal to children whose parents need to work late," said Senator Gillibrand.
According FitzSimons, the nutrition provided at these summer program sites supports learning, enrichment, and physical and recreational activities at summer programs that keep children safe and often provide crucial childcare for working parents. All of these components are critical for low-income children who need more support during the summer months, a time when they lose more academic grounding than their higher income peers, engage in risky behaviors, and are more likely to gain weight commonly due to a lack of adequate nutrition and inactivity: this is a recipe for going down a rabbit hole for kids, parents and the teachers and administration in our communities and in our country and is completely unacceptable.
In places where the reach of the summer nutrition programs is limited, the Summer EBT option tested by USDA has been shown to reduce food insecurity. Rural communities, in particular, face significant challenges- lack of sites and transportation. Many communities simply lack facilities where kids can congregate and consume a meal, which makes on-site feeding difficult or impossible. Even where there is a school or community center that can provide summer feeding often participation rates are low because children are not able to travel to the site each day, according to Lisa Davis, Senior Vice President of Government Relations & Advocacy at Feeding America.
The EBT demonstration projects were extensively evaluated and in both rural and urban counties and the results were compelling. In households that received funds to purchase groceries during the summer, very low child food security decreased by 33 percent. When compared to non-participants, kids consumed more fruits and vegetables, whole grains, and dairy, and fewer sugar-sweetened beverages.
Schools are also doing away with summer breaks in lieu of more breaks throughout the year set to a year-round calendar - this can mean shorter breakfasts. Millions of low-income families rely on school breakfast and lunch programs on school days to provide nutritious meals to their children and lose access to those meals during summer months.
According to an article on District Administration, the "Summer Slide" is the main driver for year round schooling. Additionally, Matthew Boulay, interim CEO of the National Summer Learning Association, cites research that shows an increase in childhood obesity over the summer as a result of children replacing school lunches with junk food. While year round schooling is a complicated issue it could alleviate the issue of students participating in free and reduced lunch programs who are being missed by the summer nutrition programs.
While the gap is slowly closing, only one in six low-income children who relied on school lunch during the school year participated in Summer Nutrition Programs in 2014. Our kids are at risk. According to the USDA, school meals provide over half of a child's daily caloric intake during the school year, which means access to healthy meals needs to become a top priority.
Organizations such as the USDA partners with schools, community groups and local governments across the country to help provide free meals to children when kids are on summer break.
1.) The USDA has a Summer Food Site finder to help children and teens 18 and younger find summer meals in their community.
2.) Become a Summer Meal Champion in your community. Check out USDA's Summer Meal Toolkit here.
3.) Get the word out through community-based outreach! Advocacy is key!
If you do not have access to summer feeding programs there are other things you can do to combat the challenges that come with summertime. Check out the Common Threads Handbook, which contains an 8-week meal plan that follows WIC guidelines and a SNAP budget, a produce guide, and tips that can help any cook make their kitchen a healthier and more affordable place.
Popular in the Community