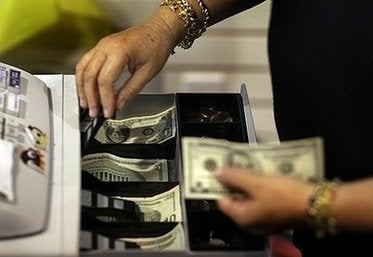 One business that's booming these days is payday lending. As the economy worsens, more people are turning to payday loans to get cash advanced from their paychecks for groceries, gas, and even mortgage payments. They pay fees at astronomical rates of up to 459 percent annual interest, fueling an industry that makes billions in profits each year.
Last week, the New York Times gave a boost to one of these outfits, Nix Check Cashing, with a long profile in the Sunday magazine. The story portrayed a kinder, gentler predatory lender -- a family-owned check cashing operation that grew by responding to the needs of its community in South-Central L.A. But Nix can really only lay claim to being the best of the worst in a loan shark industry. Up until recently, Nix charged the same rates of 459 percent to its customers for payday loans. On an average loan of $255 for two weeks, borrowers pay a $45 fee.
Last year, Nix was bought by Kinecta Federal Credit Union. Their new payday loan has a slightly lower rate, 391 percent for a $400 loan, and a $20 rebate into a savings account if the loan is paid back on time for six months with no bounced checks. This is meant to help ease borrowers into creating savings accounts so they theoretically won't have to take out so many loans.
According to its boosters, the Nix/Kinecta approach is the way to innovatively force banks to reach out to those now left out of mainstream financial services -- the poor and people of color. Maybe the banks will see what a killing Nix is making skinning profits from those living paycheck to paycheck and finally create accessible services and products for all those underserved, "emerging markets" they've neglected.
For anyone paying attention to the subprime mortgage meltdown, this should raise a big red flag. Targeting low and moderate income communities with predatory mortgage lending practices was a primary cause of the mortgage meltdown and our subsequent economic crisis, and it should be a lesson going forward that we require real regulation of the financial industry and protection for consumers from predatory lenders.
The foreclosure crisis and payday loan problem may overlap in more ways than one. We've heard of families, faced with the prospect of defaulting on their homes, who've turned to payday loans. In one case, they were told by their lender to take out multiple online payday loans to meet the mortgage payment.
The New York Times story tried to make the payday loan business sound pretty good compared to banks -- no hidden fees, friendly neighborhood service, unpretentious offices that a blue-collar worker can feel comfortable visiting. This is good enough for the poor and people of color.
"I didn't want to be a loan shark," said Tom Nix, the CEO. "But the reality is, customers wanted it."
This kind of rationale distorts the reality of a predatory industry that takes advantage of poor people's economic vulnerabilities, trapping them in a nearly inescapable cycle of debt. Many borrowers struggle to pay the loan back and have to keep borrowing money, taking out loan after loan or multiple loans from different lenders at the same time. The typical borrower pays back $800 on a $325 loan.
If more banks offered small loans at affordable rates that they marketed to underserved communities, there wouldn't be such a gap that predators could exploit. By all means, let's explore innovative ideas, but don't push Nix Check Cashing as the answer when they have been part of the problem. Payday lending is now spreading to institutions like U.S. Bank and Wells Fargo Bank, which offer a $100 loan at a $10 fee, or 240 percent APR. The California Reinvestment Coalition has been pushing on banks and savings & loans to offer their customers an alternative to payday lending -- a "quick consumer loan" with longer terms and 30 percent APR.
Kinecta, the credit union partnering with Nix, shouldn't be off the hook either. Credit unions, which emerged nearly 100 years ago as a fair lending and accessible banking movement, have prided themselves on providing low-cost loans and banking products at affordable rates to their members. Hank Klein, a former credit union executive and the founder of Arkansans Against Abusing Payday Lending, says, "That's why this is so disturbing. I know we need to adapt to the changing financial environment, but I'm not sure adapting by buying a check casher and making payday loans is the way to do it. I knew the founders of Kinecta, and they would be rolling over in their graves if they knew what was going on."
Besides low-income neighborhoods, payday lenders have traditionally targeted military bases, with their demographic of young, Black and Latino service men and women. In 2006, after the Pentagon documented the adverse impact of predatory lending on military personnel, Congress passed the Talent Nelson Act prohibiting payday lenders from making loans to active duty service members and establishing a 36 percent annual interest rate cap.
This protection against predatory lending should be extended to everybody.
Popular in the Community