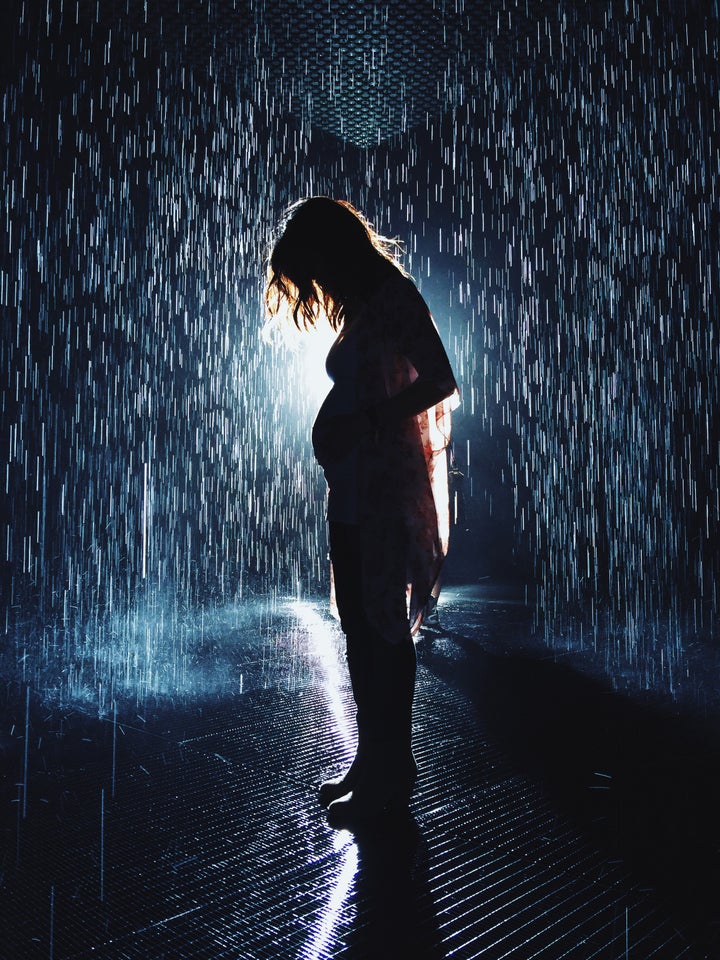 Morning sickness? Nope. Crazy cravings? Not really. Raging hormones? None.
What I did have instead was anxiety, nightmares, and crippling fear.
Correction: I still have.
What should be one of the happiest times in our life have been the most stressful and filled with trepidation. For the past 27 weeks, I have lived in fear every single day and will continue to live with this fear until we're holding a healthy baby in our arms.
I've overanalyzed every twinge, pain, pull, throb, pulse, cramp and ache. I've second-guessed every move I make –- how I'm sitting, standing, walking, sleeping, eating, twisting, turning, and just…being.
Am I overreacting? Perhaps. Have I created my own living hell? Probably. But you know what? This, my friends, is pregnancy after loss.
Each day I remind myself to try and be happy and not to worry so much. I mean, c'mon, I'm 27 WEEKS PREGNANT. This is huge. I couldn't make it past 8 weeks in any of my past 3 pregnancies. Every day should be a celebration.
And it is, trust me. But it's a different kind of celebration. It's a whew-we-survived-this-day-with-no-major-scares kind of celebration. Because as much as people and medical professionals tell me it's OK to relax now and the threat of miscarriage is significantly lower, I can't let go of the fear.
It may sound crazy but I'm scared that if I let go of the fear and allow myself to be happy, it can all be taken away. I'm acutely aware how it feels to have your joy stolen from you in an instant and I will do whatever it takes to never let that happen again. Even if it means refusing to be unabashedly happy even for a second.
Pregnancy losses not only take your baby away from you, but it takes away your innocence and a chance at a happy, stress-free pregnancy. This is what has been the most upsetting to me.
Here I am, finally pregnant with an incredibly easy pregnancy and I can't fully enjoy it. Every doctor's appointment and ultrasound gave me so much anxiety – my heart would race, I'd want to break down and cry (and sometimes I did), and I played out the worst case scenarios in my head. Me, the one who usually looked towards the positive side, was now swimming in negativity.
My husband, Christopher, and I had discussed when and if we should announce this pregnancy. If I had a choice, we wouldn't have announced anything until our son arrived but we knew we had to due to work (and of course my bump getting bigger).
We decided to wait until we received the results from our genetics tests and when all 3 of them showed the baby was healthy and "normal," we figured it was a good time to share our news.
I remember texting him right before I was getting ready to hit the "post" button. Again, it should have been a really happy and exciting moment for us but I freaked out.
Me: I'm about to post our announcement but I feel like I'm having an anxiety attack. I'm so nervous about jinxing it. I can't bring myself to hit post. Tell me I'm crazy and everything is ok.
Christopher: There's no such thing as a jinx babe…Everything is OK, everything will be OK. I'll always be here for you, whatever happens.
Me: I know. I know this. It just feels vulnerable. You're right. I'll hit post and then cry about it.
And I did. I hit post and then I cried. Tears of nervousness, tears of worry, and tears of relief that we even made it far enough to publicly announce it. And then the happy tears came while reading all the congratulatory messages and messages of love and well wishes.
After sharing our news, I slowly began feeling better about the pregnancy bit by bit. All the happy and positive messages helped me embrace everything more and more. It was almost like well, if all our friends and family are confident this one will go well then I should be, too.
They've helped me so much and their excitement has definitely been rubbing off on us. We've started calling Baby Boy by his name (yes, it's a secret) and we're now acquiring baby clothes and gear little by little.
We've set up our baby registry and will be having our baby shower at the end of October. It's been a bit surreal to have reached this point in our pregnancy, a point we only dreamed of reaching.
I only recently started taking photos of my bump, too. I have bump photos from my previous pregnancies, but this time I was too scared to invest in the happy traditions that most mothers relish. You're robbed of even the little things.
I share all this openly and honestly with you now because I want those who have experienced pregnancy loss to know they're not alone.
You're not alone. I get it. I really do.
It may take a village to raise a child but it also takes a village to heal from losing one.
I know exactly what you're going through. And I'm here to tell you, even when things seem impossible and bleak, do not lose hope. If anything, I hope my story and experiences will make you feel like this is worth fighting for and it can happen for you.
Have I been miraculously cured of fear and worry? No way. I'm still anxious but I'm working on it every day and trying my best to enjoy this time I have with our son. The time when he and I are one and the closest we'll ever be physically.
Husband and I aren't sure if we'll have another child (another discussion for another day). We more than likely won't due to our age and mostly due to neither of us having an internal pull for more than one child.
Since Baby Lance may be the only Baby Lance for us, it hasn't been lost on me that I need to be as present as I can for every moment of his development and growth as well as my development and growth as his mother.
I need to start trusting my body again. And start believing in miracles. Especially since one is thriving inside me now.
October is Pregnancy and Infant Loss Awareness Month, and HuffPost Parents is committed to helping to end the silence around miscarriage, stillbirth, SIDs and other infant loss. If you'd like to share your story, email parents@huffingtonpost.com.
Popular in the Community