My adorable and fabulous son is 14 months old and my self-titled "pregnancy skin" just returned to "normal" about three months ago. So I've decided to do pregnant women a solid and investigate why our skin basically sucks for nine plus months.
Your body goes through the widest hormonal changes during your first trimester, no thanks to good old progesterone and estrogen.
According to Dr. Amy Wechsler, estrogen causes pigmentation changes, so existing moles can get darker and you can get melasma, which has been nicknamed "the mask of pregnancy." As someone who has melasma, it's basically just darker areas on your skin and it often happens on the forehead. On top of all that, your growth hormones are going wild, so you're getting skin issues you might not have always had, such as acne, cherry angiomas (little red dots on your skin) and skin tags.
Dr. Jessica Krant told me that you also can get a variety of extremely itchy rashes. Why? I liked how Dr. Krant put it best: "Like some smells that you never would have even noticed before become nauseatingly intolerable during pregnancy, the skin can also change and become more sensitive to certain ingredients' irritation potential."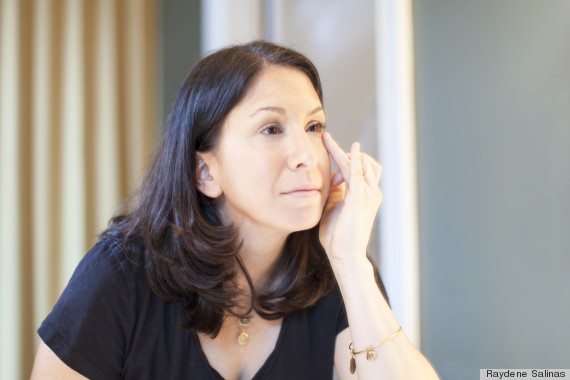 Skin issues, it should be noted, vary from pregnancy to pregnancy.
So you can have skin issues in one pregnancy and not in another. The silver lining, Wechsler notes, is that if you don't get horrible acne in your first trimester, you're "probably in the clear."
If you do have itchy skin and a rash forms, Krant notes, you should point it out to your dermatologist or OB-GYN. While there are any number of reasons why your skin can be itchy during pregnancy, a rash during pregnancy could indicate an infection or autoimmune reaction, Krant adds. While many skin changes are pregnancy-related and considered "normal," Krant suggests that all pregnant women get a complete skin cancer screening around month six to make sure that none of the changing moles are changing into anything dangerous.
But having the baby doesn't necessarily mean your itchy, blotchy skin will clear right up.
If you're breastfeeding, your hormone levels are extended, so it could last a while. If you're not breastfeeding, your skin should get back to "normal" within three months postpartum or when your period becomes normal. Krant notes that some side effects -- such as certain forms of hair loss or that nasty melasma -- can be permanent. Full disclosure: I formula-fed my son since month one and my skin was still a wreck until just before his first birthday. My melasma is still kicking it (and made worse with summer's sun).
Moisturizer and sleep is the best medicine for pregnancy skin.
If your skin is dry, moisturize, particularly with fragrance-free or hypoallergenic products. Wechsler recommends Cetaphil (particularly Cetaphil Restoraderm) or the Chanel HydraBeauty lotions (she does work with the luxury brand on the line). Krant recommends Aveeno's "very helpful" Skin Relief Cream, which contains three soothing and anti-itch ingredients. And don't forget the sunscreen!
Most importantly, take care of yourself. I scoffed at everyone telling me to sleep and relax while you can. But it's true: Sleep alone can do wonders for your skin always, let alone during pregnancy.
It's also important to stay cool and well-moisturized, use oatmeal baths and creams when you can and if your doctor gives the green light, ask for a topical steroid cream. Talk to your doctor before you take Benadryl, Krant notes. If you want to battle melasma, Krant suggests using SPF 50 or higher, which is "worth a pound of cure."
Trust me, I endured all of this.
The dry skin -- I must have asked my husband to scratch my back at least three times a night -- the melasma, the darker-colored moles and the old tried-and-true products starting to irritate me.
I turned to Josie Maran's Argan Oil as an everyday face moisturizer. Sure, it clogged my pores, but the winter is so dry and I was so thankful to have my skin not look patchy I didn't care. I still could use my favorite unscented Alba Botanica body lotion, which I've been using for nearly two decades. Anything else inflamed my skin.
Fast forward a year and I'm still not back to using my regular moisturizer, but I have found a few that work best for my still-sensitive skin.
But after a few hits and misses, I found a few products that helped my pregnancy skin: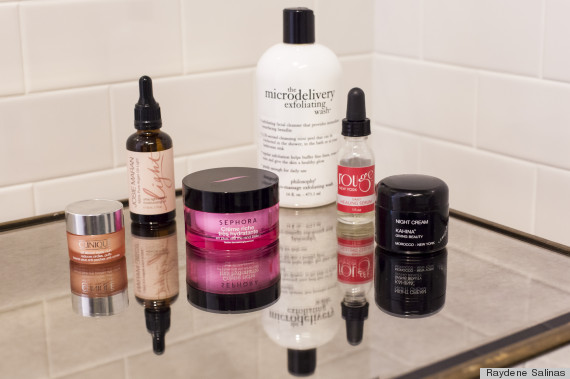 As for face wash, I'm loving Philosophy's Microdelivery Exfoliating Wash which really is soft enough to use every day and comes in great big sizes. (One caveat: the tip gets clogged with wash, so I've just left the cap off the bottle.)
But my new favorite find is Kahina, which has my trusty Argan oil in it. Their facial lotion is great for mornings and the night cream is a good heavy-duty moisturizer for the cooler evenings.