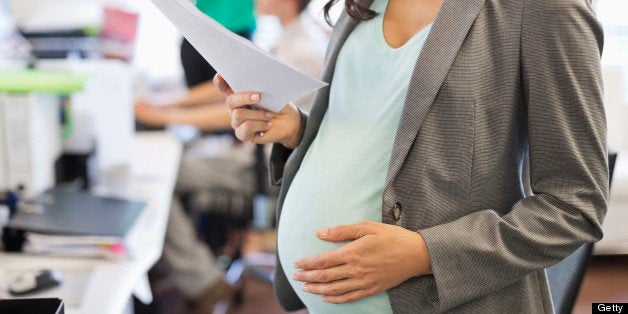 Heather Myers was fired over a bottle of water.
Myers was seven months pregnant back in 2007, working as a floor associate at a Walmart in Kansas, which meant she stocked shelves and cleaned aisles for minimum wage.
Told she could no longer carry anything to drink in the cart she pushed around all day, she brought two separate letters from her doctor, saying that she was at risk for urinary tract infections and needed to keep hydrated. Her request was twice denied, she said. "I decided to listen to my doctor rather than my manager," Myers recalled in a phone interview, and she was then told, "either the water bottle has to go or you have to go."
She went -- making her one of the many workers who are routinely fired or forced to take unpaid leave in the U.S. after asking for basic accommodations during their pregnancy.
Is this legal? That's the unexpectedly complicated question raised in a report issued Tuesday by the National Women's Law Center and A Better Balance, both of which are advocating for a strengthening of protections they say are being ignored in existing law.
"We think the law is clear," said Emily Martin, NWLC's vice-president and general counsel. "But since there are unfortunately still a lot of employers out there who believe, or at least assert, that you don't have to accommodate limitations arising out of pregnancy even if you accommodate the same limitation when it rises out of injury, then we need to make it clearer."
The "misunderstanding," she said, is based in the fact that pregnancy is not itself a disability under the Americans with Disabilities Act. "That's as it should be," she said. "Pregnancy is NOT a disability -- it's healthy and normal." For the first 35 years under the ADA, pregnant workers were therefore not explicitly protected, according to Martin. But in 2008 that act was expanded to include temporary disabilities.
The NWLC and ABB believe that definition covers pregnancy. "You have always had to treat pregnancy the way you treat temporary disability," Martin argues, "and since the way you treat temporary disability has changed, the way you treat pregnancy has to change."
Tuesday's report is filled with stories of employers who did not see it that way, and of courts who agreed with them. In page after page of interviews women say they were dismissed or forced to take unpaid leave after requesting such accommodations as a stool to sit on during an eight-hour cashier shift, or a change in schedule.
Guadalupe Hernandez (a pseudonym used in the report) describes being singled out as a line worker at a Mexican restaurant in Washington, D.C. and denied use of the bathroom once she was pregnant. Natasha Jackson says she was told to go on leave from a storage center in South Carolina because she could no longer lift more than 25 pounds, even though the job rarely required such lifting. Diana Teigland reports that her doctor requested she not work outside in high heat during her pregnancy -- so she had to take hot days as vacation instead, because the U.S. Postal Service would not permit her to do indoor work. Hilda Guzzman recounts being put on bedrest (with no paycheck) after the convenience store chain where she was a cashier refused to allow her to use a stool.
Some of these workers took their grievances to court, with mixed success. Guadelupe, who gave birth in May of last year, brought a complaint to the U.S. Equal Employment Opportunity Commission asserting she was terminated because of her pregnancy. That complaint is pending. Natasha's suit went to an arbitrator who found that her company's policy of accommodating on-the-job injuries but not similar restrictions resulting from pregnancy did not constitute pregnancy discrimination.
The haphazardness with which pregnancy accommodations are and are not granted means the law needs to be clarified, Martin and others argue. Legislation to do so is currently being considered before committees in both the House and Senate, and if passed, would amend federal employment law to explicitly state that "limitations arising out of pregnancy should be accommodated unless it causes undue hardship" to an employer, Martin said.
There are also several petitions before the EEOC asking that the current law be "clarified," Martin said, to confirm the rights of pregnant employees.
"It's really striking for those of us who have been lucky enough to work in professional jobs where if you have to go to the bathroom, nobody cared, to see the lack of willingness to make the most basic modifications during the work day," Martin said.
Heather Myers sued WalMart, but a judge ruled that she did not have sufficient grounds to bring her case. Rather than appeal that ruling, she said, she settled for an undisclosed sum. "After legal fees and taxes I ended up losing $200 on that settlement," she said.
Walmart says the company treats pregnant workers well. A Walmart spokesman referred the Huffington Post to Jacquline Hackett, a customer service manager from Tennessee who said her store helped her get through a difficult time in 2004, when she was pregnant with her daughter and getting chemo treatments for cancer. Hackett said the company provided her with flexible hours, affordable health insurance,and a generally supportive environment. "Walmart was my backbone and my haven," she said.
Like a number of women quoted in the report, Hackett was advised by a doctor not to lift anything over 25 pounds, but she says she could count on fellow associates to help out with strenuous tasks. "In the store you move all around," she said, "but if you're not comfortable picking up something, like a bag of dog food, they would come right over."
Myers is now the mother of three, and her last two children were born while she worked at Hospira, a pharmaceutical device company. Her job filling vaccine tubes requires being on her feet for 12-hour shifts, covered head to toe in sterile protective gear. During her two pregnancies there, she says, the company allowed her to take an office job instead, first eight hours a day, five days a week, then down to six hours a day as her second pregnancy became more difficult.
Her youngest is about to be a year old, and Myers is back at work, in her original job at Hospira. "The restrictions were only temporary," she says. "All I was asking for was a chance to do my job."
Related
Before You Go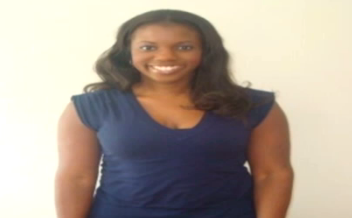 Pregnant Women Who Were Discriminated Against At Work