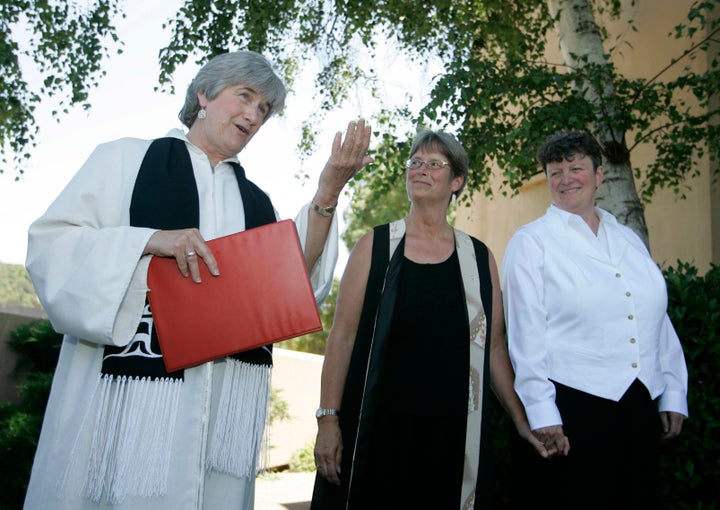 (Adds details from hearing)
SAN ANTONIO, Feb 17 (Reuters) - A lesbian minister rebuked by the U.S. Presbyterian Church for blessing gay weddings in California urged the denomination's highest court on Friday to lift the censure, as her lawyers argued that nothing in church law bars ministers from performing same-sex nuptials.
The ecclesiastical appeal for the Rev. Jane Spahr, a 69-year-old San Francisco grandmother, caps the latest of her decades-long series of conflicts with church authorities over greater acceptance of homosexuality in her Christian faith.
The case highlights deep divisions within the U.S. church and its 2 million members, as well as among clergy from other denominations who are increasingly being asked to solemnize gay and lesbian weddings.
Spahr embraced the prosecutor ahead of the hearing in a San Antonio hotel, where her lawyers implored the court to change the course of history for the church.
"I pray for the court, the couples, the families and the church that the decision made will be one of justice and love," Spahr told Reuters after the hearing, wearing a black suit with a knee-length jacket she wears when she performs weddings.
The court must decide whether to uphold Spahr's 2010 censure, a symbolic reprimand that carries no concrete consequence, for defying the church by officiating at the nuptials of 16 same-sex couples in California.
Spahr's appeal came as secular support for gay marriage gains favor in federal court and in the legislatures of several states, including Washington and New Jersey. Maryland's House of Representatives voted to allow same-sex marriage on Friday in legislation widely expected to gain Senate approval as well.
Ordained in 1974 two years before realizing she was a lesbian, Spahr made headlines in 1992 when she became the first openly gay minister called to a Presbyterian congregation.
Church courts denied her a Rochester, New York, parish because of her sexual orientation, and she went on to minister to gays and lesbians as a traveling evangelist.

Prosecutor JoAn Blackstone, a retired lawyer and church elder who considers Spahr a friend but charged her with violating church law, sat alone at the hearing. A seat reserved for the complainant, an anonymous church member, remained empty.
"We do have boundaries," she told the commission as she urged them to uphold the censure, citing a 2008 decision that allowed ministers to bless same-sex unions without representing them as marriage. "We do have rules."
Blackstone said change would best come from the church's legislative body, due to meet in Pittsburgh in July.
"I think about our whole church, how this has divided our church. We must go through the proper process to bring about change," she said. "We have to recognize we're dealing with a denomination that has passionate convictions that are at odds with one another."
The church last spring formally opened the ranks of its clergy to homosexuals, prompting Presbyterians opposed to gay clergy to announce they were leaving the denomination to form a new church, the Evangelical Covenant Order of Presbyterians.
The nuptials Spahr presided over were among some 18,000 gay weddings performed and legally recognized in California during a six-month window in 2008, after the state Supreme Court struck down a ban on same-sex matrimony but before voters approved a state constitutional amendment reinstating the ban.
In a hearing room packed with about 100 of Spahr's supporters and eight of the homosexual couples she married in 2008, Sara Taylor, one of Spahr's attorneys, choked up as she told the commission what legal marriage meant for the couples.
"For Lisa Bove and Renna Killen, it meant that when their kids went to school, their parents were married," Taylor said. "For Annie Steinberg-Behrman and Victoria Steinberg-Behrman, it means that they now share the same last names and that they are just as exactly as married as everyone else.
"It pains me to say that it is our society that recognizes that, and our church refuses. This church, who has been in the forefront of social issues, has refused to lead."
A ruling by the General Assembly Permanent Judicial Commission, comprised of 15 ministers and elders representing church bodies from across the country, was expected on Tuesday. (Editing by Cynthia Johnston and Daniel Trotta)

Related
Popular in the Community