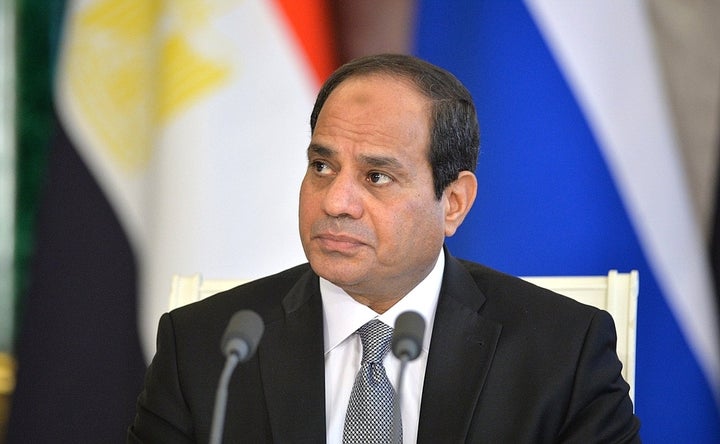 During a press conference on Sunday evening, President Abdel Fattah el-Sisi declared a renewed three-month state of emergency across the country. This announcement comes on the heels of two deadly terrorist attacks that have hit two Coptic Orthodox churches in Tanta and Alexandria targeting Christians celebrating Palm Sunday.
"A series of steps will be taken, most importantly, the announcement of a state of emergency for three months after legal and constitution steps are taken," President el-Sisi announced in a televised speech in which he emphasized the importance of unity between Christians and Muslims in the face of terror. The law will likely be implemented, as it only requires a parliamentary majority to pass.
ISIS has already claimed responsibility for the attacks that left at least 43 people dead and over 100 injured. Pope Tawadros II, head of the Coptic Church, was inside the catherdral in Alexandria when the attack took place and was reportedly a target for the suicide bomber. The Pope was, fortunately, unharmed, as the attacker did not manage to enter the church. The three officers who stopped him were killed in doing so.
The footage below, taken by a security camera at the entrance of the cathedral, depicts the suicide attack. Warning: Footage contains graphic images that may not be suitable for all audiences.
These incidents were the latest in a series of attacks on Egypt's Coptic community, which represents roughly 10% of the population. The government has been battling an Islamist insurgency since the overthrow of former President Mohamed Morsi in July 2013. The majority of terrorist attacks have targeted military and police forces in a small area in Norther Sinai, but the Coptic community is increasingly becoming the main target of violent radicals.
On January 1st 2011, a suicide bomber targeted the Saints Church in Alexandria, leaving 23 dead. In October 2011, security forces crushed a peaceful sit-in in downtown Cairo's Maspero Square by a group of mostly Coptic protestors, killing 28 people. When Morsi was overthrown, over 40 churches were attacked by mobs of angry Muslim Brotherhood supporters and, in December 2016, a suicide bomber killed 29 people in a chapel next to Saint Mark's Coptic Orthodox Cathedral, the seat of the Coptic Orthodox Pope in Cairo.
Even before the revolution, Christians faced increasing discrimination and violence. In the aftermath of violent mob attacks on their properties, Christian families have repeatedly been forced to accept informal mediation, as well as outrageous settlements, which usually force them to abandon their homes and leave their towns. Such agreements usually takes place in Upper Egypt, where government authority and police presence are often minimal, and Salafist ideology is more widespread.
Earlier in the day, President el-Sisi ordered military troops to be deployed across the country. The last time the government declared a state of emergency was in August 2013, following the violence that resulted from Morsi's removal from power. It has yet to be seen what the new state of emergency will entail, but it will likely feature an expansion of police powers of arrest, as well as increased surveillance and seizures.
Calling all HuffPost superfans!
Sign up for membership to become a founding member and help shape HuffPost's next chapter