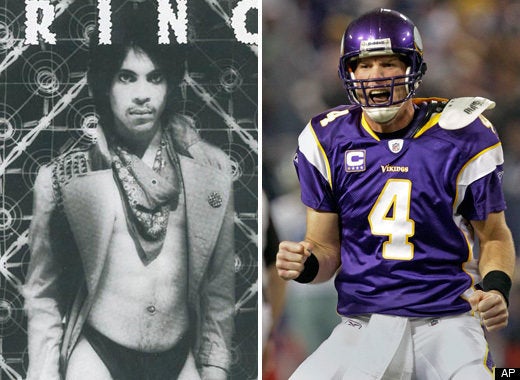 Prince has written a song about the Minnesota Vikings in honor of the team's victory over the Dallas Cowboys last weekend and their upcoming NFC Championship game matchup against the New Orleans Saints.
(SCROLL DOWN TO HEAR THE SONG)
According to MyFoxTwinCities.com, the world-famous musician and Minnesota native said he "saw the future" after Sunday's win and ended up writing "Purple and Gold" later that night.
Amazingly, this is the second music story about the Vikings to emerge this week. After the Vikings won on Sunday, Brett Favre made waves by performing "Pants on the Ground" and energetically slapping his teammates in the ass. Scroll down to listen to Prince's song and to read the lyrics. Thanks to SportsByBrooks for the tip.
Purple and Gold Lyrics

the veil of the sky draws open
the roar of the chariots touch down
we r the ones who have now come again
and walk upon water like solid ground
as we approach the throne we won't bow down
this time we won't b denied

raise every voice and let it b known
in the name of the purple and gold

we come in the name of the purple and gold
all of the odds r in r favor
no prediction 2 bold
we r the truth if the truth can b told
long reign the purple and gold

the eyes say ready 4 battle
no need 4 sword in hand
we r all amped up like a rock n roll band
ready 2 celebrate every score
ready 2 fight the elegant war
ready 2 hear the crowd roar

that's what we came 4
and so much more
in the name of the purple and gold

r spirits may b tired
r bodies may b worn
but since this day is r destiny
r history - that's y we must b
4ever strong as the wind that blows the Vikings' horn
in the name of the purple and gold
REAL LIFE. REAL NEWS. REAL VOICES.
Help us tell more of the stories that matter from voices that too often remain unheard.