For as long as politics has existed, there have been artists who transform political outrage into compelling work.
Whether you know it or not, Kelly Slater, is not only a world champion surfer but he's also deeply passionate about political, environmental and cultural issues. While most of his fans would prefer he stick to surfing, they may want to get comfortable with the political side of Slater--he is a firm believer that big business and government are poisoned by the machinations of unseen evil and that opinion isn't going to change anytime soon.
When RVCA Founder PM Tenore is part of your circle of friends, and you feel a certain way about the current political climate, we'll, you do what anyone else with would do--you have an art show in Venice and gather the tribe to elevate your message.
The show which opened September 20th is called "Apolitical Process: a vision by Kelly Slater" and it is, he says, "an artistic journey through the chaotic and sometimes inflammatory 2016 election cycle. It is our aim to explore and expose the underlying truth, hypocrisy, danger, motivations, misinformation and effects of this process. It is our hope that the artwork produces thoughtful discussion, transparency and an openness to question the powers that be....."
The artists include Bruce Reynolds, Kevin Ancell and Todd Glaser.
The show is curated by Tenore, who has a knack for pulling in and elevating raw talent. HE launched the the RVCA Artist Network Program about 16 years ago in his garage as a way to showcase the talent of accomplished, as well as emerging artists who inspire our generation and push the boundaries of creativity. And since then, that mission has never wavered--this show is a reflection of that exact original vision.
Each artist shared something with me about what it means to be involved in this show during the current election cycle.
Kelly Slater
Kelly Slater, the 11-time World Champion of Surfing, is arguably the greatest athlete of all time in any sporting category. Kelly's unique rhythm with the ocean and incredible competitive savvy has continued to land him at the top in the world of competitive surfing. Over Kelly's years of travel and ocean experience he has become intrigued with protecting the world's natural resources. Bringing awareness to the environmental impact of food production and consuming lifestyles, Kelly has become a leader not only in surfing but also in demonstrating the best practices for sustainable and healthy living.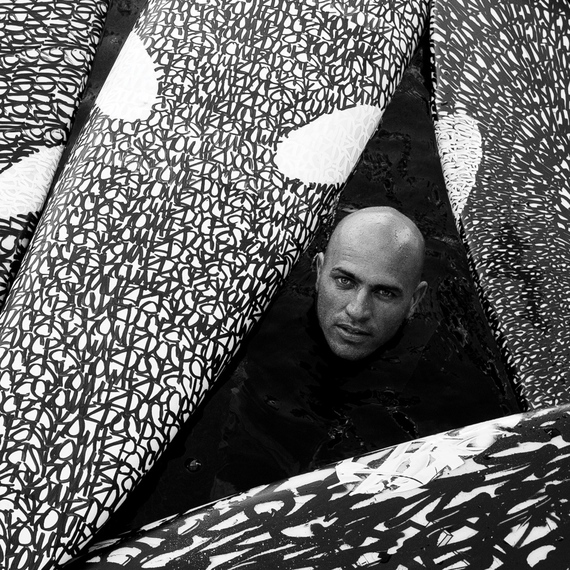 Do you recall at what point the "political seed" was planted in you?
"I wasn't very concerned with political events as a kid until Desert Storm happened. Being our first war event as a country during my lifetime, the fear of a draft and what kids my age during Vietnam went thru became real to me. Then I started paying a bit more attention- after 9/11 and the war in the aftermath triggered a lot for me. Then I became obsessive about reading up on our politics. "
Bruce Reynolds
Bruce Reynolds has been a professional artist for the last 20 years. He is self-taught, working mostly in mixed media and collage, with a recent shift to painting. Before devoting himself full time to artwork, Bruce spent many years designing and building custom contemporary furniture. Those skills helped him to incorporate symmetry, structure, and composition into his work. Being an avid surfer for the last 43 years and world traveler since his teens, Bruce's work has taken on a worldview that crosses over many cultural barriers. Throughout the years, he found himself being influenced by the DaDa movement, pop culture, and today's graffiti artists. These influences have helped maintain a work that is both current and provocative.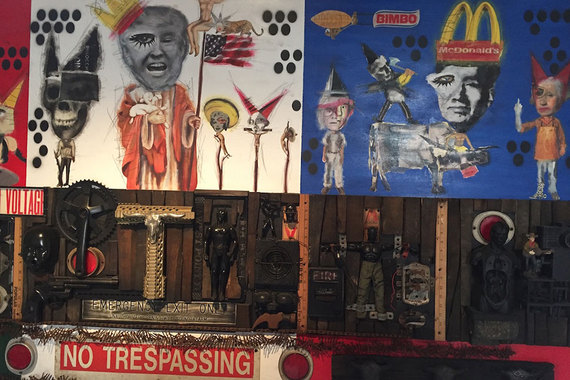 Bruce Reynolds, The Great Wall of Trump, 2016. Acrylic, collage, found object on plywood
What is your favorite piece in the show and why?
"That is always a tough question, instead of a favorite, I probably have one that is a little closer to my heart. It would be "The Great Wall Of Trump". That is because it was the first piece I made during this process. It was the main focal point at the start of the Trump campaign, and it became the signature piece of this art project. The reason being, it seemed to encompass all the sinister overtones, xenophobia, fear, innuendo, and abuse of power being covered so intently by the news media. "
Kevin Ancell
Kevin Lloyd Ancell was adopted at a young age and raised by a group of Southern California Surfers. They were movers and shakers of the 1970's surf scene, and for Ancell, surfing became a way of life, as well as a teacher of discipline; it helped him meet challenges and overcome fear. That is where the art comes in. For Ancell, art is an exploration of the inner self and another form of self-expression. Ancell draws most of his inspiration from Manuel Ribeira, a Spanish painter who lived in Italy. He also draws inspiration from the works of Rembrandt, Carvaggio and the old, Flemish masters. When he's not painting, he's boxing, out surfing, diving, fishing or making surfboards.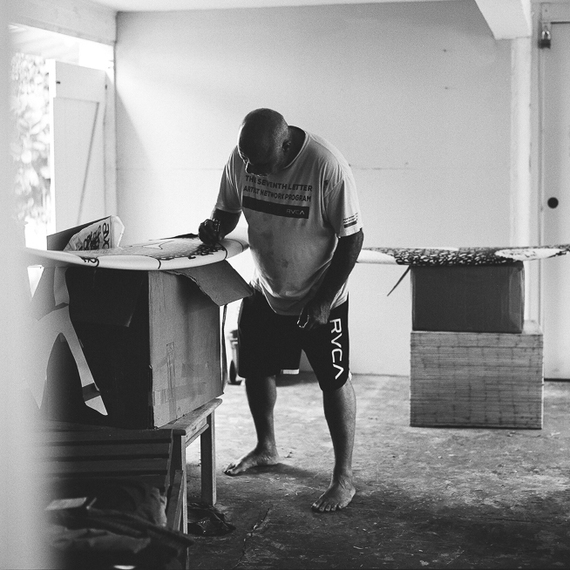 You have been in the art scene for decades, do you think this election has triggered more art than previous years?
"This show was meant to be. I always do what I want... Politics has turned into a game show, it's embarrassing."
Todd Glaser
Todd wanders the world with his camera one step at a time and his travels take him to many remote locations from Fiji to Tahiti, Puerto Rico to Mexico. Based in his hometown of San Diego, California, Todd works as a staff photographer for Surfer Magazine and is trusted to capture some of the biggest names in the surf world as well as being on call to experience the world's famous waves. Featured in the 2010 release, "Surfer Magazine: Fifty Years" Todd Glaser also was a 2008 Follow The Light Foundation grant winner and a 2009 Surfer Magazine Photo of the Year award winner amongst numerous other awards.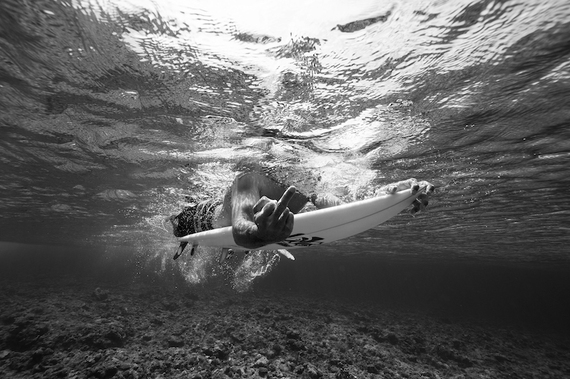 Todd Glaser, I.C.U - Pacific Ocean, 2014. Direct print to aluminum. Images courtesy the artists

Your images are the polar opposite of what is happening in Bruce's pieces ...how do they compliment the other pieces in the show?
"Bruce's work is very raw, it's current, and it's made with everyday objects put together in a way that expresses his thoughts and emotions about whatever topic inspires him....I chose to make a selection of images to all be printed in black and white. Bruce's art is full of rich colors, text, and layers, while the pieces I put into the show were a bit more straightforward.
...For me, being in the ocean or being in the water is one of the very few places in the world where you can be alone with your thoughts or with your friends completely disconnected from everything that is going on in the outside world, yet reconnecting with yourself in that moment which helps when you return back to shore you are able to learn and live with a clearer mind.
PM Tenore
Founder and president of RVCA, PM Tenore cites his inspirations as family, friends, art, music and community involvement. The driving force behind RVCA, and constantly kept busy with designing collections and curating art shows like Hong Kong Art Basel, featuring RETNA and Keith Haring, to domestic shows in his backyard with the likes of Ed Templeton and in San Francisco with Barry McGee. His involvement in the arts expands beyond exhibitions to RVCA's free arts publication, ANP Quarterly and the martial arts, through the Art of Jiu Jitsu academy that he formed with the Mendes Brothers.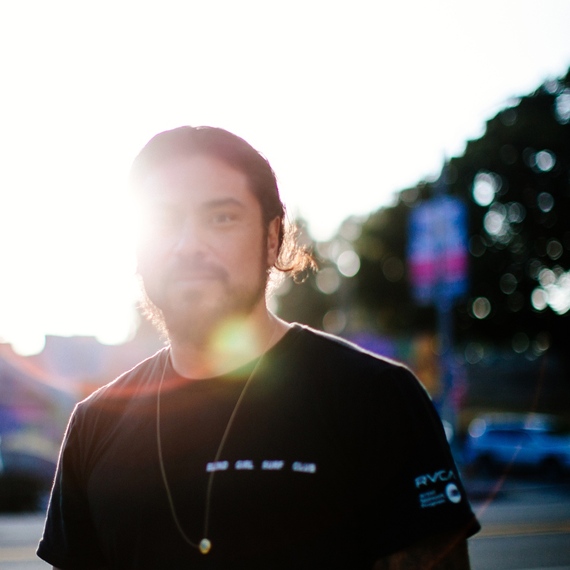 What do you hope people walk away with after seeing the show?
Hopefully an elevated consciousness of varied views, not just political, but also spiritual, ethical and personal-- where the individual differences are valued more than a single idea. I ultimately hope others are enriched with this art exhibition as I am.
You can see "Apolitical Process" at Folding Table Gallery:
201 San Juan Ave (corner of Main St.), Venice, CA 90291 Monday - Saturday 12:00 pm to 6:00 pm and Sunday by appointment only. The show runs through October 9, 2016.
Related
Popular in the Community