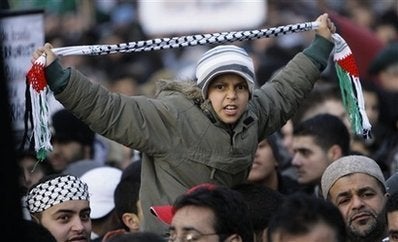 The flaring of tensions and violence in the Gaza Strip has created more than just another sensitive foreign policy crisis for Barack Obama to juggle. It has sparked the beginnings of a debate over what role progressive Jewish groups will play in the upcoming administration.
Obama's election was interpreted as a potential break from the Bush administration's approach to the Israel-Palestinian conflict, both in the level of engagement and the open-mindedness in pursuing a resolution.
Weeks before he assumes office, that image is being put to its first test. Even as Obama and his staff demur -- insisting that there is only one president at a time -- the Jewish community is addressing the topic as if he were in office.
Progressive groups in particular are being forced to walk a delicate line: accommodating Obama's prior statements in which he seemingly validated retaliatory Israeli strikes with their own agenda of promoting diplomacy over violence.
"At this moment of extreme crisis, J Street wants to demonstrate that, among those who care about Israel and its security, there is a constituency for sanity and moderation," read a carefully worded action alert from the J Street, a pro-Israel, pro-peace organization. "There are many who recognize elements of truth on both sides of this gaping divide and who know that closing it requires strong American engagement and leadership."
Already, others in that community can see a potential conflict ahead. Over the course of the election, Obama hardened his line on the Israeli-Palestinian conflict, culminating in a visit to the Gaza border in July. In the town of Sderot, the Democratic candidate told reporters: "If somebody was sending rockets into my house, where my two daughters sleep at night, I'm going to do everything in my power to stop that... And I would expect Israelis to do the same thing."
Supporting Israel's right to retaliation makes for smart electoral politics. But it is also a touchy issue for some in the progressive Jewish community; certainly when the casualty rates are so disproportionate. Eventually, these organizations will have to reconcile two priorities: a president they support and their own policy agenda
"You talk a progressive game but what do you say when Obama isn't signaling a direction on the Middle East?" said a progressive Jewish official. "Is him being president a good enough sign of change? Or are you going hold him to certain policies?
At this juncture, such choices are still a bit distant. Obama has steadfastly remained an engaged-observer as the Bush administration handles the regional violence. And once he takes office, he is likely to pursue his own agenda whether or not coincides with the interests of his progressive Jewish supporters.
"The progressive element will not determine the views and identity of the pro-Israel views in America," said Aaron David Miller, a public policy scholar at the Woodrow Wilson Center and author of 'The Much Too Promised Land.' "[Obama] has those voices already. When presidents lead, lobbies follow."
"It really, in the end, is not consequential," Miller added. "What matters is whether or not a president decides to make a pursuit of Arab-Israeli peace a top priority, and whether that president further decides that in an effort to reach that agreement he has to be fair, tough and smart."
And yet, even if the influence of Jewish lobbies are overstated, they are fascinating to watch. The Obama foreign policy team has insisted that the roots of Middle East peace begin on the Israeli-Palestine frontlines. Who he listens to, and what groups have better access (the transition team recently met with 29 ideologically disparate Israeli/Jewish organizations) could have strong implications for his approach.
Calling all HuffPost superfans!
Sign up for membership to become a founding member and help shape HuffPost's next chapter