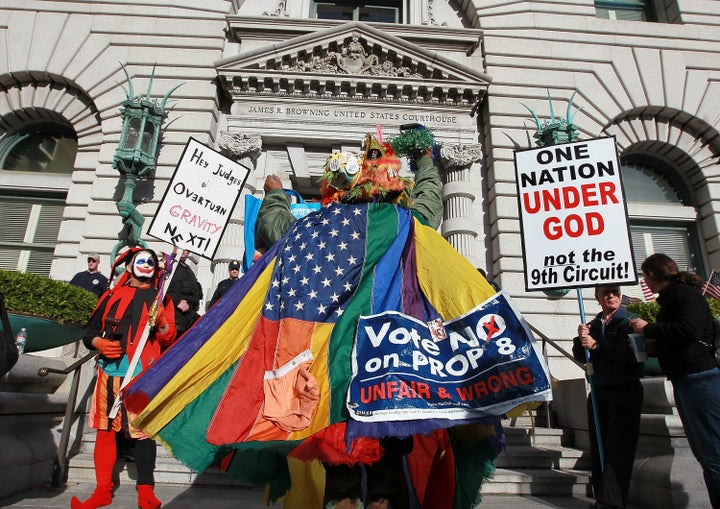 U.S. District Judge Morrison England has denied a request by anti-gay marriage groups to make secret the list of donors to the $40 million Proposition 8 campaign, which banned gay marriage in the state of California in 2008.
Since the measure defining marriage to be between one man and one woman passed with 52 percent of the vote, a list of individuals who donated $100 or more in support, as well as those who donated money in opposition, has been posted on the California Secretary of State's website.
By law, similar lists are made available for all other ballot measures.
Backers of the measure have claimed that further dissemination of the information on the site has led to various forms of harassment, ranging from boycotts of their businesses to death threats.
For example, the website Eightmaps.com shows the names and occupations of people in San Francisco who donated to the Prop 8 campaign overlaid on a Google Map of the city indicating where they live.
This singling out of donors to controversial political campaigns has raised concerns not only from civil libertarians, but also from traditional supporters of open government. "When I see those maps, it does leave me with a bit of a sick feeling in my stomach," California Voter Foundation President Kim Alexander told the New York Times. "This is not really the intention of voter disclosure laws. But that's the thing about technology. You don't really know where it is going to take you."
In addition to having this particular list taken down from the internet, the plaintiffs hoped to require California officials to destroy all government reports on the financial backers of any ballot measure immediately following an election.
In his ruling, England noted that "small, persecuted groups whose very existence depended on some manner of anonymity," such as the Cold War-era Socialist Workers Party, should be exempted from having to disclose their donors.
Citing the over seven million Californians who voted for Prop 8, England said that the anti-gay marriage groups could hardly be called a "fringe organization."
James Bopp, a lawyer representing Protect Marriage and the National Organization for Marriage, told the San Francisco Chronicle he disagreed with England's ruling and pledged to appeal the decision. "An aggressive minority can intimidate a much larger group of peace-loving and law-abiding citizens," said Bopp.
Related
Popular in the Community