Warning: This article contains nude imagery and may not be appropriate for work.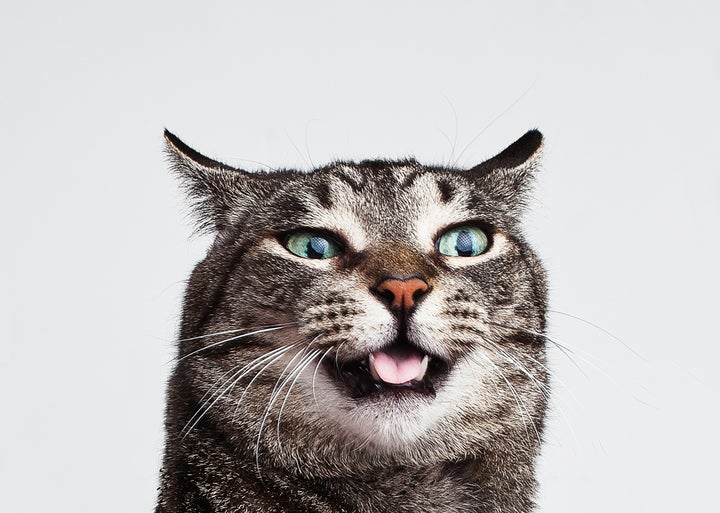 "I have an infant memory of crawling on the floor and coming upon something utterly wonderful that made me shriek with excitement," artist Carolee Schneemann explained to The Huffington Post. "It was my first cat."
Schneemann, now 76 years old, is a feminist performance art goddess who loves cats.
Her 1964 video piece "Meat Joy" depicts a writhing, carnal celebration of flesh, an orgy of men and women rolling amidst chicken legs, paint, sausages and fish. In her 1975 performance "Interior Scroll," she can be seen standing atop a table, her body painted in mud, reading a feminist scroll she extracted from her vagina. 
Aside from turning the body into an uncanny artistic medium, Schneemann foreshadowed more than a few dominant trends of millennial culture. She invented the selfie. She also basically invented the cat video.  
Schneemann has had cats since she can remember -- between the ages of 5 and 14, she had five consecutive kitties named Tommy. From a young age, she loved them, intrigued by their ambiguity, spontaneity, tenderness and intuition. "I loved the look of them, the feel of them," she said. "I seemed to be able to communicate with feral cats and domestic cats, we had these strange invisible cat conversations."
Cats, Schneemann continued, exist between the visible and invisible. On one hand, they occupy domestic spaces, curling up in nooks and crannies of familiar quarters. But they fit into the wild just as comfortably -- hunting, stalking, pouncing. And then they return home, shape-shifted, affectionate and soft.
"I was always filming them, wanting to capture their grace, motion, changefulness," Schneemann said. One video compilation, titled "Infinity Kisses," features 124 self-shot color photos all depicting Schneemann kissing her cats -- first Cluny in the 1980s, then Vesper in the 1990s. What's surprising in the images is the intentionality of the cats, perched assertively upon Schneemann's somewhat nonplussed face. 
"I didn't invite it but didn't refuse," the artist said of her first filmed cat kiss. "Cluny would come into bed and put his little cat mouth onto mine, purring, his his paws on my neck. He put his tongue in my mouth. It felt like a mystical lover from a lost time that had come back in the form of a cat."
From then on, when a cat went in for a kiss, Schneemann would grab her Olympus 35mm color camera and capture it. Soon she had dozens of photos, then dozens of dozens. "When Cluny died my next cat was unexpectedly also a kissing cat. They're rare."
"Infinity Kisses" is one of the films on view in "Mysteries of the Pussies: The Cat Films of Carolee Schneemann," an upcoming screening in New York City, featuring all of Schneemann's cat films. The first, the 30-minute 1960s film "Fuses," features Schneemann making love with her partner, composer James Tenney, as observed by her cat, Kitch.
"I wondered what the intensity of sensations would look like on film," Schneemann said. "Would it look like science or pornography or something else?" Although the cat clearly is not holding the camera, he serves the role of spectator, subject, auteur. Instead of the camera as an extension of the male gaze, offering up the woman's body as a fetishized sexual object, Schneemann delivers the cat's eye view, floating evenly between male and female bodies. 
While "Fuses" was Schneemann's first cat film, her first cat artwork came far earlier. In 1943 at four years old, Schneemann made a drawing she now calls "The Exuberant Cat." In it, a penciled feline silhouette emerges triumphantly from a box, or maybe a table. Arms raised victoriously and seemingly in motion, the cat almost resembles Schneemann during her "Interior Scroll" performance, in all its ritualistic fervor.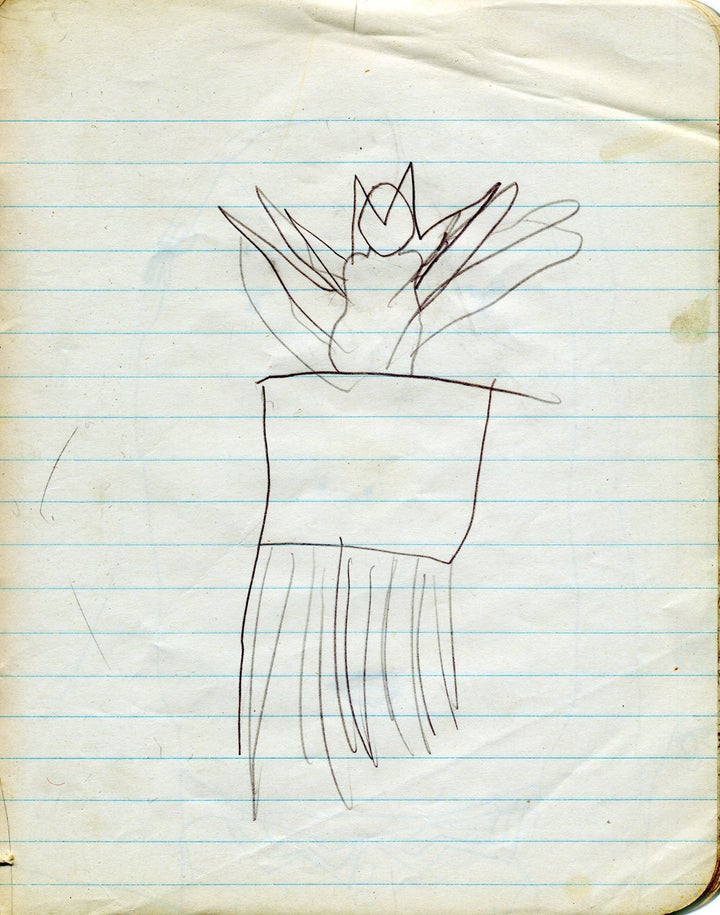 Over 50 years after Schneemann's first feline film, cat videos have become ubiquitous online, with kitties like Lil Bub and Henri, le Chat Noir amongst the web's most revered celebrities. The art world has caught on to the trend, with the Walker Art Museum hosting an Internet Cat Video Festival in 2012 followed by exhibitions like "Cat Art Show" and "Another Cats Show" popping up around the country. 
For Schneemann, this viral moment isn't just a surge of boredom-induced Internet folly, but something of a feminist revolution. "I think of it as some parallel feminist awareness," she said. "Shifting away from the insistence that the only good pet is the responsive, obedient, happy dog. The cat, like female sexuality, has always occupied a place of unpredictability, uncontrollability. Something too soft and fuzzy that also has claws. All these ambiguous aspects of cats had for many years been suspect."
And yes, Carolee Schneemann, unparalleled performance art queen, watches cat vids. "I'm a sucker for everything cat. But I'm not fond of the over-determined dressing them up. It's too much." 
Another of Schneemann's films on view, titled "Mysteries of the Pussies," features the artist and Finnish museum librarian Teija Lammi spontaneously reacting to images of Schneemann's cats onscreen. While they crawl and fawn with cat-like agility, Schneemann lectures on the implications of the word "pussy" as an obscenity. 
"All language has parallel implications and energies," Schneemann told me. "The female body was an aspect of anger and fear because of the degree to which female genitals are not male. Just the difference has been a source of female conflict and confusion, often inspiring violence and hatred. There is a similar history with cats being attacked by adolescent boys. Boys can't understand it so they choke it and shave it. I've always seen violence to domestic cats related to violence with domestic abuse."
That being said, Schneemann embraces the word "pussy" and uses it freely. She went on to say she also uses the word "cunt," which is actually an ancient Syrian word for "sacred crevice," and was once seen as the source of creativity. "Patriarchy and early Christianity took so many positive things and turned them into something monstrous."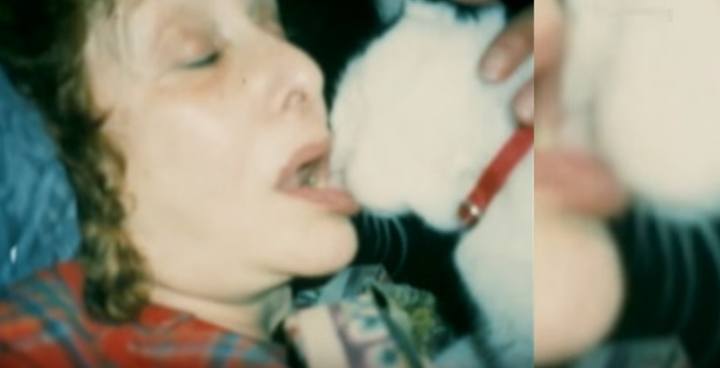 In November of last year, Schneemann was the subject of a retrospective at the Museum der Moderne in Salzburg, featuring 350 of her works spanning six decades. When asked about it, she responded cordially: "I feel objective about it." When I asked about her current cat, however, the response was effusive. "Thank you for asking!" she blurted out. "I have an amazing cat! I'm so lucky, her name is La Niña."
When describing La Niña, Schneemann mentions her ability to create art, quickly tacking on an awareness that the statement "sounds ridiculous." Nevertheless, the artist insisted, the kitten composes objects, and she's not the first. Vesper pushed the cable release button on Schneemann's camera, snapping a close-up of his beloved owner's red mouth. Kitch, after watching Schneemann paint for years, made a work of his own using a shoe polish brush. 
And even the cats who weren't artists certainly served as muses to Carolee. "I've learned so much from my cats. Improvisation in space -- a lot of my kinetic theater is inspired by cats jumping, leaping. Patience. Paying attention to the subtle elements in nature that are almost invisible. One instructed me to wait at a window while a spider gave birth to thousands of tiny little specks of instant spiders. I would never have paid attention on my own to such a thing."
I understand the sentiment. Taking a breather from writing up this interview, I Google cat videos, landing on one called "BEST MOM & CUTE CAT FAMILY," just uploaded today. In the one-minute video, three baby kittens suckle at their mother for milk. On another day, I might write the whole thing off as a mindless diversion, a brief and utterly forgettable distraction. But the adorable interaction contains, softly, something more. The unknowable gaze of the mother cat, monarch of her cushion on the bedroom floor. The kittens' tangible ambivalence to their owners, to being seen and filmed. The warmth of maternal love, nutritious and plush.
The mindless cat video just may contain within it echoes of a feminist revolution. 
"Mysteries of the Pussies: The Cat Films of Carolee Schneemann" will take place Sunday, February 21, 2:00 p.m. at the Museum of the Moving Image. Queen Carolee Schneemann will be in attendance. Purchase tickets here. 
PHOTO GALLERY
These Cat Show Cats Are Just Kind Of Over It
Calling all HuffPost superfans!
Sign up for membership to become a founding member and help shape HuffPost's next chapter