Felt paintings, yarn drawings, quilted tapestries, and crocheted sculptures -- these are the types of masterpieces that exist in the craft world, marked by either their decorative, DIY or traditional flair. Made of everything from macramé to needlepoint, these handmade objets d'art are not exactly the first things that pop into one's mind when discussing the complex and varied realm of contemporary LGBTQ issues in art. Yet they are the subject of "Queer Threads: Crafting Identity & Community," a new exhibition at the Leslie-Lohman Museum of Gay and Lesbian Art.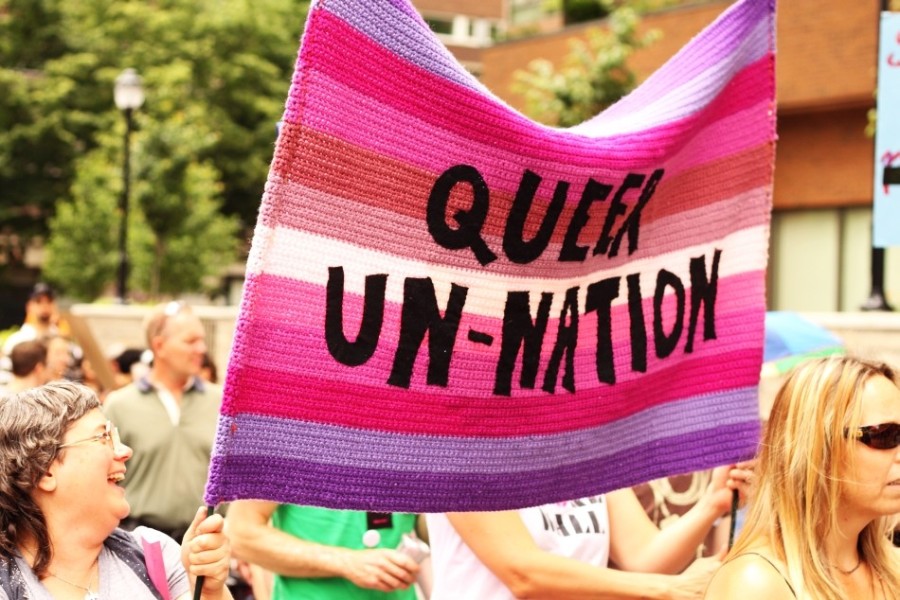 Allyson Mitchel, Queer Un-Nation, 2012, Yarn and felt, 36 x 48 in. Work and image courtesy of the artist.
"Queer Threads" brings together international figures renowned in the craft communities who have used specific craft media to explore their individual or collective queerness. From a gigantic, ceiling-to-floor-sized pride flag to a cross-stitched interpretation of RuPaul's "Supermodel" video, the show includes a mesmerizing swath of textiles, lace and embroidery that will fill the museum's halls starting January 17, 2014.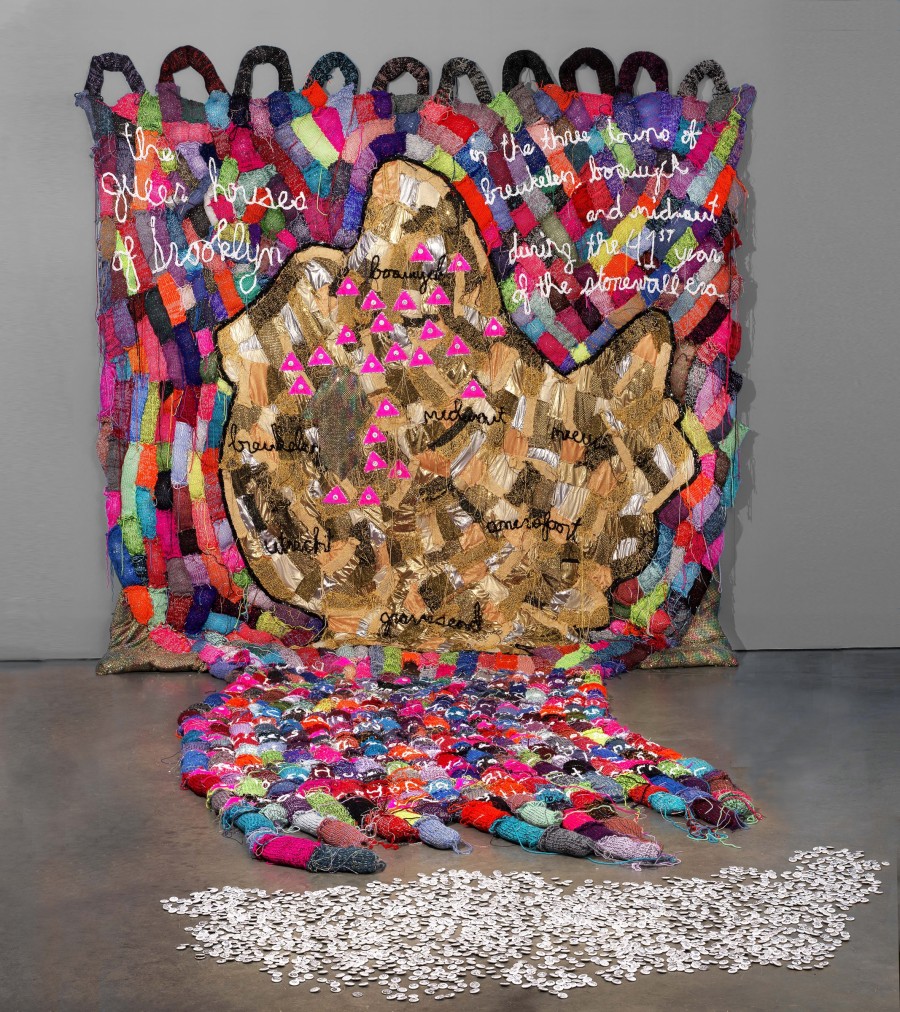 L.J. Roberts, The Queer Houses of Brooklyn in the Three Towns of Breukelen, Boswyck,and Midwout during the 41st Year of the Stonewall Era, (based on a 2010 drawing by Daniel Rosza Lang/Levitsky with 24 illustrations by Buzz Slutzky on printed pin-back buttons), 2011, Poly-fill, acrylic, rayon, Lurex, wool, polyester, cotton lame, sequins, and blended fabrics, 138 x 114 x 108 in. Courtesy of the Smithsonian American Art Museum, Gift of Elaine Reuben. Photo credit: The Smithsonian American Art Museum.
Nathan Vincent's crocheted men's locker room -- made to scale -- sits near Allyson Mitchell's found afghans adorned with phrases like "Pride is a Pyramid Scheme." And who could forget L.J. Roberts' "The Queer Houses of Brooklyn in the Three Towns of Breukelen, Boswyck and Midwout during the 41st Year of the Stonewall Era," a wild multi-media installation forged from knitting, embroidery and quilting? It references both the AIDS Memorial Quilt and ACT UP, piecing familiar bits of LGBTQ iconography in one 138 by 114 by 108 inch blended fabric explosion.
"Using craft to celebrate and critique identity and community is very queer in all senses of the word -- unusual, political, and personal,"curator John Chaich explained in a statement about the exhibition.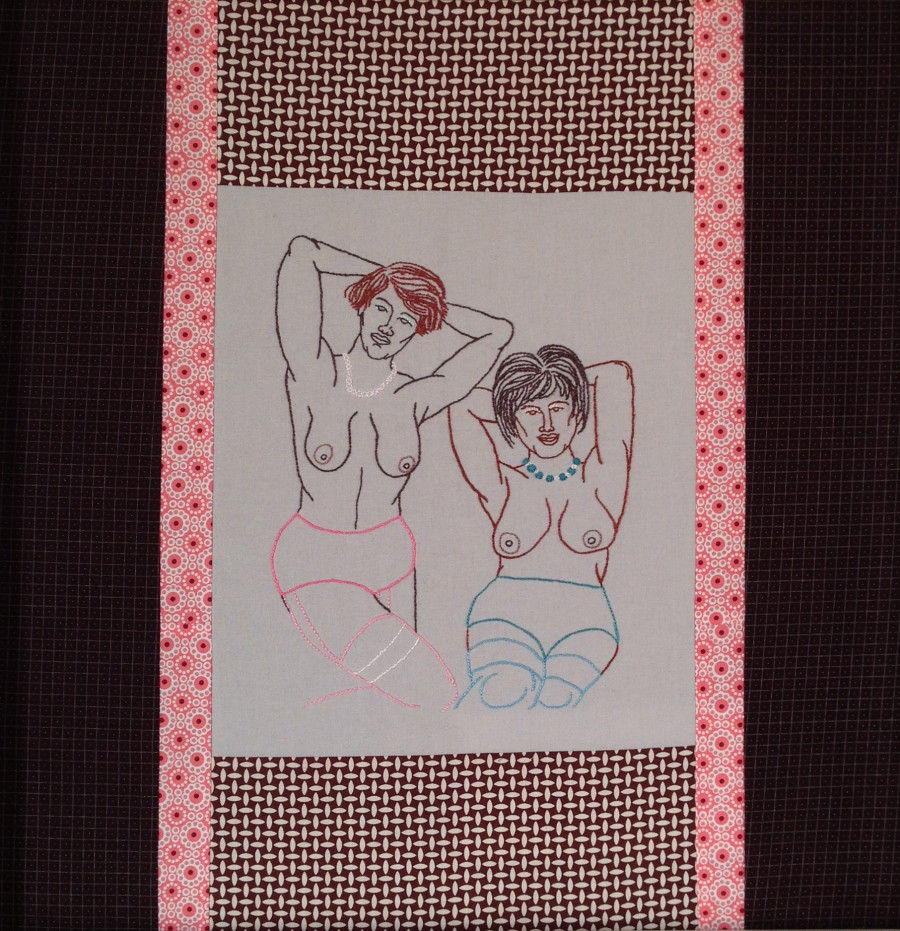 Rebecca Levi, Two Ladies, 2007, Cotton floss embroidered on cotton fabric, 20 x 20 in. Courtesy of the artist. Photo credit: Rebecca Levi.
With the success of past collections like the Smithsonian's "40 Under 40: Craft Futures," it's no wonder people like Chaich are turning an eye to the craft movement. But it seems that "Queer Threads" is seeking to prove that notions of association and representation are infiltrating the "canvases" of craft artists faster than we can whip together effectively curated exhibitions. From the United States and Argentina to Canada and South Africa, artists are mapping queerness and challenging identity with time-honored craft techniques from all different demographics. Just as traditional quilts can help art historians understand the role of feminism in art-making, so can contemporary craft help us to reflect on the ever-changing landscape of lesbian, gay, bisexual, transgender and queer issues.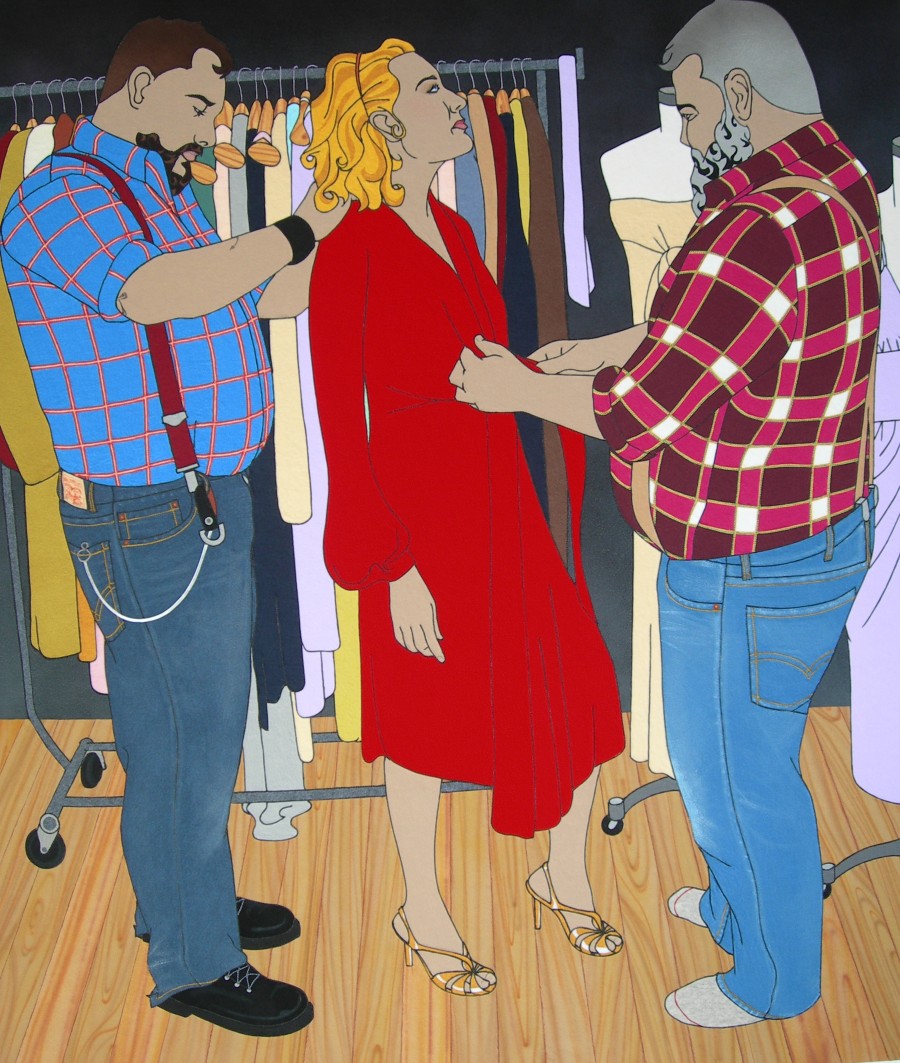 James Gobel, The Fitting No. 1, 2007, Felt, yarn and acrylic on canvas, 84 x 72 in. Collection of Costello & Tagliapietra. Photo credit: courtesy of Kravits/Wehby.
Scroll through a preview of Leslie-Lohman's upcoming exhibition here and let us know your thoughts on the show in the comments.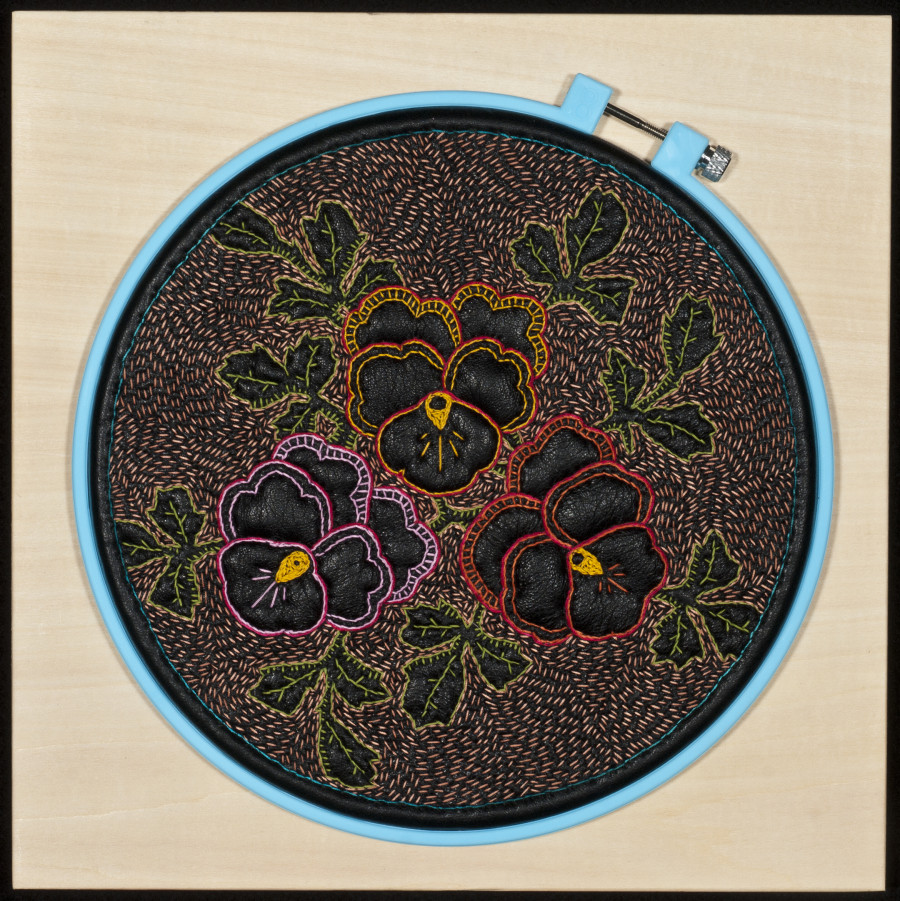 John Thomas Paradiso, Leather Pansy II, 2010, Leather, thread, and plastic hoop on wood panel, 10 x 10 x 1.5 in. Courtesy of Elisabeth Jacobsen. Photo credit: John Thomas Paradiso.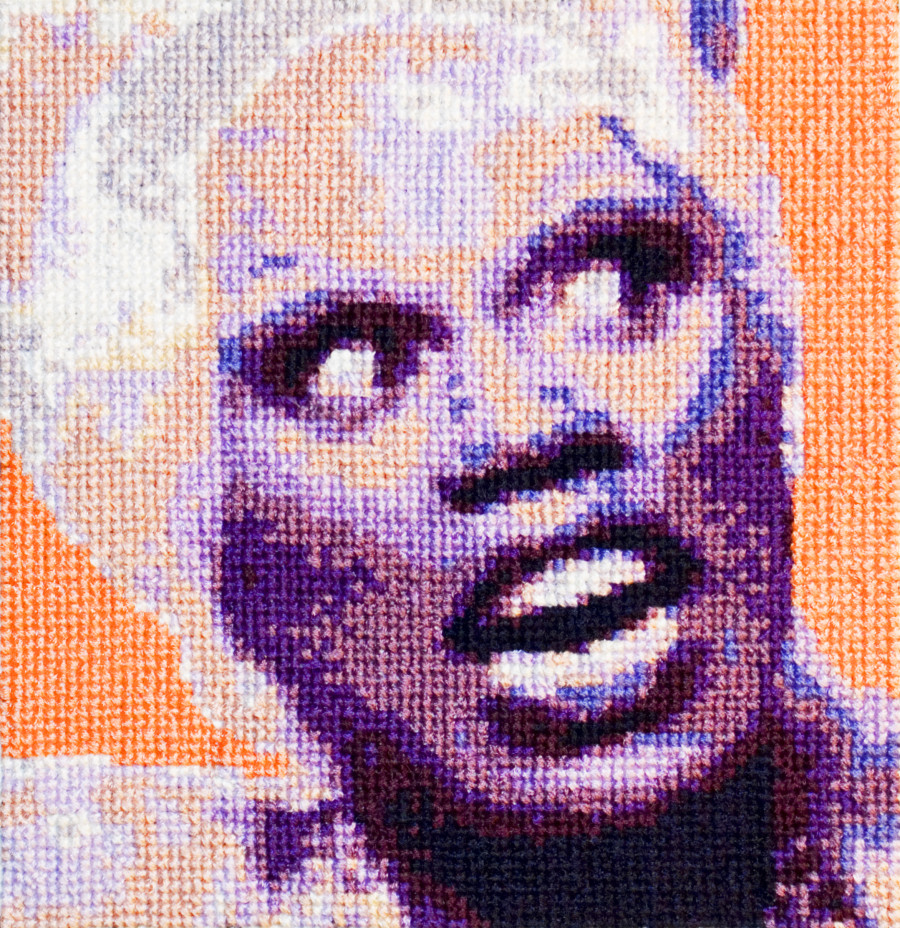 Aubrey Longley-Cook with 34 community participants, RuPaul Cross Stitch Animation Workshop - Front View, 2013, Animated cross stitch, frame 17. Courtesy of the Artist. Photo Credit: Aubrey Longley-Cook.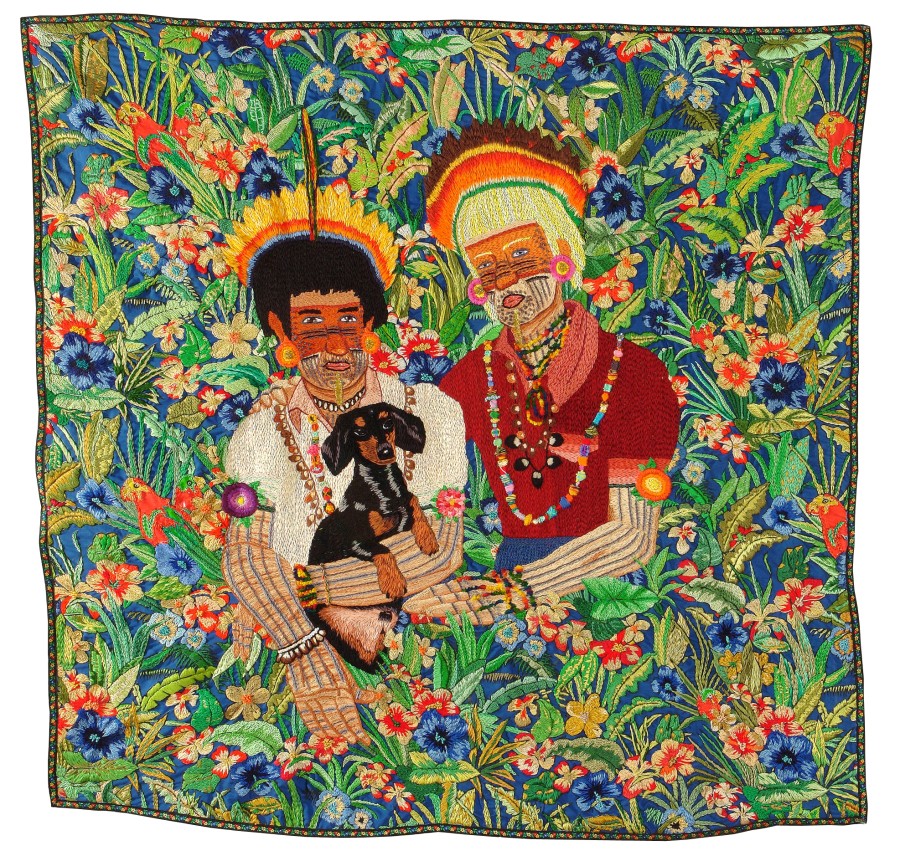 Chiachio & Giannone, Familia Guaraní, 2009, Hand embroidery with cotton threads, jewelry threads and rayon on fabric, 51 x 48 in. Courtesy of artist. Photo credit: Daniel Kiblisky.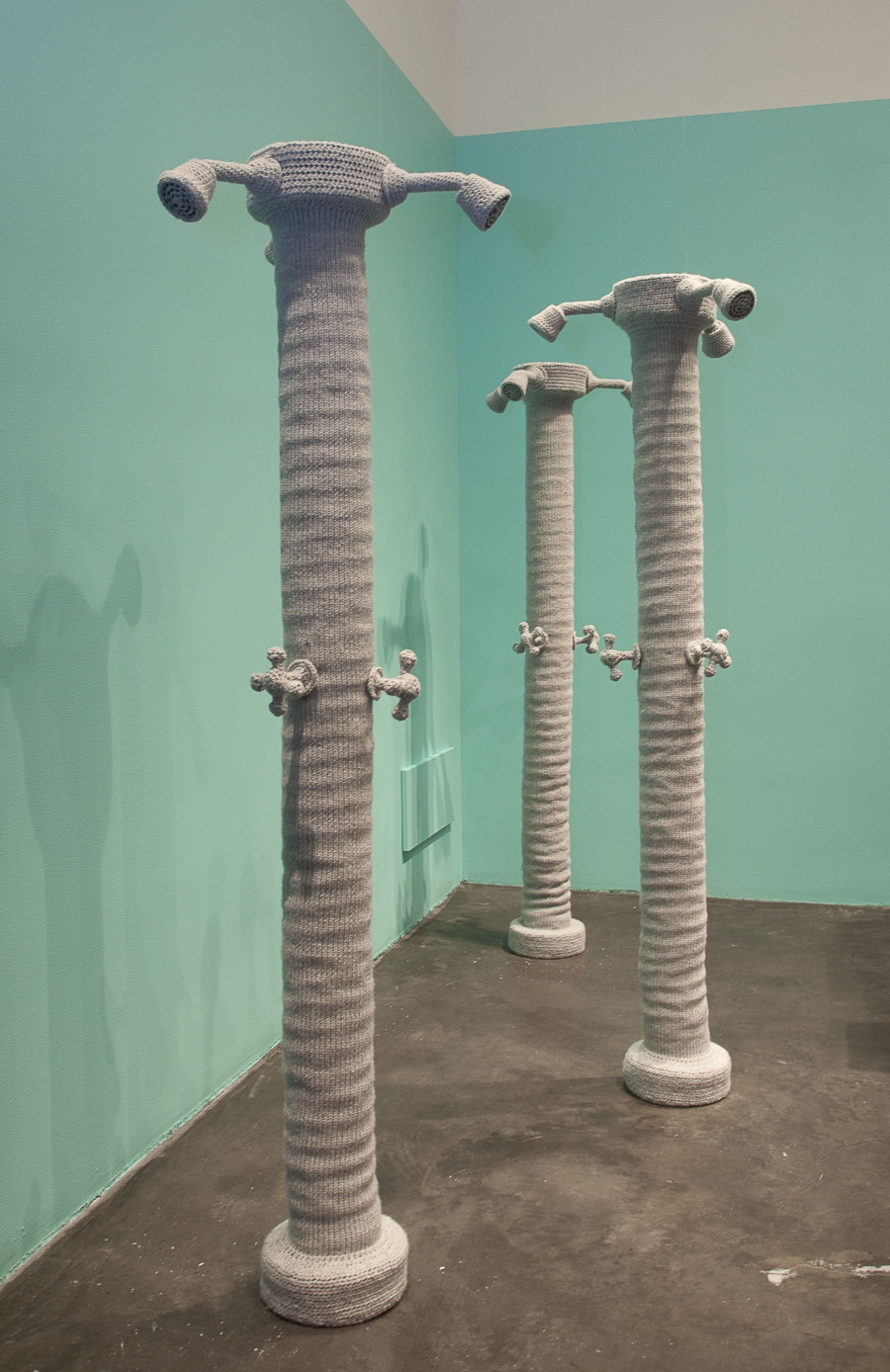 Nathan Vincent, Locker Room (installation view), 2011, Yarn, 144 x 228 in. Courtesy of the artist. Photo credit: Stephen Miller.
Calling all HuffPost superfans!
Sign up for membership to become a founding member and help shape HuffPost's next chapter