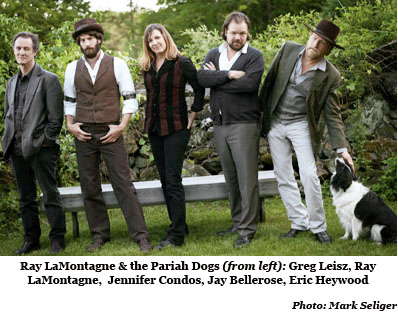 Ray LaMontagne is living his dream and, unlike so many dreams, his seems to have never been a soft, misty vision. Talking to him, it is clear that his dream -- writing and performing music -- came upon him with a force that was so overwhelming he had to pursue it. That the dream has come true is easy to see by the fact that God Willin' & The Creek Don't Rise, his fourth album, was released two weeks ago and debuted this week on several of the Billboard charts: at #3 in the Top 200; at #1 on the digital, rock and folk charts and at #4 on the Canadian chart.
During an interview Wednesday prior to his Friday night gig with David Gray at the Palms Casino in Las Vegas, he apologized a couple of times for not being as "articulate" as he'd like, saying he felt "sluggish" but, in truth, he expressed himself beautifully, painting pictures with the spoken word every bit as detailed as the pictures he paints with music. For a while LaMontagne didn't do interviews, as every interviewer seemed to want to talk about his life story, a 20th century tale of Dickensian poverty and dislocation all across America.
"My backstory is so tedious," he says, "I hope the interviews are turning a corner now." But LaMontagne does acknowledge that his early life is part of his music. "I guess it influenced me in every way possible. You really cannot separate yourself from your experience. I probably wouldn't be a songwriter if I didn't grow up the way I did. It was difficult and it was at times very scary to grow up in a household so unsettled and at times very violent. But, it also, I guess it earned me a sort of wisdom at a young age that's served me well."
He quit a job in a shoe factory in Maine to pursue music but, getting started, he worked as a carpenter part-time. While he says he cannot "define" his musical genre, others have said it is a kind of bluesy, folky mix that appeals to a broad range of ages. LaMontagne says his music is melody-driven and, after the melody, the lyrics "reveal themselves."
Trouble, LaMontagne's first album, was released by RCA in 2004 and, almost purely by word-of-mouth, sold a quarter-million copies. Like his next two, Till The Sun Turns Black (2006) and Gossip In the Grain (2008), it was produced by Ethan Johns. Each one sold better than the one before and LaMontagne had the career he'd dreamed about.
Much of his music deals with striving, escape and with finding a better place in life. This theme is clearly exemplified, for example, in Beg, Steal or Borrow, from God Willin' & The Creek Don't Rise. "You've been howling at the moon like a slack-jaw fool; And breaking every rule they can throw on; But one of these days it's gonna be right soon; You'll find your legs and go and stay gone. Young man full of big plans and thinking about tomorrow; Young man going to make a stand;You beg, steal you borrow..."
Asked why this thread runs through his music LaMontagne says, "I think that's because for so much of my life I felt that. There's a real sense of desperation when you grow up in poverty. The desperation gets stuck inside of you and if you can't find release it can kill you. You can make bad choices and find yourself in a downward spiral or you can find something that gets you out of it.
"Music did that for me. It gave me something to live for, to strive for. I just wanted to break out and get out of it so badly. It's like an emotional core. I feel like I have an endless well inside of me of those feelings that I need to channel. I relate to those feelings of wanting to get out and I express them."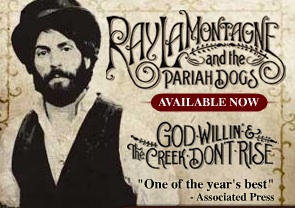 God Willin' & The Creek Don't Rise is the first album he has produced himself. The first three were produced by Ethan Johns, from whom LaMontagne says, "I learned so much. Ethan really taught me a lot."
The album was recorded in an empty room in the Western Massachusetts home he shares with his wife and children. Producing, he says, "was a big responsibility for sure. I felt a lot of responsibility to have all my ducks in a row before anybody got to my place [to record]. There was also a real sense of freedom that I hadn't felt before because there wasn't another producer. It was just me."
He and his touring band The Pariah Dogs (Why 'pariah? "I like the word 'pariah,'" he says.) have made a powerful album that came together in days, rather than weeks. The music doesn't stick to one type. It's bluesy, it rocks and there's a touch of country. What ties the whole thing together is the talent that is obvious on every track. The Pariah Dogs -- Eric Heywood and Greg Leisz on guitars, Jennifer Condos on bass, and Jay Bellerose on drums -- and LaMontagne work together seamlessly. You can hear their familiarity with each other in the music.
A quick perusal of online discussion boards reveals that LaMontagne has a broad and devoted fan base and a look at critics shows an excellent reception for God Willin' & The Creek Don't Rise. But for him, the only gauge is the show.
He says, "Someone much older and wiser than me told me it's none of my business what other people think of me. I know what I'm doing is real and honest and I approach it that way. I just love making music and try to do it the best I can.
"I don't read any reviews and I don't visit fan sites," LaMontagne adds, "because to me that all just clutters my brain. I judge everything from the live shows. That's what's real to me. That's reality. The reaction I get from the audience whether it's to earlier or newer work in the live show is real. That's really it for me. That's as far as it goes.
"I'm really pleased that people keep coming to shows because it allows me to have a career. The audience is a wide range of ages. I've seen kids come to the show who are 10. They really dig it. And people who are my mom's age, 60. I feel really blessed by that. I'm just doing what I love to do. I constantly challenge myself to get better as a craftsman and my live performances seem to get better."
It is, by the way, very worth noting that LaMontane's voice has been described as raspy, gravelly and a huskier, sandpaper version of Van Morrison. But, in his case that is not at all a bad thing. However his voice is described, it is very effective. This guy is serious about what he's singing. That doesn't mean, by the way, he's depressing. It just means that his voice has weight and it demands to be heard.
If another performer had rapidly rising sales and ever-larger audiences as he does, one might wonder exactly why. But with Ray LaMontagne the answer is simple. It is because, he says, "I never approached it like a rock star. I just do what I do. Every night I dig really deep."
You can check out LaMontagne's music in all the usual places online and, if you want some video, try a search for him on YouTube. For now, however, check out this David Letterman Show performance of You Are The Best Thing from Gossip In The Grain:
REAL LIFE. REAL NEWS. REAL VOICES.
Help us tell more of the stories that matter from voices that too often remain unheard.