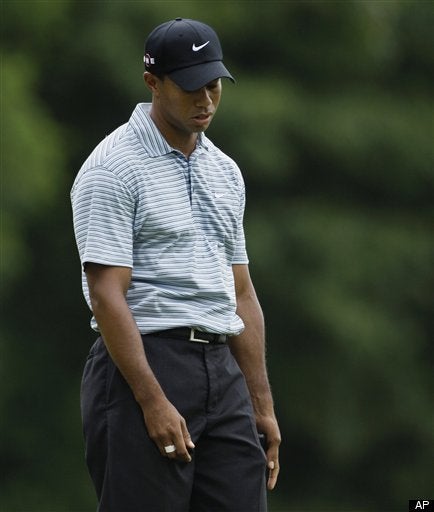 I watched the press conference on my wife's iPod on the Hertz shuttle bus Friday as we made our way back from Dallas to Boston. I've avoided the talking heads since. I have no interest in the hoopla.
I've had a couple days to digest the man's words and demeanor. Tonight, I couldn't help thinking about Tiger as I watched Bodie Miller, a boozing train wreck four years ago, stand on the podium to receive his gold medal with such class and enthusiasm. It made me remember that even for the worst of the worst change is in fact possible. No stranger to addiction and bad behavior myself, I have been clean 14 years now so I know a thing or two about miracles first hand.
I was impressed with the seriousness with which Tiger seems have at least admitted his problems. That alone doesn't solve anything but it's better than I feared would be the case: more denial and rationalization. Think of the other public figures who have hit similar walls of personal failure: Spitzer, Edwards, Madoff, Sanford, any number of Kennedy men. Can you think of one that was as forthcoming about what they had done wrong and the long journey ahead? I can't. They seemed trapped inside their celebrity bubble, unwilling to accept the human frailties that Tiger admitted to with resounding clarity.
When dealing with any form of addictive behavior (behavior that for any normal person seems clearly insane, like smoking crack or sleeping with scores of women or ski racing drunk) the first and often hardest step is to break the cycle of self-justification. It's something akin to sailing across the Atlantic on the theory that the world is round when you've always believed it's flat. It requires a complete paradigm shift and a ton of courage. On that point I really don't think anyone can criticize Tiger.
A full press conference would have been beside the point. I really don't care what reporters think of yet another public figure fallen from grace. The acceleration of our tabloid obsession is certainly part of the problem, not a solution to anything. On that I agree with Tiger. Their harassing his kids is a disgrace.
The only thing that bothered me was the tail end of Tiger's statement when he asked the people he let down "to find room in your heart to one day believe in me again." That seemed premature. I am glad that he is headed back to treatment. Dealing with serious addiction isn't treated in a day or a week or a month. It takes years of sustained of effort to make that kind of fundamental change. Addicts often say it takes five years to get your marbles back and 10 to learn how to play with them.
I may be alone but I am routing for Tiger. He made huge mistakes but I hope he continues to do the work to become a man of honesty and integrity, a "good" man as he put it. It won't be a short road but there's no reason to wish for him not to succeed, other than to feed the already completely sick media frenzy.
The odds are frankly against Tiger. More addicts relapse than stay clean, unfortunately. But then Tiger has faced long odds before. Let's hope his achievements on the golf course carries over to the work he is currently doing on his soul. As a fellow-addict I can do no less.
Thomas Matlack is the former Chief Financial Officer of The Providence Journal, is the founding Managing Partner of Megunticook Management, and is the co-founder of The Good Men Project.